I'm late to the party but at last, I too have an Air Fryer… lol! Plus it's not just any Air Fryer, it's an Instant Vortex Air Fryer by Instant Pot. Honestly I've had a lot of opportunities to get a cheaper air fryer. I've resisted because I have very limited space at home so whatever I get should be "the one". I recently got an Instant Pot and I was impressed by how user-friendly it was. I have a lot of friends who love their IP to bits so I know it's durable and reliable as well.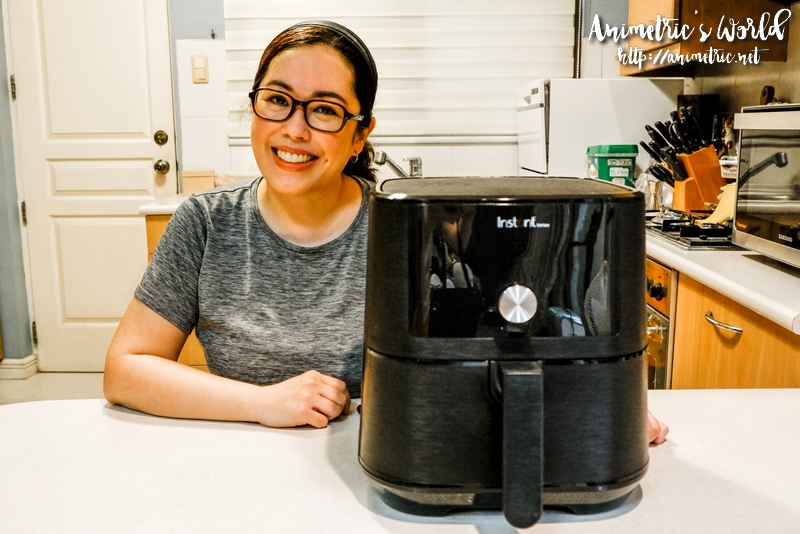 Anyhow, here's my Instant Vortex Air Fryer. It's pretty big. The cooking compartment can fit a 1.3kg whole chicken. One cooking session can serve up to 4 people so it's really perfect for us.
The unit comes in a big box but it's actually not heavy so you can easily place it wherever in your house you want to cook.
It's pretty straightforward. Inside the box is the whole unit, no need to assemble anything. Just make sure to remove all the cardboard pieces underneath the drawer.
Just about the only removable parts are the drawer-like cooking compartment and the inner grill where you will place your food.
Before cooking actual food in your Instant Vortex Air Fryer, it's recommended that you do a couple of initial runs WITHOUT food. This is to air the unit out as there will be a plasticky smell the first couple of times you use it. As per my friends with air fryers, this is normal for all air fryers. Make sure to properly wash the cooking compartment and the grill as well. I tried cooking frozen fries the third time and there was no more plastic smell. The instruction booklet has a guide to time and temperature settings for different types of food but you still have to do trial-and-error. I tried cooking frozen mojos yesterday and they came out nicely in 10 minutes!
This was my setting for frozen mojos — 10 minutes at 196°C. Operating the air fryer is super easy — just select your cooking mode (ex: "Air Fry") then press the time or temperature button then twist the knob. This machine can also roast, bake, and reheat.
These are my frozen mojos after 10 minutes of air frying at 196°C. They came out nice, crispy, and golden brown. I didn't brush any oil on them since they were already pre-fried before they were frozen.
Amazingly the mojos were crisp outside and tender inside. I love it! I used to deep fry stuff like this and it's a lot more work because I still have to strain all the oil I used afterwards for possible reuse. Disposing of oil is also a pain, as is cleaning very oily cookware. With the Instant Vortex Air Fryer I only need to clean the "drawer" and the grill. It's really easy to do because they're not dripping in oil. I may not go back to deep frying again lol.
What I like about the Instant Vortex Air Fryer:
Super easy to use! I only needed to go through the instructions once and that was it. The controls are very intuitive so all you need to do is press buttons and twist a knob.
Clean-up is just as easy. Just get the food out then wash the drawer and the grills.
The unit is lightweight so you can move it to whatever part of the house you need it to be in.
The Philippine version can be plugged in 220V straight, no need for transformers.
What used to take me at least 30 minutes to do now takes only 10.
I don't need to buy our usual gallon of cooking oil since I won't be deep frying anymore.
The only downside is it takes some degree of trial and error to achieve the exact results you want. After you get used to it, everything's a breeze.
The Instant Vortex Air Fryer is discounted every double digit and payday sale on Lazada at their official store.
This appliance has really made life a lot more convenient for me. I can't recommend it enough.
Like this post? Subscribe to this blog by clicking HERE.
Let's stay connected: