So one blustery day in July, our cook and helper of over 10 years suddenly comes up to me crying. Her mother had passed away. She asked me if she could go to the province. I remember telling her of course, it's your mom, you should go. I even gave her abuloy and asked her if she needed a salary advance. Then I asked when she was coming back. She said at most she would let the customary 40 days after death pass. I expected that she'd be gone for over a month.
Two weeks after she left I heard rumors from her relatives working for my aunts that she wasn't ever coming back. Her mom was taking care of her nieces. They were just children and their mothers were working as domestic helpers abroad. She would be taking care of those children in her mom's place.
I felt wronged somehow. We were very good to her. She didn't really have limits when it came to days off. We let her use our internet connection. Bought her an ABS-CBN TV Box (I don't remember what it's called) too. Every time she asks for an advance, she gets it no questions asked. I provide for all toiletries — soap, shampoo, lotion, you name it. No deduction from her salary even if she goes over the 2 weeks vacation per year that's allocated to her. I don't care if her cellphone is on her ear virtually the entire day as long as she gets the job done. I even help her buy stuff from Lazada.
I've told her before that if ever she decides to leave, all that I ask is for her to help me find a replacement and to train the replacement. But no, she just left and then had people tell us she wasn't coming back. To be fair, she did not ask for an advance prior to leaving.
So yeah, we don't have a cook anymore. If you've been reading my blog you know that I DON'T COOK. It's just not something that I do. I eat. That's it. After she left, we always dined out or ordered food. After 3 weeks of doing that, we all started to feel sick. Nothing like necessity to force you to action. So I had no choice. I had to start cooking. I think I spent a day poring through various recipes online.
Okay baby steps, for my first attempt at cooking, I warmed some lechon (Manilachon!) a friend gave me and roasted vegetables. I bought some carrots and baby potatoes from the supermarket, washed and sliced them, and drizzled olive oil over them. Then I sprinkled some salt, pepper, and rosemary. I tossed them all together and popped them in a pre-heated oven for 20 minutes. Success! Everyone loved the veggies and they went so well with the yummy lechon.
Since we can't live on potatoes and carrots alone, I had to take it further. I googled some Korean recipes. I decided to make deconstructed bibimbap using sukiyaki cut beef (instead of ground beef) and shitake mushrooms. The recipe said shitake mushrooms can replace beef if you're a vegetarian. I decided to combine both.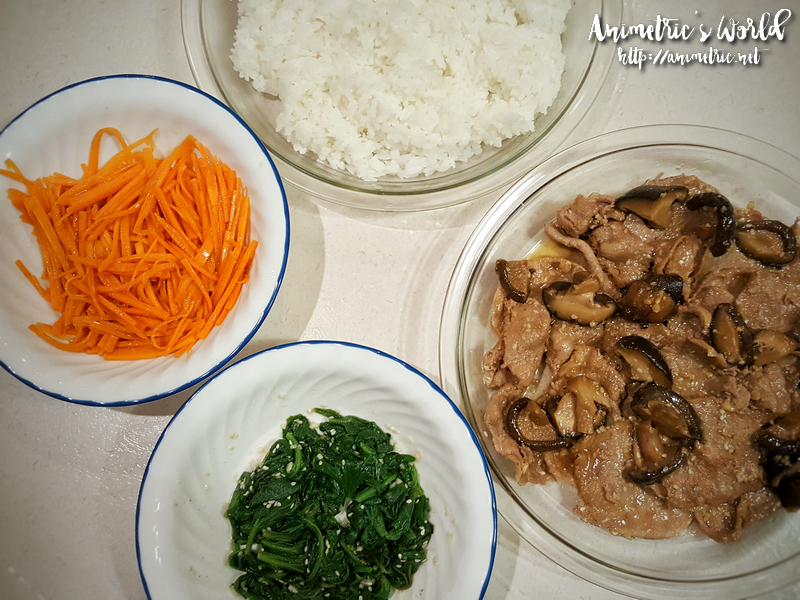 I also made spinach banchan, which I surprisingly perfected on my first try. Wow, it tasted exactly like the spinach banchan served in Korean restaurants! It's super easy to do to — just blanch spinach in boiling salted water (1 tbsp sea salt to 1 liter of water) for around 40 seconds or until wilted. Then dunk in cold water. Then toss in sesame oil, minced garlic, and sesame seeds. That's it!
It was pretty much assemble-your-own-bibimbap night but I skipped making the beansprout, cucumber, and zucchini banchan. It was a hit thank goodness. Everyone was happy with my first full dinner cooking attempt.
The next day, I examined all the food items our cook left behind and made Baked Corned Beef Spaghetti. Seriously, since I let her do all the marketing and I don't interfere in the kitchen, I had no idea what we had in stock.
For dinner, I decided to cook Tarragon Chicken with White Wine Sauce and Baked Mixed Parmesan Vegetables. I used a random bottle of Beringer I found in the cupboard. I found out later on from Marj that it's not supposed to be used for cooking! No wonder it tasted a bit weird but still, they ate it and said it tasted nice and unique. The veggies were the star of dinner. They were really really good!
OMG I feel like I've done enough cooking in the past few days to offset all the years I spent not cooking. I googled everything from cleaning veggies to chopping onions to making saltwater for boiling pasta.
And so my friends, this is why I'm cooking now and why I will probably be cooking for a long time. XD
My daughter commented "You mean you could've actually cooked all this time???". LOL. I guess she likes what she's been eating these past few days.
Like this post? Subscribe to this blog by clicking HERE.
Let's stay connected: