Our helper went on vacation last May. Normally, we'd have a temporary helper onboard to take over while she's gone. This time though, the temp I was counting on had some issues and ended up not showing up. Instead of looking for a replacement, we just decided to wing it. Everyone would pitch in with the chores. Hubby and I thought that unlike in all the previous years, this time our kids are already able-bodied teens. Thus we divided the chores amongst us… and I would often get stuck with the laundry!
On the first day, I pretty much just dumped everything in the washing machine, poured on some powder, and then let everything cycle. I discovered it's not that simple. There was a bunch of dirty white socks in the load. When the machine finished washing, they still looked yucky, dirty, and definitely not white! My first thought was, naglaba pa ako! I tried handwashing the socks and for the life of me the black/gray patches still would not disappear. Is it because of my detergent? Am I not scrubbing hard enough? Are the socks too old? What's a mom to do?
Anyhow, I was recently introduced to Ariel Instashine. It's Ariel's newest product… and it promises to make old clothes look new in just one (1) wash! My dirty socks experience immediately came to mind the moment I saw this product.
Ariel Instashine has Power Boosters, beads that remove sticky layers on fabric surface. They dissolve in water within ten minutes. You can scrub with the beads or just let them naturally dissolve. Anyway, I put the product to the test by trying to see if it can renew the most challenging pieces of clothing I've ever washed — dirty socks!
I dissolved one sachet of Ariel Instashine in a small basin of water and soaked one dirty sock. I wanted to do a side-by-side comparison after washing so I left the other sock unwashed.
Then I left the sock to soak for something like 2 hours. I Googled how long I should soak it for and according to the results a couple of hours should be okay? Anyhow, after soaking, I handwashed the sock the way I did before.
Wow, surprise surprise! Not only did the dirty patches disappear, the sock actually looked new… as if we just bought it yesterday. These socks have actually been in use for years! The sock washed with Ariel Instashine is definitely whiter. What's more, it smells so nice and fresh. It's been raining a lot and our clothes end up smelling like basahan because they don't dry properly. With Ariel Instashine, that's another problem solved because clothes smell freshly laundered no matter where or how you dry them.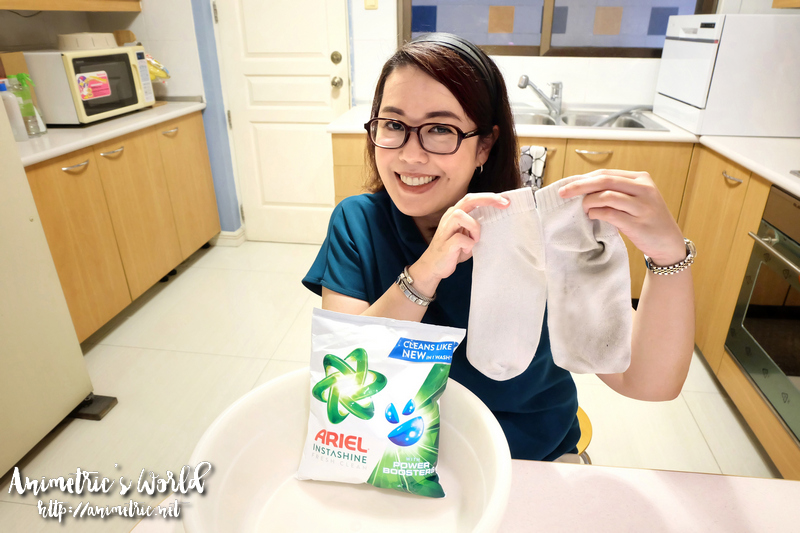 There's really nothing like product proof my eyes can see! I'm super excited to give all our clothes a makeover with Ariel Instashine. No need to shop for a new wardrobe, with Ariel Instashine, closet renewal can cost as little as ₱10 for 25 pcs of clothing (one standard wash load).
Ariel Instashine is available at all leading supermarkets nationwide. There are two variants: Fresh Clean and Indoor Dry. Prices are as follows:
Fresh Clean – 43g (₱10) / 70g (₱16) / 680g (₱145) / 1410g (₱295)
Indoor Dry – 41g (₱10) / 66g (₱16) / 630g (₱145) / 1320g (₱295)
You can purchase Ariel products at the P&G Home Care Official Store on Lazada.
Like this post? Subscribe to this blog by clicking HERE.
Let's stay connected: