Blame it on Rupaul's Drag Race but lately I've been really crazy about highlighters. In fact, I bought a whole bunch of Korean highlighters from Althea. The problem is, none of them impressed me. Then Marj asked me if I wanted the Anastasia Beverly Hills Glow Kit in Moonchild. I could just buy her extra palette. I said yes right away. Anastasia Beverly Hills is after all Rupaul's Drage Race's official makeup sponsor.
Meet the Anastasia Beverly Hills Glow Kit in Moonchild (US$ 40 + Sales Tax).
I've always preferred cooler tones when it comes to makeup so this 6-shade highlighter palette is perfect.
The shades in this palette are: Blue Ice, Star, Purple Horseshoe, Pink Heart, Lucky Clover, and Blue Moon. They're all cool shades.
Here are swatches. So far I use Blue Ice, Star, and Lucky Clover the most.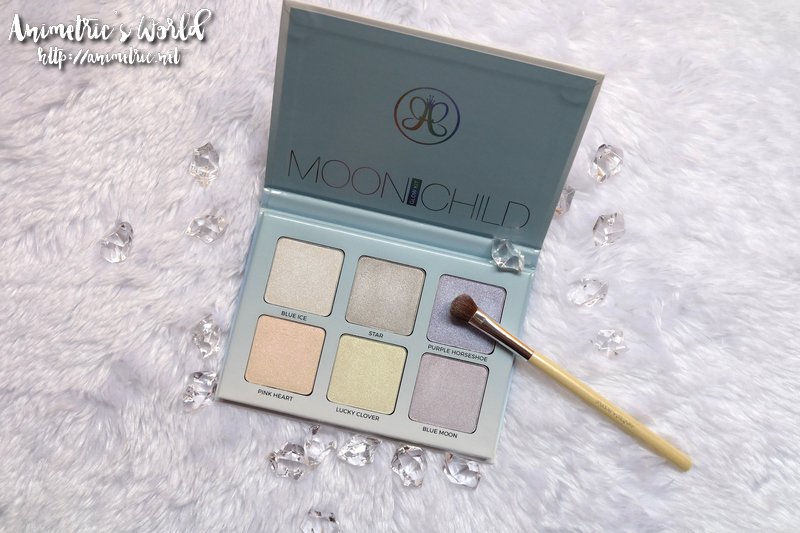 I'm so amazed at the way these pigments blend on the skin. All the other highlighters I've tried in the past have either a chalky or powdery effect. The problem is aggravated when I have a need to pile it on. See, the pigmentation of cheaper highlighters neccesitates putting on a lot more just so the effect can be seen. I don't exaggerate when I say you already see the glow after a single brush swipe with the Anastasia Beverly Hills Glow Kit.
So I applied on the shade Blue Ice from the bridge of my nose to the tip and my upper cheekbones. This is how it looks indoors.
These are photos taken 8 hours apart, under natural light. Photo on the left is freshly applied highlighter. Photo on the right is the same highlighter 8 hours after, no retouch.
I'm so obsessed with the Anastasia Beverly Hills Glow Kit. I actually got rid of all my other highlighters after I tried this one, hahaha!
What I like about the Anastasia Beverly Hills Glow Kit in Moonchild:
The pigmentation is incredible — a little goes a long way.
Vivid yet delicately fine, it blends into the skin very nicely.
Gives a lovely glow that's not chalky or cakey.
It lasts! My skin was still glowing 8 hours after application.
It's buildable so it can go from natural looking to drag queen levels of highlight.
Downside? Well it's does cost 3x the price of the Korean 3-shade highlighting palette I recently bought but hey, that one sucked big time. This one is the absolute bomb and I would gladly buy it again and again. Here in the Philippines, you can buy ABH products from the Anastasia Beverly Hills Official Flagship Store on Lazada.
Like this post? Subscribe to this blog by clicking HERE.
Let's stay connected: