After years of using my HG eyebrow pencil, Anastasia Beverly Hills Brow Wiz, I finally get to post a review! I used to buy 1-2 pencils at a time. They cost US$23 each after all (the SRP went up, it was US$21 when I bought). Anway it's now P1,465 per pencil if you order from Sephora.ph. Anyhow, some months ago, Marj told me that for the first time ever Anastasia Beverly Hills Brow Wiz was on sale for 50% off at Sephora.com. Without any hesitation I ordered 10 pencils for US$10.50 each. Anastasia Beverly Hills is actually one of my favorite makeup brands.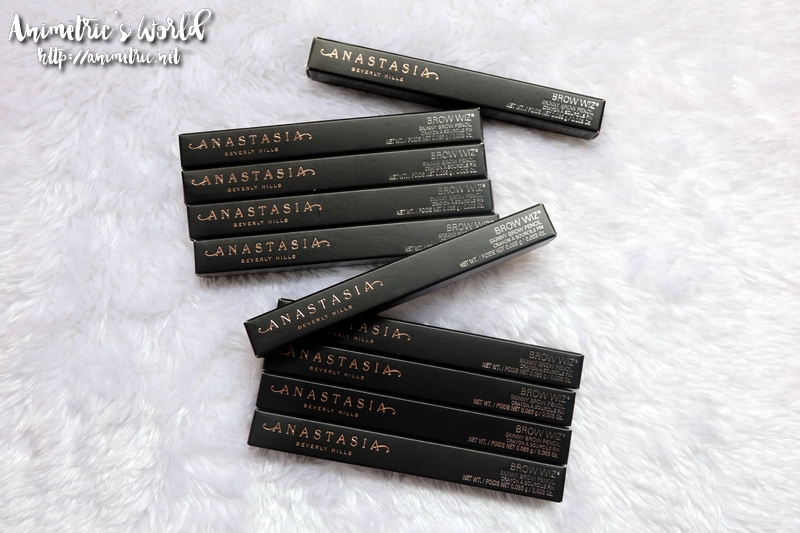 They arrived early this month, yay! Hubby actually reacted with "What… you bought over P5k worth of eyebrow pencils?". Well, if you're a straight guy, you'll NEVER UNDERSTAND the concept of 50% off Anastasia Beverly Hills Brow Wiz.
Anastasia Beverly Hills Brow Wiz is an ultra-slim and retractable double-ended eyebrow pencil that lets you draw fine hair-like strokes very precisely.
One end is the retractable pencil while the other end is a spoolie for blending.
The shade I am currently using is Soft Brown.
This is before and after application of Anastasia Beverly Hills Brow Wiz.
This is really the best eyebrow pencil I've ever used!
What I like about Anastasia Beverly Hills Brow Wiz:
It's very easy to use. My experience with other eyebrow pencils is there are times it would not "write". This is never a problem with Brow Wiz. It always "writes" and the pigmentation is perfect and consistent all the time.
It glides smoothly so it's easy to apply.
There are 10 shades available.
The spoolie is of good quality.
It's natural-looking.
It lasts until you remove it.
Downside? It's pricey at almost P1.5k a piece. Here in the Philippines, you can buy this from the Anastasia Beverly Hills Official Flagship Store on Lazada.
Like this post? Subscribe to this blog by clicking HERE.
Let's stay connected: