My son was in the 12th grade last year. It meant going through the motions of picking schools and courses. Since he's not artistically-inclined, he went for business courses and eventually ended up in Ateneo. Why am I backtracking? It's because last year was the first time I came across iACADEMY. One of our godchildren is an aspiring animator. She told us she was enrolling in iACADEMY.
Anyhow, I was invited to check out iACADEMY imagineNATION at the Power Plant Mall earlier today. iACADEMY holds this yearly, showcasing their students' works across different year levels and courses. This year's exhibit will portray the past, the present, and the future of design and technology in the country. There are over 120 works on display.
I got to talk to some of the artists and the president of iACADEMY herself, Ms. Vanessa Tanco. I told Ms. Tanco that my impression of iACADEMY is that the school caters to a highly specialized niche, meaning they offer courses that other schools don't. Ms. Tanco told me that in fact they are the first college institution to offer BS Animation as approved by the Commission on Higher Education (CHED). It remains as one of their most popular courses to this day. With her in the photo is Joshua Villena, a 3rd year student of iACADEMY's BS Animation Digital Painting. He is showcasing his digital painting entitled Look Down To Me, As I Look Up To You.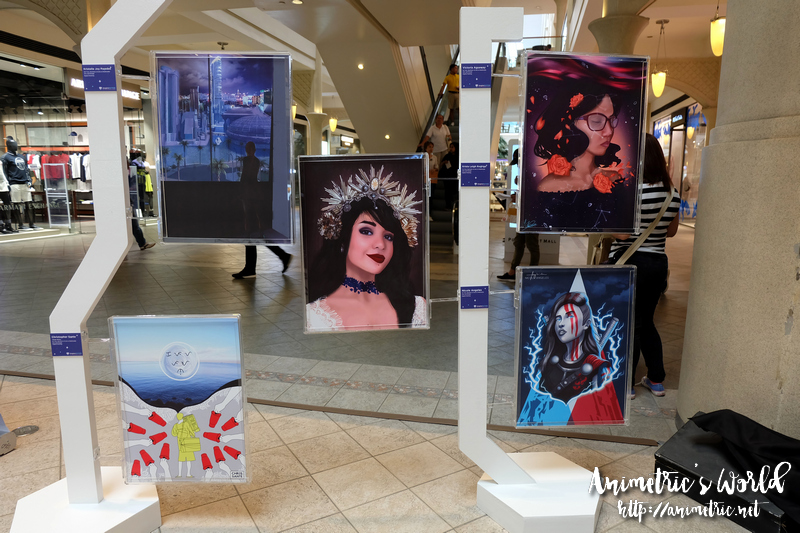 There are a lot of brilliant digital paintings by students from different levels in the exhibit.
Meet Ruka Azuma and Anna Francesca Carlos, students who are also showcasing their works.
Ruka said his digital painting is trying to show an artist's struggle, as they are often expected to work without proper compensation. Payment via exposure? Shoutout? Ruka hopes that in the future, artists can be recognized as people who deserve to be paid just like those who work in other fields.
This is John Lorenzo Arante, a first year BA Multimedia Arts and Design student. He shared his self-portrait, a digital painting which conveys his dream of becoming an astronaut.
First year BS Animation Digital Painting student Irma De Jesus showed us how her painting can change colors when viewed under different settings.
What I found most interesting were the Augmented Reality works which require downloading the iACADEMY app. Yes, they have their own app! Just click on the ARTech button and view the artworks labeled as ARTech through the app and watch them come alive! This is one example, a still life digital painting of leaves. When I viewed it through the app, fluttering butterflies appeared!
There are also exhibits of more traditional forms of animation, like the Zoetrope.
Spin the Zoetrope and watch the pictures move.
Of course, there are also animation videos.
Wow, they even teach Virtual Reality! I really do believe that iACADEMY is the most advanced and specialized school when it comes to Animation and Multimedia Arts.
They have BA Fashion Design and Technology too.
Like most parents, I used to believe that for my children to be successful, they have to study in UP, Ateneo, or La Salle. But times have changed. Back in the day we didn't have the internet. We didn't have things like Netflix, Spotify, or mobile games. There is now more demand for the highly specialized art and technology courses iACADEMY offers.
So who should study at iACADEMY?
Those who want to go into animation and/or multimedia arts. iACADEMY has the most comprehensive BS Animation and BA Multimedia Arts and Design courses in the country.
Those who want to go into game development. I believe iACADEMY currently offers the most comprehensive game development course — BS Entertainment and Multimedia Computing with Specialization in Game Development.
Why iACADEMY?
iACADEMY has been around for 17 years.
They have partnered with entities like IBM, Unity, WACOM, Polimoda, etc. to provide a higher level of specialization to the courses they offer. iACADEMY is the first college in the Philippines and ASEAN region as an IBM Center of Excellence.
iACADEMY is constantly adapting to the changing needs of society in terms of course offerings.
They have complete state-of-the-art facilities which enable students to make the most of their talents and learnings.
They have started to offer a Senior High School Program (Grade 11 and 12) with an Animation track for a more enhanced level of specialization in college.
A lot of the courses they offer can't be found in other schools.
They will be offering courses on cloud computing soon.
Judging from what I've seen and what I've come across via my research, iACADEMY seems to be the best educational institution when it comes to animation, multimedia arts, and game development.
For more information, log on to https://www.iacademy.edu.ph/. Better yet, drop by the iACADEMY ImagineNATION exhibit at thePower Plant Mall tomorrow during mall hours and see for yourself. In case you can't catch the mall exhibit, you can check it out at the iACADEMY campus from March 18 to 22.
Like this post? Subscribe to this blog by clicking HERE.
Let's stay connected: