With COVID-19 still looming over us, learning institutions are now faced with the challenge of adapting to the new normal. While some parents might opt for a gap year for their children, there are those (like me) who believe it's not a viable option. Let's face it, what guarantee do we have that COVID-19 will be gone one year from now? What if there's still no vaccine or cure? It would've been a waste of an entire year. I think the faster people can adjust to the new normal, the better for everyone concerned.
Last June 2, I attended iACADEMY's webinar about iACADEMY GOAL (Guided Online Autonomous Learning). This is part of their webinar series on the new normal. Although my kids are not currently enrolled in iACADEMY, I wanted to see how different schools are taking on the challenge of teaching kids outside of the school premises. For iACADEMY, the answer is flexible remote learning.
Hundreds of parents were in attendance of the webinar. Ms. Cecilia Sy, iACADEMY VP for Academic Affairs, was there to address various questions and concerns about the upcoming schoolyear.
"When the pandemic broke, all schools and universities were forced to expedite the use of technology to deliver instruction to ensure that learning is not disrupted. For us, we saw this challenge as an opportunity to step up our game. iACADEMY will implement an online distance learning program called GOAL or Guided Online Autonomous Learning. GOAL is our online distance education program designed to provide a flexible, relevant, balanced, and collaborative learning experience to our students," Sy told parents.
According to Sy, flexible learning is a multi-faceted approach to learning where students are given options on how, what, when and where they learn. It is the overarching drive, philosophy, or approach behind the other methods of delivering instruction.
"I want to emphasize that Flexible Learning is student-centered because it encourages and empowers students to be autonomous or independent which is a key attribute that enables them to manage the challenges in the 21st century. Flexible Learning combines and expands familiar approaches to teaching and learning. Face-to-face classes, blended learning, and distance learning are part and parcel of flexible learning," Sy explained.
By face-to-face, they mean face-to-face in front of a screen this coming semester. Sy also enthused that with this set-up, they can easily invite key resource people from different countries to contribute to the students' learning process.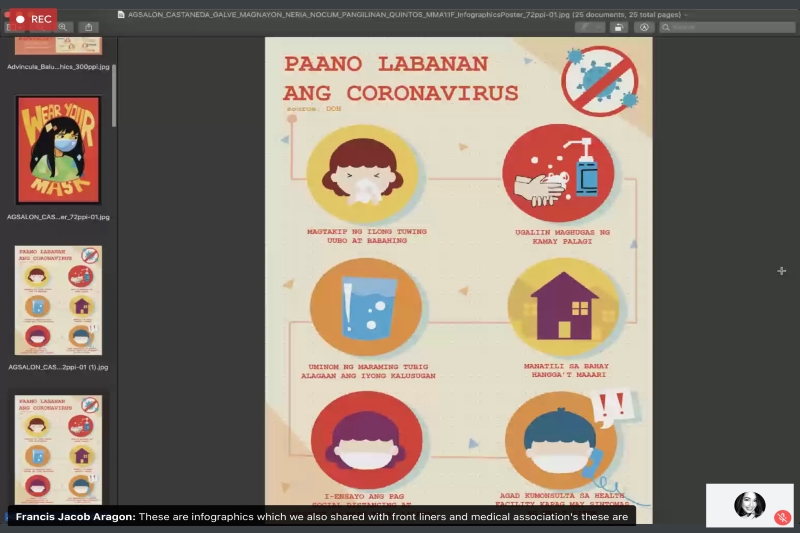 We were shown students' works as a result of the Flexible Remote Learning system iACADEMY adapted during the remainder of the last semester. Parents were assured that their children would still get the same quality of education as before the pandemic broke out.
Just to avoid confusion, here is a brief definition of the different kinds of learning systems:
Flexible Learning draws on different approaches and methods of delivering instruction that is most suitable to the circumstances and needs of the learners.
Blended Learning refers to delivering the lessons through face-to-face and online classes. This means some lessons are taught in a traditional classroom set-up and others are taught online.
Distance Learning pertains to delivering instruction remotely. The key elements in distance learning are time and space. In this set-up, students are not in the same physical room with their teachers and classmates while learning. Learning sessions are conducted synchronously and asynchronously.
Synchronous Learning is conducting learning sessions where students and professors interact and collaborate in real time. This can be done either through face-to-face classes or through remote or distance learning enabled by technology. This set-up allows immediate feedback because it facilitates the exchange of ideas and information in real time.
Asynchronous Learning facilitates collaborate but not in real time. The professors provide offline learning materials or resources that students study or work on in their own time. This includes tutorial videos, recorded lectures and demonstrations, modules, learning guides and other reading materials. Students and professors communicate through discussion boards, emails, or instant messaging. These tools are used for consultation and feedback.
A number of parents were concerned about lab subjects since students would have no access to iACADEMY's facilities. iACADEMY ensures that these can be delivered effectively using the distance learning approach. "We revisited the curriculum and identified subjects that can be delivered online without watering down its content. There are lab subjects that require only a regular desktop or laptop and reliable internet connection to learn the course. The students can learn the concepts and skills through live demonstrations or tutorial videos," Sy said.
Overall, the school's academic officials emphasized that the new learning arrangement for students follows an outcome-based approach. Assessments or projects are geared towards evaluating what the students know and can do. Activities are designed for students to demonstrate and apply the skills or competencies they've learned.
As the school fully implements the flexible remote learning or its Guided Online Autonomous Learning (GOAL) approach, its officials are hoping to get the support of its students' parents by collaborating and keeping the latter's communication lines open for news, feedback, and developments.
Like this post? Subscribe to this blog by clicking HERE.
Let's stay connected: