A lot of people who know me would agree that pre-pandemic me would not have lifted a finger to procure tickets for a concert as logistically challenging as Taylor Swift's Eras Tour. There are only 2 stops in Asia — Tokyo and Singapore. Although I would've preferred Tokyo largely because of the weather (I'm a polar bear as my friend Marj always points out), it was just too complicated to join the ticket lottery as a non-resident. Plus since it's a lottery there are no guarantees. At least with Singapore, either you succeed buying tickets or you don't.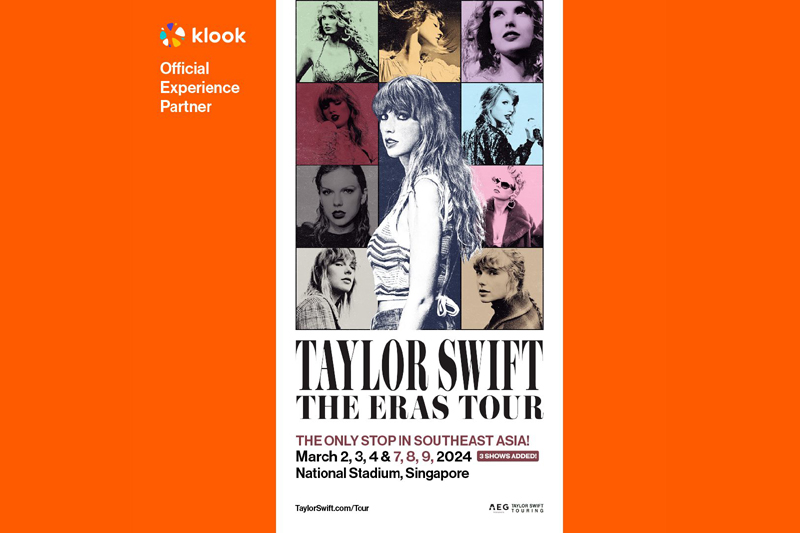 When Klook announced that they were the official experience partner for the Singapore leg of the tour, a lightbulb went off in my head. I had no plan of joining the Ticketmaster queue since I couldn't be part of the UOB pre-sale. I figured I would have better chances with Klook, since they were selling tickets in bundles of two paired with either a 4-Star or 5-Star hotel. So I told myself I'd take my chances on July 7 when the Klook packages go live. Klook sent out an email that everyone had to get a verified Ticketmaster SG account first prior to attempting to buy their packages. So I registered for a verified Ticketmaster account.
I was logged into the app before 12nn. By 11:59 I was ready to click on the 5-star package. When the clock struck 12 I did. I was already 8488th in line for the Klook 5-Star package at 12nn. I was disappointed but I thought Taylor Swift is going to be there for 6 shows and the venue can seat 55,000 people at any one time… 8488th in line isn't so bad. The queue moved very quickly — shockingly quick that by the 10-minute mark it was already halfway done.
By the time it was my turn the only Category 1 tickets left were partnered with Crowne Plaza Changi. Ummm… no thanks, I don't want to be holed up in the Changi Airport area. So I settled for Category 2 instead (I hope it's seated and elevated) and picked Pan Pacific Orchard Hotel based solely on the word Orchard. I correctly assumed it would be located along Orchard Road lol. After I was done I compared the queue length of 4-Star and 5-Star and wow, the 4-Star queue was 5x longer than the 5-Star queue. I expected this so I went straight to 5-Star.
Amazingly, I was done with everything in less than 30 minutes. I had a slight hiccup at checkout because my credit card on file was already expired, but I was able to update the info easily. Payment was processed and I got my confirmation e-mail shortly after.
What's included in a Klook Eras Tour Package:
2 concert tickets
1 night in either a 4-Star or 5-Star hotel, this is your accommodation on the night of the concert
Prices vary depending on the tickets and the hotel you get. 4-Star packages have hotels that cost ₱11,000 and up. 5-Star packages have no hotel below ₱20,000 per night. Some hotels have breakfast included and some don't, this is indicated on the booking page. The accomodation I got comes with breakfast, which is handy since we fly out of Singapore the day after the concert. I also booked flight tickets and additional hotel nights right away since prices were steadily going up.
I joined what has been dubbed as The Great War for Taylor Swift Eras Tour tickets because I've come to the realization that I'd rather pay for experiences these days. Pre-pandemic me was all about material things. I would always want something tangible after having spent money.  Post-pandemic me would rather spend for experiences. The old me would regularly buy a designer bag just because. Now I have waayyyy more bags than I have shoulders to carry them around. Name the brand and I probably have it so why do I need any more? I've just lost all desire for any more designer goods. I like Taylor Swift and I actually know most of her songs. Judging from clips I've seen of the 3-hour extravaganza that is her concert, I know it's going to be worth it. It helped that I have had a bit of practice buying tickets with all the K-pop concerts we've watched — I learned that 1 minute late logging in is too late. Flying to another country to watch a concert is something I have actually done once back in 2013 for American Idol.
Anyway, right after all the Klook packages were sold out, Facebook posts selling Klook packages promptly went up. Like WTF? I hate these people. Robbing Swifties of the opportunity to see Taylor Swift just to try and make a quick buck which is NOT EVEN CERTAIN. According to the fine print in the Klook package, it's NON-TRANSFERABLE. But people are so desperate they buy these packages anyway, as evidenced also by all the FB posts I've seen with SOLD. I really hope Ticketmaster cracks down on scalpers.
Like this post? Subscribe to this blog by clicking HERE.
Let's stay connected: