I had originally planned to have dinner at Le Petit Chef Manila at the eve of our son's birthday. Unfortunately, two weeks before the day, I discovered that booking for a party of four takes about a month. I don't know if Valentines Day had something to do with it but we ended up with a reservation date one month after… which was last night.
Le Petit Chef Manila is situated at The Peak on the 60th floor of the Grand Hyatt BGC. It's very spacious and not many people are accommodated per session. You have to be there 15 mins before 6pm which is the time the dinner show starts. They won't let you in until the next segment if you're late. They also require you to pay a reservation fee (it was ₱6,000 for a party of four) that is deductible from the total bill. Full payment is required 72 hours before your sked for the booking to push through. They provided a payment link both times so my mode of payment was credit card.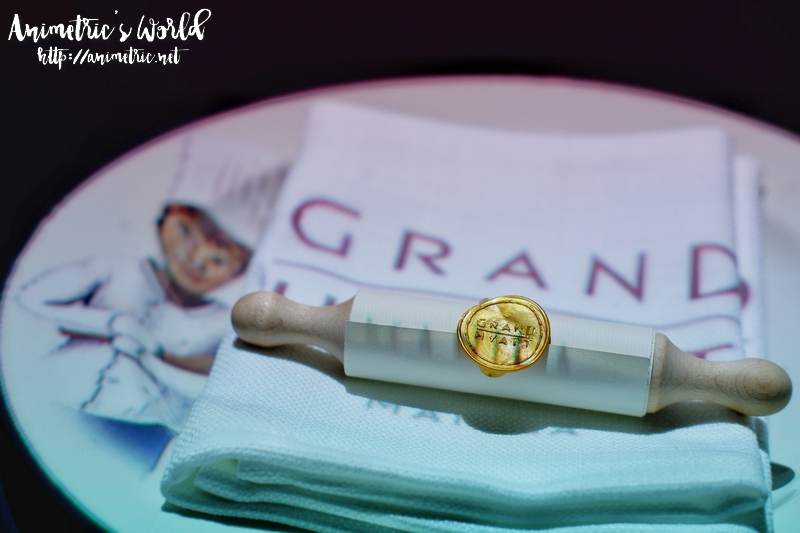 You start the dinner show with this, a scroll with the night's menu.
Le Petit Chef Manila is a show. An animated chef gathers ingredients and cooks dishes in front of you, on your plate. After it's cooked, servers put the actual dish in front of you.
The first course was Italian Burrata. My gosh, it was so creamy and the 15-year aged balsamic vinegar they drizzled it with was soooo good!
Next up was Bouillabase, which had prawn, sea bass, scallop, and mussel. It was surprisingly light and refreshing. Saffron gives it the red hue.
The third course was Smoked Chicken Pistachio Truffle Ballotine. They said the secret to enjoying this is to eat everything together so I piled everything onto the chicken and ate it like a sandwich. It was good.
For the main course, we had Char Grilled USDA Beef Tenderloin. We all asked for Medium Well. It was good but in retrospect we all agreed Medium would probably have been better so the meat would be more tender.
All the sides and even the Brandy Truffle sauce were absolutely delicious.
Our menu featured 2 desserts, the first of which was Mascarpone Creme Brulee. It has berry compote and sticky rice pudding underneath so we were told to scoop all the way to the bottom so we can eat all the layers together. This was divine. I normally don't care for Creme Brulee because I usually find it overly sweet and cloying but this was phenomenal. The berry compote lent a tartness which made it all more balanced.
The finale dessert was the Homemade Baked Alaska. It had cake on the bottom layer, chocolate vanilla ice cream in the middle layer, then topped off with Italian meringue and raspberry sauce. Gosh the meringue was a combination of textures — crisp, creamy, soft… our son said it's the best dessert he has ever eaten in this country.
I opted for the Le Petit Chef Premium Menu (₱6,600 per head) which is almost the same as the First Class Menu (₱7,000 per head). They also have a Kids Menu (₱4,000 per head) for children 12 years old and below.
With regards to the cost, of course Le Petit Chef Manila will seem overpriced if the food is all you're considering. I choose to look at it as a complete unique experience that everyone should try at least once. It's sort of like paying for concert or theme park tickets, at least here you actually get to eat delicious and meticulously prepared food. Le Petit Chef is actually cheaper here in the Philippines because abroad the average price is US$150 per head.
Pre-pandemic me would not have paid this much for dinner but COVID has helped me realize we can't take money and material things with us, so it's worthwhile paying for experiences.
You can watch my Instagram Reel to see the animations and the dishes at https://www.instagram.com/p/CpsTvPiNnPM/.
To book or to find more information, go to https://lepetitchef.com/.
Like this post? Subscribe to this blog by clicking HERE.
Let's stay connected: