So… I attended the WeTV virtual launch event last Monday via Zoom. WeTV is the new kid on the block where streaming platforms are concerned. I already have Netflix, Viu, and iflix. WeTV is the latest addition to my list of go-to digital entertainment sources. You can actually watch a lot of TV series, movies, and even anime for free on this platform.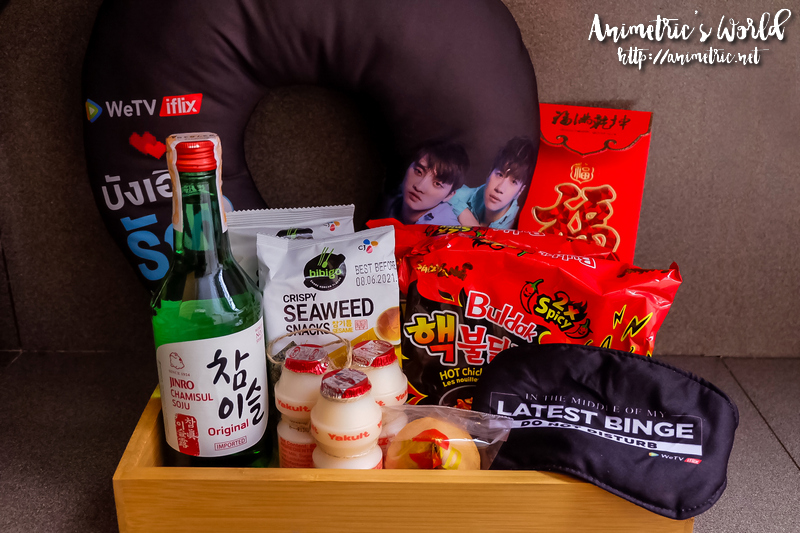 To make binge-watching more fun, WeTV sent a care package with snacks, accessories, and even soju!
Okay so how is WeTV different from the other streaming platforms?
Well there's content coming in from China (C-Dramas are actually the rage now), South Korea, Thailand, and soon even from the USA. I was surprised that they even have BL (Boy Love) series. We had a watch party My Gear and Your Gown's pilot episode. I must say based on the trailers we saw, it's pretty daring! I haven't watched anything quite like it. There are 4 episodes up at the time of this writing.
A lot of shows are exclusive to this streaming platform.
There's a pretty good selection of K-Dramas too. I'm so happy they have Flower of Evil. Been wanting to watch it but my Viu subscription expired already. WeTV is a lot cheaper at P59 a month or P599 for a year. Viu is P129 a month. Flower of Evil is marked VIP so it means you need to have VIP access to watch. Those not marked are available to stream for FREE.
But wait, there's more! If you have iflix, you can actually experience WeTV via iflix. iflix has a category devoted to it. Of course, iflix doesn't have everything (there's no Flower of Evil!) but what is there is pretty substantial.
Here are some of them.
The WeTV app is free for download at the Google Play Store. If you have an Apple device, you can access it via your browser at https://wetv.vip/en.
Since we'll probably be in some form of quarantine for a long time, having more sources of entertainment is a good thing. By the way, I'll be giving away VIP access to iflix and WeTV! Please check my IG account for the mechanics.
Like this post? Subscribe to this blog by clicking HERE.
Let's stay connected: