Did you know you can celebrate momentous occasions at The Aristocrat Restaurant? One of the milestones Filipino (and even Chinese) families celebrate is a child's baptism. There's usually a reception/party after the church ceremony where friends and relatives can all go and celebrate. It's like a birthday of sorts (in fact Chinese families usually baptize babies on their 1st birthday so the party doubles as a birthday party) with lots of food, colorful decorations, fun games, and giveaways.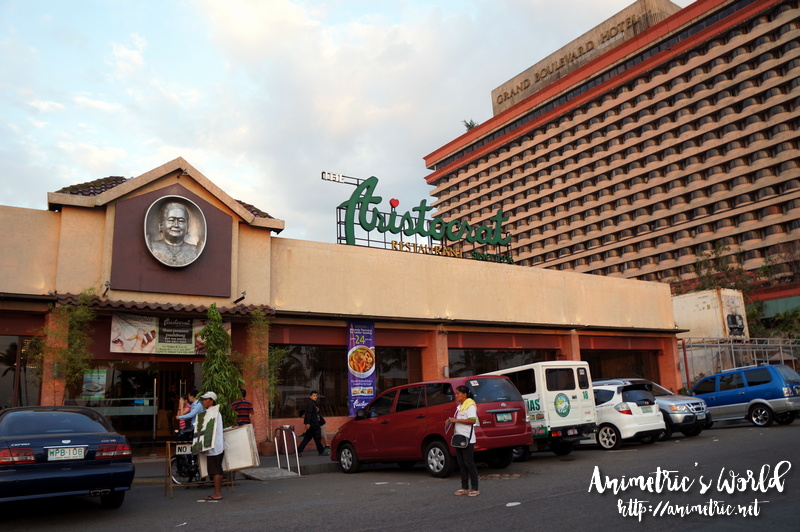 The Aristocrat Restaurant has always been synonymous with family gatherings and special occasions. It has been most of our parents' and grandparents' go-to place for birthdays, anniversaries, and other events that call for a get-together. In fact, when I last had a meal there a month ago, the place was packed with families feasting after graduation day.
I was invited to a rather unique event by The Aristocrat Restaurant one Sunday. It was the baptismal lunch reception of Kai Anara, one of the youngest members of the family who owns the business. It would double as the launch of The Aristocrat Restaurant's baptismal party packages.
I proceeded to The Aristocrat Restaurant's function hall and wow, it was completely decked out for a fun and festive children's party! There was a colorful stage set up for the party host, lots of ballooons, streamers, and a kiddie area with child-sized tables and chairs. There was even a Kiddie Salon where little girls could get their hair and makeup done.
It was lunch time and true to The Aristocrat Restaurant tradition, there was a smorgasbord of delicious signature classic dishes I've come to expect. The food was served buffet style and to start us off there was a DIY salad bar.
Then there was Sotanghon Guisado. Here in the Philippines, noodles are considered as a symbol of long life and so most birthdays and celebrations would usually have at least one noodle dish. I was very happy with Aristocrat's Sotanghon Guisado as it was tasty without being overwhelming. I squeezed a calamansi all over my serving and it was delicious! I also loved how garlicky it was.
Fish Fillet & Chips with Tartar Sauce was up next. Can I just say I love Aristocrat Restaurant's Fish Fillet? Crispy outside, tender inside plus it had a slight hint of citrus flavor which went so well with the tartar sauce.
A meal at The Aristocrat Restaurant just isn't complete without a serving of their famous barbecue! For this party, we had Mini Boneless Chicken Barbecue (yes, there was java sauce on the side!), which was really perfect for me since I like my chicken boneless and easy to eat. I was actually told I could bring my family to the party, and it's too bad that the family member that would've been the happiest, my mom (Aristocrat's biggest fan ever since I was a little girl), isn't in the country.
Their Beef Mechado really surprised me. I normally don't eat mechado but I decided to give this one a try. Wow. The beef was so tender you could use a spoon to slice it. The savory tomato-based sauce complemented it so perfectly.
We had lots of Steamed Rice to go with our yummy viands.
Another favorite of mine was the Bagnet with Pita Wrap. A station was dedicated to it and the line was always long! The bagnet is so crunchy it's like eating chicharon. Would you believe that a baptismal party for 50 people by The Aristocrat can be as affordable as P32,350? That includes food, a baptismal cake by The Aristocrat Bakeshop, souvenirs, and theme decorations.
You can take it up a notch by adding The Aristocrat Bakeshop Dessert Bar for 50 persons for an additional P7,500. There are other add-ons you can avail of too: Roving instant souvenir photos, Kiddie Salon, Cupcake Decorating, Make Believe Storytelling, plus lots of giveaways!
I was excited to try The Aristocrat Bakeshop Dessert Bar.
Check out those pretty cupcakes!
Cake Pops, Beehive Cakes…
More pretty cupcakes!
This was my lunch plate. I got a little of everything. 🙂
And this was my dessert plate! My favorite? The Chocolate Supreme Cake. Sooooo good — moist, rich, and fudgy, I couldn't get enough of it. I was told a whole Chocolate Supreme Cake can be bought at The Aristocrat Bakeshop. I took home some and my daughter wants it as her birthday cake. 🙂
Baptismal party reservations may be booked at the following Aristocrat branches: Roxas Boulevard (24 hours), Jupiter St. (24 hours), Banawe, S&R Shaw Blvd., Subic Bay, and Ultimart Shopping Plaza in San Pablo, Laguna. For inquiries, call 524-7671 to 80.
Like this post? Subscribe to this blog by clicking HERE.
Let's stay connected: