I never thought I would have pet cats in this lifetime. We've always stuck to hamsters because they're small and they're pretty easy to take care of. Anyhow, we somehow ended up adopting kittens last year and the rest as they say is history. I did a lot of crowd-sourcing on Facebook on how to go about it. Lucky for us I have a lot of cat ladies for friends. I quickly learned that the kind of food I give the kitties will make a big difference as to whether or not they will live healthy lives. Apparently, most commercial cat food are high in sodium and can cause kidney trouble.
So I got invited to my first ever pet event, the launch of Vigor and Sage premium pet food. Made in the Netherlands, Vigor and Sage premium pet food is healthy, grain-free, and gluten-free. They use a combination of healthy protein options like salmon, turkey, and chicken with carefully selected herbs such as seaweed, ginseng, and green tea. Vigor and Sage's product lines cater to dogs and cats. The products have been dubbed as "Fine Dining with Herbs" for pets.
There are five (5) variants for cats:
Oat Grass Hairball Control (P2,600 for 2kg)
Wolfberry Well-Being Kitten (P640 for 400g / P2,600 for 2kg)
Ginseng Well-Being Adult Cat (P2,550 for 2kg)
Lily Root Beauty Adult Cat (P640 for 400g / P2,600 for 2kg)
Lotus Weight Control (P2,600 for 2kg)
I got to take home Vigor and Sage Lily Root Beauty and Vigor and Sage Oat Grass Hairball Control for our kitties. The Lily Root Beauty is made with salmon and seaweed. Wow, it does smell a lot like savory fish crackers with nori.
This is what the Lily Root Beauty dry cat food looks like up close. I like that there's no artificial coloring. I made the mistake of buying a brand of dry food that was red and wow, our cats' poop turned red and was super stinky. When I switched to a more natural dry food, their poop didn't smell bad and was normal in color. So yes, the food you give your furbabies matter.
I think our cats identified the Vigor and Sage bags as food when I got home because they kept smelling them lol.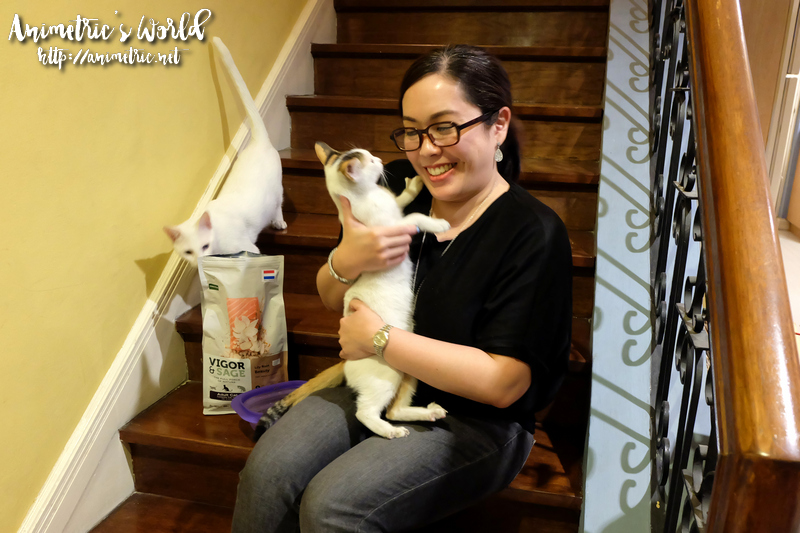 I let them try the Lily Root Beauty variant and they ate it! They were sniffing it enthusiastically after I opened the bag. I remember buying exceptionally bland, almost scentless kibble before and they had zero reaction.
Vigor and Sage premium pet food can be purchased at https://mogandmarley.com/. For more information, log on to the Vigor and Sage Philippines Facebook Page.
Like this post? Subscribe to this blog by clicking HERE.
Let's stay connected: