Vaseline Petroleum Jelly is something we've always had at home when I was growing up. My grandma loved hoarding jars and jars of it from the US. At the time, I didn't really know what the product was for.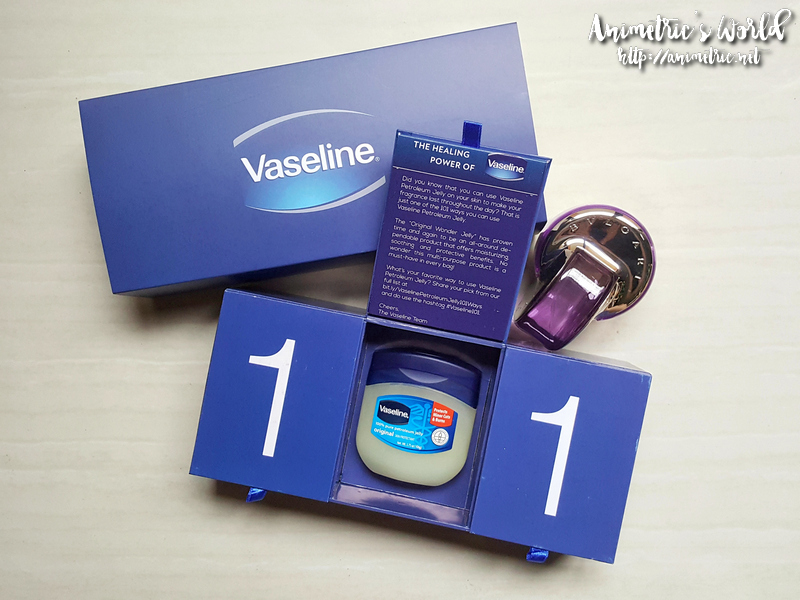 These days, I have it sort of figured out. I know it has amazing healing properties that can repair, moisturize, and protect the skin. But beyond skincare, I haven't really thought about other uses for it! I was so surprised when I got this kit. I found out there's an existing list that details the 101 ways to use Vaseline Petroleum Jelly! One of the more surprising things I learned? You can use it to prolong the scent of your favorite perfume! Just dab some petroleum jelly on your finger, spritz some fragrance on the jelly, and then apply to your pulse points. Easy peasy right?
Okay, let's go to non skin-related uses. Did you know that you can use this product to:
Remove scratches from a CD or DVD.
Shine your shoes.
Remove dirt from leather bags.
Clean watermarks from wood.
Remove chewing gum from wood.
Clean your mirror.
Get zippers unstuck.
Clear wax from candlesticks.
Add shine to your accessories.
Mask doorknobs while painting.
Wow… that's just 10 uses! There are 91 more at http://www.vaseline.ph/101-ways-to-use-petroleum-jelly.
Personally, I use Vaseline Petroleum Jelly around my hairline when I'm coloring my hair at home to prevent staining around my face. I also apply it to my heels when they're super dry and cracking. Lol, I'm kind of excited to try out the household applications for this product.
Vaseline Petroleum Jelly is available at the Unilever Beauty Flagship Store on Lazada. Check it out for the best deals.
Like this post? Subscribe to this blog by clicking HERE.
Let's stay connected: