Last March 19, I was whisked off to Anya Resort in Tagaytay for the Unilever Beauty and Personal Care Summit. It's a 3-day event where Unilever Philippines will reveal what it has in store for us in 2019. I've been blogging for 10 years but it's the first time I'm attending this summit.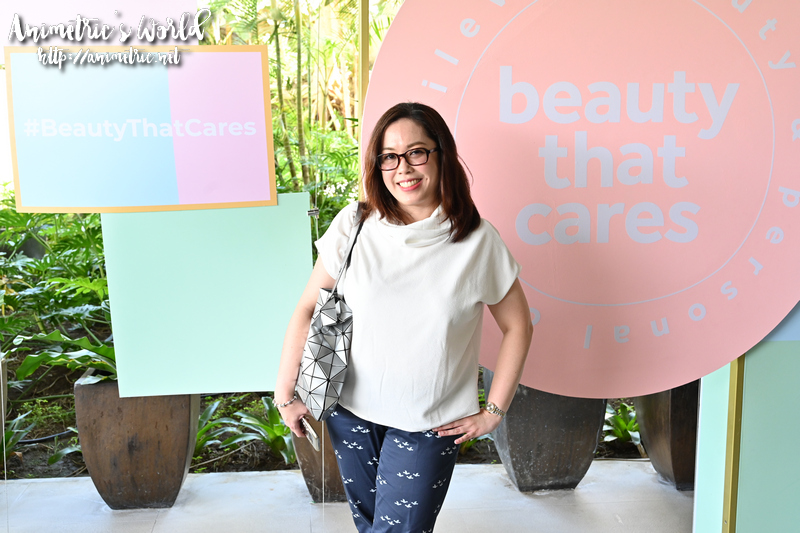 This year's theme is Beauty That Cares.
We were ushered to the villa where our room was located.
Our room is a Junior Twin Suite with a balcony facing the pool.
Photos of my roommate (The Beauty Junkee) and I were on the night table.
Our bathroom was full of Unilever beauty and personal care products. Shortly after we got settled in, we headed for the Anila Poolside Restaurant for our welcome brunch.
We headed for our first stop after brunch, the All Things Hair Refillery. I consider this the biggest news of all.
The All Things Hair Refillery will feature Unilever's most popular hair care products, namely Dove Straight and Silky Shampoo and Conditioner, Tresemme Keratin Smooth Shampoo and Conditioner, Sunsilk Smooth and Manageable Shampoo, and Cream Silk Standout Straight Conditioner.
Okay so what is the All Things Hair Refillery? It's a refilling station for the hair products I've mentioned above. Just bring your old (but clean) bottle of Unilever shampoo or conditioner to be refilled and pay only for price of the product per gram. If you don't have an old Unilever bottle, just bring any old shampoo or conditioner bottle and get a fully recyclable bottle you can use for refilling for FREE!
So if I get something like 100g of product, I only need to pay the price for that amount. It's cheaper compared to buying a brand new bottle. The All Things Hair Refillery can be found at the following locations starting March 23 until April 14:
Trinoma – Level 2 Mezzanine near Nike
Glorietta – G/F Lower Level near Lacoste
Alabang Town Center – G/F near Etude House and Metro Deoartment Store
What's more, The All Things Hair Refillery is accepting CLEAN plastic bottles and sachets (not necessarily Unilever ones) for upcycling so you can just take them there instead of randomly throwing them out. We're all hoping they'll make this permanent and open more branches. What a way to kick off the summit!
Then I moved on to the Dove booth, which highlighted the Dove Self Esteem Project. It's a parent's guide to building girls' body confidence by Dove… and it all starts with learning to love yourself. There are now downloadable modules and apps developed by Dove to help you along the way.
I headed foor the Pond's event afterwards. Pond's has launched so many new products and I'm honestly overwhelmed! There's now Tone Up Cream, BB Powder, BB + CC Cream, Micellar Water…
But what really caught my attention was the face masks. Take note, they're made in Korea! I've actually been getting requests to review these, rest assured that I will!
We then proceeded to the Beauty Buffet where we learned about the science behind our favorite brands like Sunsilk, Cream Silk, Vaseline, Dove, and Close Up via a series of real time experiments.
Then we enjoyed poolside massages care of Vaseline.
When we got back to the room, we found trays of Cream Silk on our beds. We had just enough time to prepare for the Cream Silk Ultimate Dinner.
I got my hair styled by the Tresemme team, yay!
A new Cream Silk Triple Keratin Rescue variant was launched over dinner — Cream Silk Triple Keratin Rescue Ultimate Color Revive.
I'll go into more detail about the new Unilever releases in my next posts. Will also be reviewing some some of the products like the Pond's facial masks.
But wait, there's more! I'm giving away a Unilever Mystery Bag packed full of products from Dove, Rexona, Sunsilk, Cream Silk, and Eskinol. This will be the last leg of my 10th Blogversary giveaways. Mechanics on my Instagram post.
Like this post? Subscribe to this blog by clicking HERE.
Let's stay connected: