Cleansers are definitely among my most-used skin care products. I wash my face 2-3x a day, when I wake up in the morning and before I go to sleep at night then one more time in between.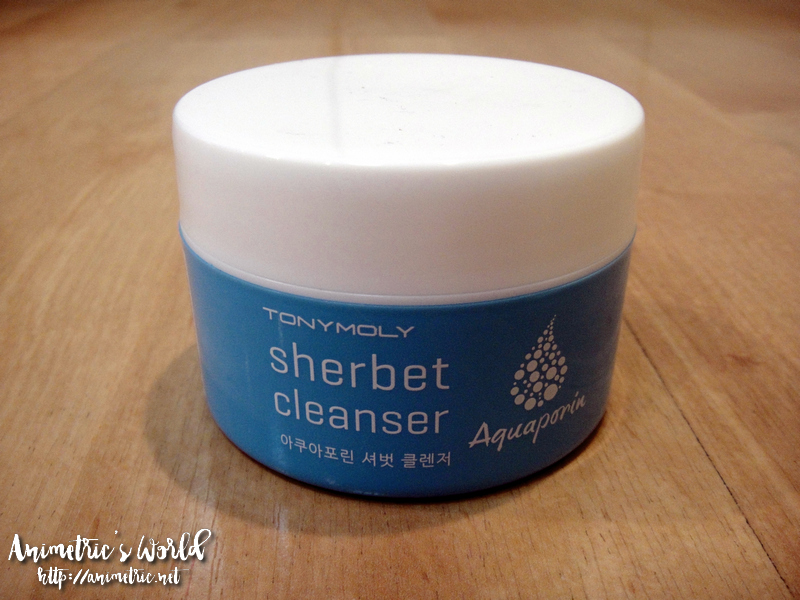 Tonymoly Aquaporin Sherbet Cleanser (P548)
I'm always excited whenever there's a new cleanser for me to try. I switch cleansers a lot depending on several factors: the weather, my skin condition, the amount and kind of makeup I have on, etc. So the latest one I tested was the Tonymoly Aquaporin Sherbet Cleanser.
It smells so fresh, it's so perfect for the hot summer months! I was surprised at how solid it was when I first opened it.
The way to use it is to wet your face, then scoop a small amount (enough for your entire face), and then massage it all over. Tonymoly Aquaporin Sherbet Cleanser is an oil-based cleanser that's effective in removing makeup.
So I tried removing waterproof eye makeup with it. I gently massaged it over my eye area (which I wet first) and wow, it removed my waterproof eye makeup (my brows, eyeliner, and mascara) completely!
What I like about the Tonymoly Aquaporin Sherbet Cleanser:
The scent — it smells so fresh! I love it!
It removes waterproof makeup completely.
It's oil-based but it's not messy or greasy because it comes in solid form.
It leaves skin feeling soft and smooth.
It's quite economical because a little product goes a long way.
Downside? Since it's oil-based it can be tricky to rinse off completely and some prefer to follow up with a foaming cleanser afterwards.
Tonymoly Aquaporin Sherbet Cleanser is available at all Tonymoly counters and boutiques for P548.
But wait there's more! Check out my collection of fruits for the summer from Tonymoly! They look like toys, I love it!
Tonymoly Red Apple Hand Cream (P378)
This fruity hand cream is laced with honey and butter to keep your hands smooth and beautiful. I'm feeling like Snow White just holding it, lol.
Tonymoly Magic Food Banana Hand Milk (P378)
This one contains banana extract and milk proteins which soften rough and dry skin. Waaah I'm confused which to open first!
Tonymoly Appletox Smooth Massage Peeling Cream (P528)
This product is what I'm most excited about. It's a peeling cream containing green apple extracts, papaya extracts, alpha hydroxy acids, and hyaluronic acid. I exfoliate my face at least once a week and this product sounds perfect!
All the above products are available at Tonymoly counters and boutiques. Log on to http://www.tonymoly.ph for a complete list of stores.
Like this post? Subscribe to this blog by clicking HERE.
Let's stay connected: