Our cook takes the day off every other Sunday. That said, we eat lunch and dinner out every other Sunday, lol. One Sunday noon, we headed over to SM Aura to try Niu by Vikings. We love buffets and Vikings is our go-to place whenever we're entertaining guests. But we've never tried Niu until that particular Sunday.
So what's the difference between regular Vikings and Niu by Vikings? First off, the interiors. Niu by Vikings looks more high-end. In fact, it's rather hotel-ish in terms of ambiance.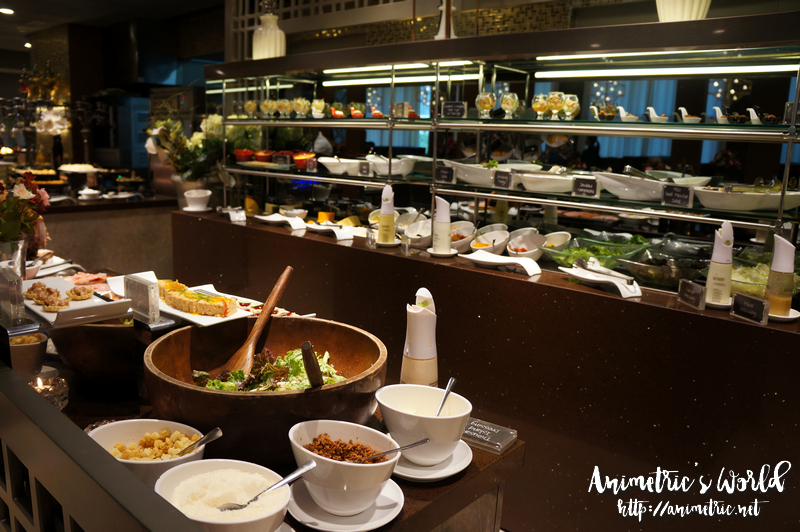 I wandered to the Salad Station and got blown away by the wide selection of pre-made salads as well as ingredients you can use to make your own.
Put your desired salad ingredients and dressing in the large wooden bowl and toss! Love it!
There's a Grill Station where you can have all sorts of meats cooked to your desired doneness.
They even have Buffalo Wings ready for grilling!
This is my ultimate favorite Vikings dish of all time — Binusog na Lechon! It's pork belly with crunchy skin and melt-in-your-mouth tender meat with seasoned rice. It's sooooo good. The pork skin is always crackling crisp any time you get some. This is what I always go first whenever we eat at Vikings. It's an awardee at the 2015 Philippine Culinary Cup and it's not hard to understand why… it's just SOOOO good.
Binusog na Lechon can be found at the Carving Station together with Roast Angus Beef, Lamb Chops, and Roast Turkey.
There's actually Roast Chicken and Roast Turkey… with stuffing and gravy.
There's a Dimsum Station where you can get Siomai, Hakaw, and other delicious stuff.
There's also the Fresh Catch of the Day. You can find this at Vikings too.
Squid Waterbreak Style
Curry Crab
Dishes I haven't seen in Vikings include Squid Waterbreak Style and Curry Crab among many others. I was so overwhelmed I didn't know which dishes to photograph anymore.
You can have custom made pasta at the Pasta Station.
Love the freshly grilled Yakitori!
You can have freshly cooked Tempura at the Tempura Station.
Drinks? They have even more drinks at Niu by Vikings — sodas, juices, teas, infused waters, shakes, double chilled draft beer…
…and even Japanese Sake!
Since it was weekend lunch they had my favorite Puto Bumbong for dessert. Bibingka too.
Lots of yummy Filipino delicacies for dessert.
There are all sorts of cakes, ice cream, fresh fruits, and of course chocolate fountains! There's a Crepe Station too. If you think Vikings is mind-blowing, Niu by Vikings offers an even more awesome spread (if that was even possible). Would you believe that for all this food and drink, Niu by Vikings charges a very reasonable P888 + 5% service charge during weekday lunch?
Niu by Vikings rates are as follows:
Weekday Lunch P888 + 5% SC
Weekday Dinner P1.388 + 5% SC
Weekend & Holiday Lunch / Dinner P1,388 + 5% SC
Kids 3 ft below or 3 yrs old – FREE
Kids 3 ft to 4 ft / 3-7 yrs old – P288 (Weekday Lunch) / P388 (Weekday Dinner, Weekends, Holidays)
Kids 4 ft to 4′ 6″ / 8-10 yrs old P588 (Weekday Lunch) / P688 (Weekday Dinner, Weekends, Holidays)
50% off Senior Citizens 75 yrs old and up
Like this post? Subscribe to this blog by clicking HERE.
Let's stay connected: