One of the year's most awaited promotions is finally here! Yup yup, it's Starbucks sticker-collecting season once again. This year is special because it's Starbucks' 20th year in the Philippines. I'm like WHUT??? It seems as if it was only yesterday when my friends and I lined up at Starbucks 6750 to get our first taste of their frappuccino. Time really flies.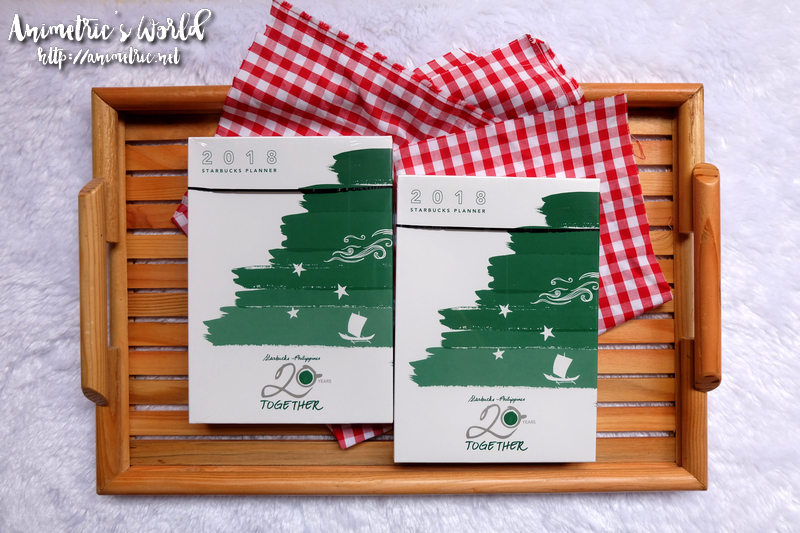 Anyway without further ado, here are the Philippine editions of the Starbucks Planner 2018.
It comes in 2 color combinations with matching leather sleeves. This is the Orange and Blue Planner with light brown leather sleeve.
This is the Green and Blue Planner with dark brown leather sleeve.
All the Philippine editions of the Starbucks Planner 2018 comes with limited edition Kape Vinta Starbucks Cards.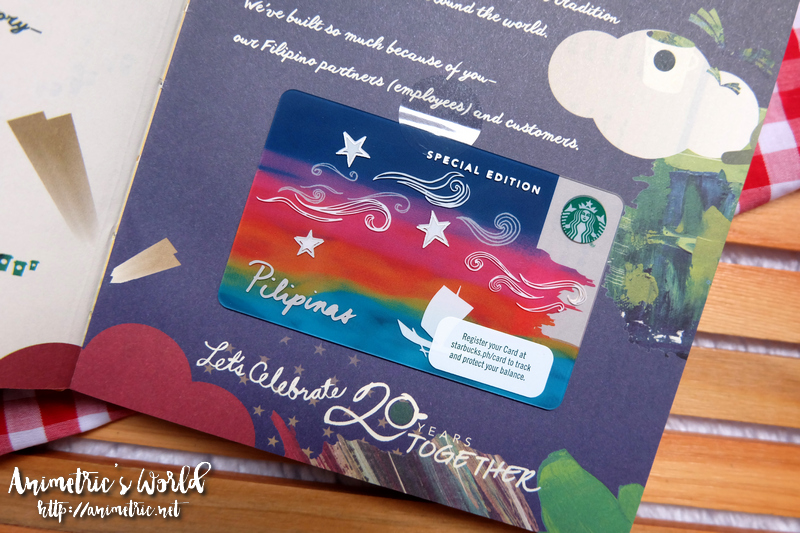 Here's a closer look at the Kape Vinta Starbucks Card. If you load the card with at least P300 and register it to a My Starbucks Rewards account anytime between January 1 – 31, 2018, you get a chance to win free Starbucks drinks for a year! They will be drawing 20 winners of free Starbucks for a year and another 20 winners of free Starbucks for a month. That's a total of 40 winners! This is just another reason to get a Starbucks Planner 2018.
The Starbucks Planner 2018 also comes with a stencil and a desktop calendar in the shape of a Starbuck cup.
I really like the colorful inside pages of the Starbucks Planner 2018.
The Philippine holidays are marked too!
Every month sports a unique design.
As always there are ten (10) Starbucks coupons you can use from January to October 2018:
Buy 1 take 1 espresso beverage
20% off any cake slice or mini cake
P30 off when you purchase a Venti beverage
Buy 1 take 1 frappuccino
20% off a Starbucks Coffee Traveler
20% off any You Are Here Water Bottle
Free grande handcrafted beverage when you activate or reload a Starbucks Card with P1,500
20% off any pack of Starbucks VIA Ready Brew, Starbucks VIA Latte, Starbucks VIA Iced Coffee, or Teavana
Buy 1 take 1 brewed coffee or cold brew
20% off any Bottled Frappuccino Drink or Tazo Bottled Tea
So how do you get a Starbucks Planner 2018?
Get a sticker card at any Starbucks store. Collect nine (9) holiday beverage (Toffee Nut Crunch Latte, Christmas Tree Peppermint Dark Mocha, Vanilla Nougat Latte) stickers and nine (9) core beverage stickers. Up to two (2) sticker cards can be combined for planner redemption.
Make a single receipt bulk purchase of food and other retail items (merchandise, whole bean, Starbucks VIA, Teavana) worth at least P7,000. You get a Starbucks Planner 2018 instantly. Starbucks load and Starbucks GC purchases do not count.
You can simultaneously avail of beverage stickers and Senior Citizen discount, PWD discount, VAT exemption, and Personal Cup/Tumbler P5 discount.
The following coupons are disqualified for this promotion: Service Recovery Coupon, Free Tall Beverage Coupon, Customer Voice Redemption, Rustan Coffee Partner discount, Rustan Group of Compabies discount, Starbucks Card Registration Treat, and Starbucks Card Beverage Treat Redemption.
Stickers can be collected from now until January 8, 2018. Planner redemption can be done from now until March 8, 2018.
Ever wondered how much money collecting stickers would cost? Well given that you need 9 regular beverage stickers and P105 is the cheapest, that's P945 minimum. Now the cheapest holiday drink is P160 so that's P1,440. Let's do the math — P945 + P1,440 = P2,385. You need to spend a minimum of P2,385 to get a planner!
What do you think of the Starbucks Planner 2018?
Like this post? Subscribe to this blog by clicking HERE.
Let's stay connected: