Just when you thought you've seen it all where Starbucks Planners are concerned, along comes the Starbucks Moleskine Planner. In case you're not into notebooks, Moleskine is an expensive brand of notebooks made with the highest quality components and acid-free paper. It's supposedly the stuff of legend — with a legacy descended from the legendary notebook used by artists and thinkers over the past couple of centuries… among them Vincent Van Gogh, Ernest Hemingway, and Pablo Picasso. My first Moleskine was something I won from an online contest some years back. I used it in makeup school and it's still alive to this day.
This year's Starbucks Moleskine Planner comes in 2 sizes and 4 colors. It was hard choosing which one to take home really. The bigger ones are weekly planners with 176 pages. They come in green and white. The smaller ones are monthly planners with 400 pages. They come in red and black. You can start collecting beverage stickers for this planner starting November 2, 2015 up to January 7, 2016 after getting a Starbucks Christmas Traditions Promo Card from your favorite store. You need a total of eighteen (18) stickers for one (1) planner:
Nine (9) stickers from Holiday Featured Beverages (Toffee Nut Latte, Peppermint Mocha, Christmas Panettone Latte) — and you can order them either hot, iced, or as a Frappuccino.
Nine (9) stickers from ANY Starbucks Core Beverage (except bottled beverages)
Guess what, you can COMBINE two (2) promo cards provided that the 18 required drinks have all been purchased!
You want the planner but not the calories? Any single receipt bulk purchase of food and other retail items (merchandise, whole bean, Starbucks VIA) worth P7,000 will entitle you to a planner INSTANTLY… so do your Christmas shopping at Starbucks, lol! Combination of receipts is NOT allowed, it has to be a single receipt purchase. Buying P7k worth of GCs or Starbucks Card load will also not entitle you to a planner. You can redeem planners until March 7, 2016.
So let's take a closer look at those Starbucks Moleskine 2016 Planners… starting with the bigger ones. They're slim and lightweight, definitely easy to carry around.
The smaller ones remind me of Bibles, especially the black one.
These are thicker but smaller, also easy to stash in your bag.
Guess which one I picked? The big green one. I don't know. It just strikes me as iconic. It's soooo Starbucks.
The Starbucks mermaid logo is embossed on the cover.
As always, the planner comes with coupons! Ten (10) coupons for 10 months from January to October!

Here's a list of coupons included in the Starbucks Moleskine 2016 Planner:
One for you, One for a friend (January) – Buy one take one espresso beverage
Brew great coffee at home (February) – Purchase any coffee press and get a free 100g bag of whole bean coffee
Your coffee just got bigger (March) – Free double upsize when you buy a cup of brewed Starbucks coffee
Have a drink on us (April) – Buy any Starbucks tumbler and get a free tall handcrafted beverage
Share the best of summer (May) – Buy one take one frappuccino
Take home a Starbucks collectible (June) – Purchase any Starbucks mug or tumbler and get P100 off
The card that keeps on giving (July) – Reload any Starbucks card with P1,000 and get a free grande handcrafted beverage
Great coffee calls for great food (August) – P50 off on any Starbucks lunch sandwich
Make it your drink (September) – Get two (2) complimentary drink add-ons
A delicious way to start your day (October) – Purchase any Starbucks breakfast sandwich for only P95
Here's a look at the pages — they have different designs!
I loved leafing through the planners if just to look at how each page is embellished.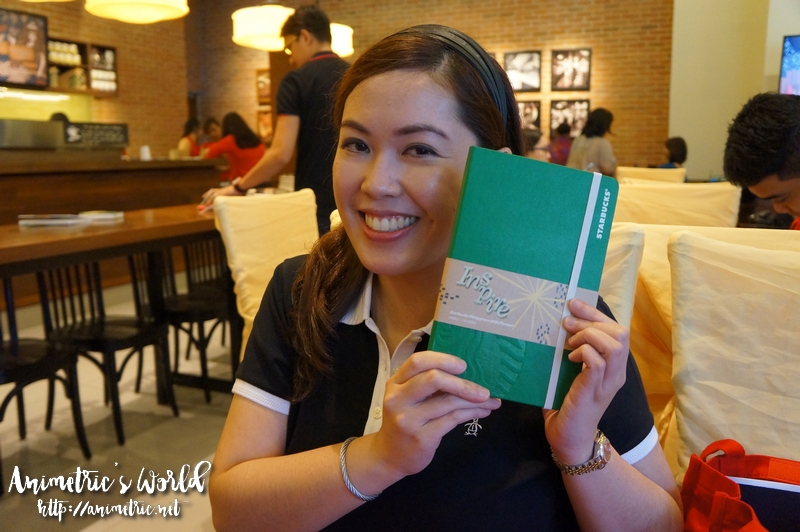 Like I mentioned earlier, I took home this green one!
Will you be collecting stickers for this year's planner? I think it's a smart move on Starbucks' part to collaborate with Moleskine since almost every other coffee shop in town is coming up with their own planner. What do you think of the line-up?
Don't forget to get your Starbucks Christmas Traditions Promo Card at your favorite Starbucks store starting November 2! 😀
Are you a Moleskine fan? Follow @moleskineph on IG and the Moleskine Fans Philippines Facebook Page for the latest on Moleskine here in the Philippines! 😀
Like this post? Subscribe to this blog by clicking HERE.
Let's stay connected: