Unlimited Korean BBQ places are sprouting everywhere. They charge anywhere from P300 to P500 per head. With this in mind, I ask… is it still worth going to the non-unli Korean BBQ places? My answer is a resounding YES. My favorite Korean BBQ places after all are Sariwon and Yoree, both of which do not offer unlimited BBQ. I've reached a point where I would rather pay for quality. I will eat until my hunger is satisfied, not eat myself senseless. Of course I still enjoy the occasional unlimited BBQ but I don't force myself to wolf down more than the normal amount I eat.
Last Saturday, my daughter and I went to the grand opening of Soban K-Town Grill in SM Megamall.
Given my current K-Drama addiction, Korean food is a very welcome treat!
All the tables come with the utensils you need to cook and eat.
That day, my daughter and I tried the Mega Meat BBQ Set (P1,000 for 2 people). It comes with unlimited banchan (side dishes). They served us 6 different kinds. Banchan differs on what ingredients are available. That day we had salad, peanuts with dilis, kimchi, omelet, mashed sweet potato, and spicy bean sprouts.
You also get a bowl of soup and up to 2 servings of steamed rice per person.
Mega Meat is right. You get a Large Fresh Woo Samgyup.
Then a Large Fresh Samgyupsal.
Then we get 2 Small Samgyupsal or Dak Galbi (any flavor). Since I don't really like chicken we had a Soy Garlic Samgyupsal.
For our other Small Samgyupsal, we tried their new Honey Spice flavor.
You get unlimited lettuce to wrap your meats with.
I like the movable tabletop exhaust at Soban K-Town Grill. It's very efficient. You don't smell too much like barbecue after your meal.
Wow, the quality of the meats at Soban K-Town Grill is really good! Everything was tender and a pleasure to eat. I didn't have a hard time cutting the samgyupsal to bite-sized pieces.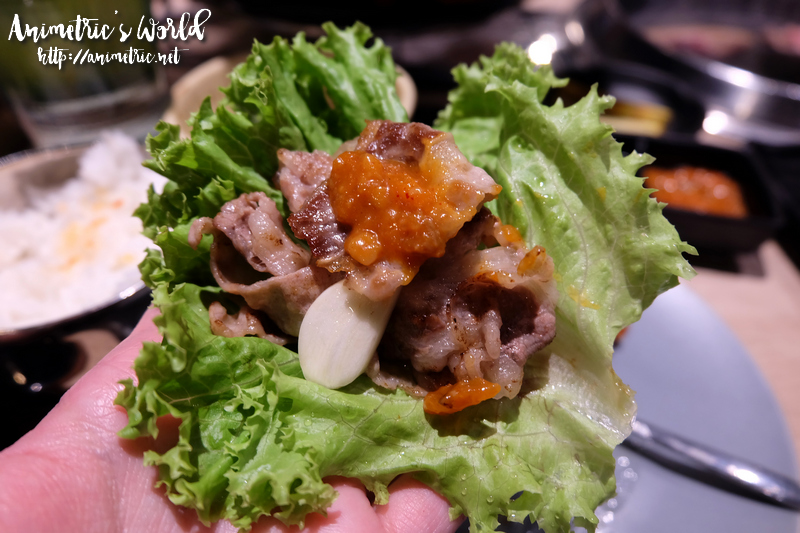 Now this is my favorite way to eat barbecued meats — wrapped in lettuce, with slices of garlic, and some doenjang paste.
With the Mega Meat BBQ Set for 2, each person can get 360g of good quality meat. It's actually just right for 2 adults. In fact, we were unable to finish the last Small Samgyupsal plate. I think P500/person is a fair price to pay for what you're getting — unlimited banchan, rice, soup, and almost 800g of good quality meat. We will definitely be back!
Soban K-Town Grill
3rd Level SM Megamall Bldg B
J. Vargas cor. EDSA, Mandaluyong City
Like this post? Subscribe to this blog by clicking HERE.
Let's stay connected: