Yoree Korean Dining is one of my favorite Korean restaurants. I've been meaning to post this for a while now but I kept putting it off. We had lunch there to celebrate my son's 16th birthday earlier this year. We always go to the BGC branch.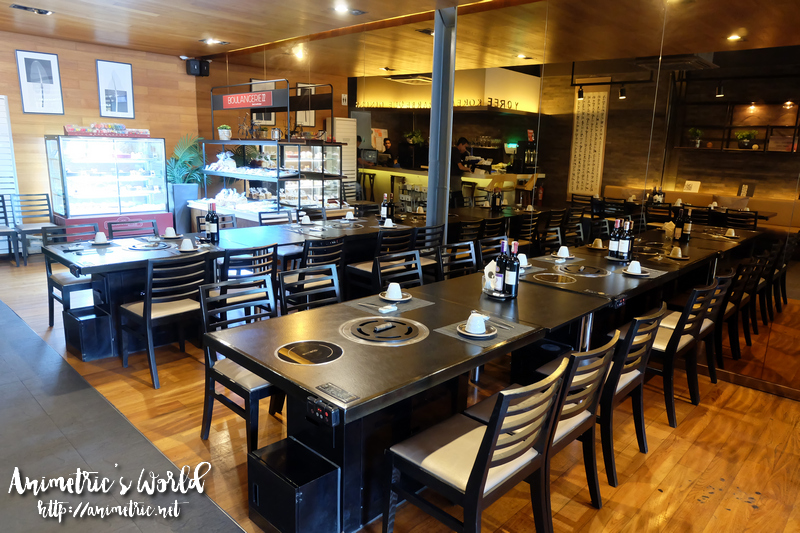 Every table has a charcoal grill so everything is freshly cooked and piping hot.
Hubby, kids, and I each ordered the Lunch B Course which costs P898 per person, minimum 2 orders. It's an 8 course lunch which starts with Juk, which is Korean rice porridge and 3 appetizers. It's kind of like congee but more fine.
The 3 appetizers consisted of pickles, kimchi, and muchim. But they gave us 4 appetizers, one of which was sweet savory eggplant.
Then we each got Gyeranjjim, a light and super fluffy steamed egg served in a hot stone bowl. It's exquisite! It's a great side dish to all the more tasty fare that would follow.
We all had a serving of Haemul Japchae (Seafood Japchae) too. Very tasty, and it's cooked in parchment paper too. They certainly don't skimp on the seafood.
Then we had Yangneom Galbi, marinated USDA Prime Short Rib served with prawns. According to the menu it comes with octopus but beef and prawns were all that we got.
One thing I love about Yoree is the quality of the meat is always top-notch. The beef we had was no exception — extremely tender, flavorful, and just really delicious.
We also had Chadol Duinjang Jjigae which is USDA beef sirloin, tofu, and vegetable stew in hot pot. It's a spicy soup which is to Koreans what sinigang is to Filipinos (but it's not tart). Hubby and kids found it too spicy but I thought it was just okay.
We were supposed to get Mul Naengmyon, or buckweat noodles with beef broth but it wasn't available so they replaced it with Bibimbap. None of us minded because Yoree's Bibimbap is super yummy.
Our last savory dish was Samgyeopsal, which is pork belly. Theirs is served with pan-fried kimchi. Again, really premium meat. I should mention that you can have unlimited green salad to go with your meal.
The last course is dessert and we all got Patbingsu. The milky shaved ice is so fine that it's powder-like in texture. It's topped with sweet ripe mango cubes, red bean paste, and candied walnuts. It's soooo good. Deliciously milky with a hint of sweetness, tartness, and crunch.
Hubby, the kids, and I all agree that Yoree Korean Dining is one of the best places to get Korean food here in Metro Manila. While it's a lot pricier than the usual Korean eat-all-you-can BBQ buffets, there is no comparison when it comes to food quality. You get no less than premium meats when you dine at Yoree. They serve all Korean dishes to boot. Some of the cheap places mix non-Korean dishes into their menus and spreads. No shortcuts here.
Service is nice and efficient. They actually grill and cut the meats for you. All you have to do is dig in! It also doesn't get as smoky as most places. Although your clothes will unavoidably have the very slight scent of barbecue, it won't be overwhelming. Ordering set meals is the way to go as it's more economical and it lets you try more dishes.
Yoree Korean Dining
G/F Forum South Global
7th cor. 25th St., Bonifacio Global City, Taguig City
866-0432
Like this post? Subscribe to this blog by clicking HERE.
Let's stay connected: