I was invited to try the newest Korean franchise here in Manila, Sariwon Korean Barbecue. It's a popular beef barbecue chain in Korea. Having just come back from Seoul, it was really perfect timing.
Sariwon Korean Barbecue is located along Bonifacio High Street Central, one level above Jamba Juice. The lunch and dinner crowds are incredible (lots and lots of Korean regulars), so if you don't want to have to line up, be there by the time it opens or after lunch / dinner.
Each table is equipped with its own built-in smokeless grill.
You get a spoon and a pair of chopsticks as it's the norm in Korea.
You're given complimentary salad while you wait for your order.
There are six kinds of banchan served — sweet potato and pumpkin mash, spinach, beansprouts, Korean anchovies, and two kinds of kimchi. Banchan refers to the small dishes of food that are served with steamed rice. They're not really appetizers per se, they're meant to be accompany the main dishes.
We ordered Citrus Herb Juice (P150). Aside from the citrus taste it seemed to have cucumbers and it's incredibly refreshing. Hubby and I loved it.
We had Japchae (P350) to start us off. It's one of my favorite Korean dishes — chewy Korean vermicelli noodles, mushrooms, green onions, carrots, and bits of meat are cooked together with sweet rice wine (mirin) and then sprinkled with sesame seeds.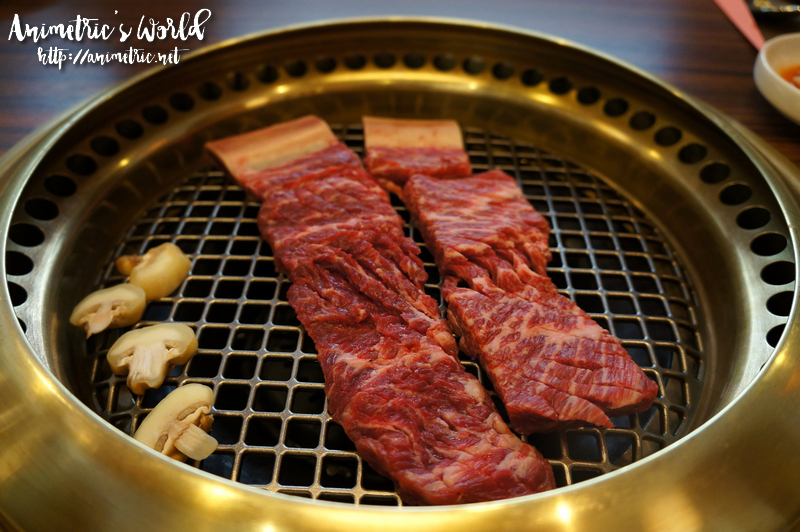 Without further ado, the best thing on Sariwon Korean Barbecue's menu was brought out — Seng Galbi (P780 for 280g). You can see  just how high quality the beef is from the marbling. These are premium USDA choice beef ribs, the best part from the entire slab hence the price tag. It's also not marinated so you taste the real, fresh goodness of the beef itself.
An order comes with lettuce and sesame leaves for wrapping, garlic and soybean paste for garnishing, and three kinds of delicious sauces.
The beef grilled on your table. The staff will ask how you want it cooked and we told her we wanted it medium well. I was amazed at how perfectly she got our desired doneness. The beef came out so tender and juicy. Hubby and I could hardly believe our mouths at how divine it was.
Upon the owner's recommendation, we also had Doenjang Chigae (P250). It's spicy soup made from soybean paste, tofu, and vegetables. Think of it as miso soup with a kick. I actually found it delicious and oddly comforting.
Haemul Pajeon (P350) or traditional Korean pancake, reminded me a lot of what I had in Seoul. This dish is savory, pancake batter is mixed with squid, shrimp, oysters, and green onion. Dip it into the sauce and wow!
Then we had Galbi (P545 for 280g).
These are also USDA choice beef short ribs, the difference being these are marinated in honey. It's as tender and juicy as Seng Galbi but markedly sweeter. You can actually eat this without sauce because the marinade gives it a pretty strong flavor.
As a finale, we were served Sariwon Bulgogi (P545 for 150g), silky thin slices of USDA choice beef with vegetables and Sariwon sauce. Here's a bit of trivia — Sariwon sauce is made from scratch by boiling fruits together.
It comes with sweet potato noodles which they also make from scratch.
It's all grilled and boiled on your table top. The broth used for the noodles is fruit-based as well. It's a very refreshing dish. The noodles remain chewy and firm despite being simmered in broth for a long time. It's so awesome. We were just speechless with each dish.
To cap off such a tasty and filling meal, we had Sikhye (P60), a traditional sweet Korean drink made with malt and rice. It's both nutritious and refreshing, the perfect palate cleanser that leaves you feeling perfectly satisfied.
My hubby and I were blown away by our Sariwon Korean Barbecue experience. This is by far hands down the best Korean restaurant we've tried — and we say that comparing it even with those we've eaten at in Seoul. In fact it's so good this is officially the most I've ever eaten ever since I started my weight loss program.
Sariwon Korean Barbecue
Bonifacio High Street Central
7th cor. 29th Street., Taguig City
621-3205
Like this post? Subscribe to this blog by clicking HERE.
Let's stay connected: