I saw this post being shared by a number of blogger friends some days ago. It's the sad story of a media event in BGC which gave all attendees P500 worth of yema gift certificates as token. I've tried attending a BGC event using GrabShare (take note, GrabShare and I was sharing with 2 other girls both ways). It cost me almost P800 to get from QC to BGC and back. That said, I can just imagine how much people had to spend for transportation in order to attend this event.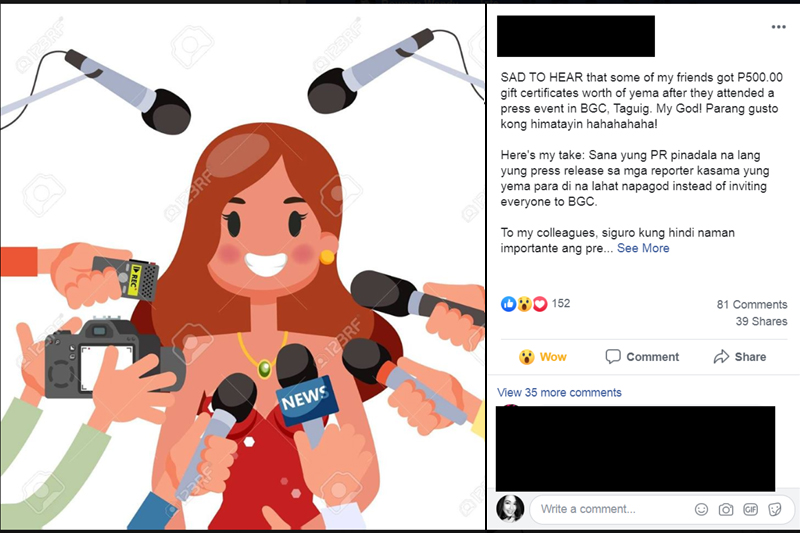 Realistically speaking, most (take note, I said most, not all) events do not pay media attendees for coverage. The common practice is to give worthwhile tokens — usually products and GCs (gift certificates). It goes something like this… if you go to a restaurant launch, you're usually given restaurant GCs. If you go to a cosmetics launch, you're given a set of cosmetics… and so forth.
When a blogger is invited to an event, all that is asked for is an RSVP. Will you attend or not? While some organizers will tell you outright what to expect when you attend, most will not. What you can do is base it on their past events. Have you ever attended an event by this brand or PR? Was it worth your time? If you had a good experience in the past, you would most likely say yes.
In my case, I ask myself:
Is the event interesting or relevant? – If I don't like whatever it is being launched, forget it.
Am I free on their specified date and time? – Self-explanatory. I fetch my daughter from school everyday so I am usually not free 3pm onwards.
Is it my coding day? – I don't commute and I don't like using Grab. If I can't drive, pass.
Were this brand/PR's past events worthwhile? – If I've attended their events in the past, I will try to recall what my experience was. Good? I will consider. Bad? Forget it, lol.
Where is this being held? – Distance is a big determining factor for me. I'm situated at the QC-San Juan area so if the event is happening in Alabang, SM Mall of Asia, SM Fairview (you get what I mean) I will probably decline.
What am I getting in return? – These days, I don't really care anymore if people think I'm mabilang. My point is, if you have the gall to demand or use my time and energy, I have a right to know what's in it for me. I'm not a charity and this isn't a one-way street where I do all the work and you get all the benefits lol. Plus at this point, I'm beyond caring if I'm invited or not. Event invites don't pay the bills so they're really not that big of a deal.
Of course, there are also sponsored events where you are paid to attend and deliver specific output. However, there are a lot more "free" events compared to sponsored ones.
Given all the factors to be considered, who is to blame if people attend and cover a media event only to get a P500 yema GC in return? I've been on both sides of the fence. I've worked as a PR consultant and as a blogger. As a PR person, it's my responsibility to ensure that the people I invite are treated well and given tokens that are worth their while. As a blogger, it's my responsibility to ensure that I do not fall prey to brands and PRs who are just out to take advantage of me. Due diligence is needed whichever side of the fence you find yourself at. So then, who is to blame?
Remember, blogging isn't free.
Like this post? Subscribe to this blog by clicking HERE.
Let's stay connected: