I like whitening products. Not because I want to become whiter (believe me my skin tone is already light enough so it's very hard to tell if I get any whiter when I use whitening products), but because my arms are always uneven in terms of color. I can't be without a watch and I drive every single day so I have this permanent watch mark near my wrist. The skin underneath my watch (and my sleeves) are so much whiter than the rest of my arms. I also have some telltale freckles because my arms are always exposed when I drive or walk or simply go about my day.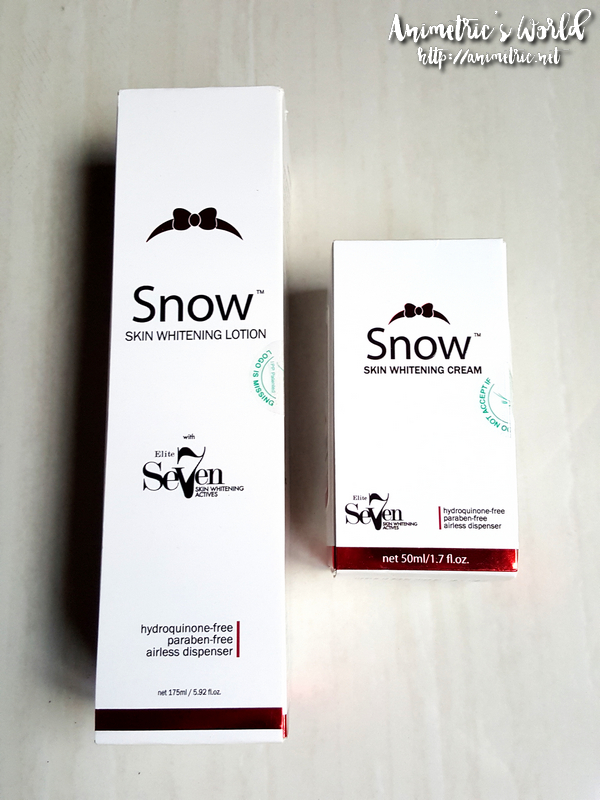 So anyway, Snow Skin Whitening Lotion (P799) and Snow Skin Whitening Cream (P1,499) are the first whitening products I've road-tested for 2016.
I was so surprised when I unboxed the Snow Skin Whitening Lotion. The carton unraveled to reveal all seven (7) clinically proven skin whitening actives in Snow Skin Whitening Lotion:
IBR-TCLC – Naturally produced and extracted from special non-GMO tomatoes for UV protection
IBR-Snowflake – Natural, aqueous extract from dormant Summer Snowflake bulbs which slows down skin aging. It smooths, reduces wrinkles, brightens, and whitens.
Alpaflor Gigawhite – A combination of 7 Plant Extracts from the Swiss Alps which was found to significantly lighten Asian skin after 12 weeks without irritation.
Bearberry Extract – Derived from Bearberry leaves, it has been proven to help prevent hyperpigmentation of the skin.
Alpha-Arbutin – Inhibits melanin production and is found to be effective in fading liver spots.
Beta Glucan – Moisturizes and protects skin against UV radiation. Also promotes healing and reduces discoloration of scars.
Resorcinol – Derived from a molecule that exists in Pine trees. It has been proven to be more effective than Kojic Acid when it comes to whitening.
Anyway I proceeded to open the sealed container. There was a sticker which said "Don't accept if hair is missing".
True enough when you remove the seal, the hair goes with it.
I unboxed the Snow Skin Whitening Cream afterwards. It has the same seven (7) skin whitening actives as the lotion.
Lol, this is how the hair disappears!
Here's a comparison of the cream and the lotion in terms of consistency. The cream is thicker and has a slight light beige tinge as opposed to the more watery lotion that is pure white in color. This is because the cream is for the face while the lotion is for the body. Both have an identical light pleasant scent. I've been using both products for about a week now and so far I'm pretty pleased.
What I like about Snow Skin Whitening Lotion:
I'm quite pleased with the scent — like I said, light and pleasant… and well… not floral, lol! I'm not very fond of floral fragrances.
It's lightweight and it absorbs fairly quickly.
My skin feels smooth, firm, and moisturized immediately after use.
It's paraben-free and hydroquinone-free.
Of course I also put the face cream to a test. Since it had a rather thick consistency, I was expecting it to feel heavy on my face but surprisingly, it didn't! You use this in place of your regular facial moisturizer after you cleanse and tone your face.
What I like about Snow Skin Whitening Cream:
It's surprisingly lightweight despite being thicker in texture and consistency compared to the lotion.
It brightens skin instantly right after application.
It's not sticky or greasy and it absorbs quickly.
It's easy to forget you applied it!
Okay for both products there is one little bit of a downside — the airless pump dispenser, although very neat and mess-free, is very tricky to use. I mean, I must have pumped something like a hundred times before any product came out. I actually had the small bottle of cream stand upside down almost the entire day. I pumped and pumped… I was tempted to start stomping on it already fortunately some cream came out before I did. I had an easier time with the lotion probably because of the more liquid consistency. If you ever feel that you got a faulty dispenser, you didn't. It just really takes a whole lot of pumps (it helps to pump while holding it upside down) to get an initial burst of product. After you successfully dispense the lotion and cream, it's smooth sailing from thereon.
Snow Skin Whitening Lotion and Snow Skin Whitening Cream are available at Mercury Drugstore branches nationwide. You can also order online at http://www.vidanutriscience.com.
For more information, log on to the Snow Skin Whitening Facebook Page. You can also follow @snowskinwhite on Twitter and @snowskinwhite7 on Instagram.
Like this post? Subscribe to this blog by clicking HERE.
Let's stay connected: