Welcome to the Shiseido Beauty Suite, a place where all your beauty fantasies turn into reality. Every year, Shiseido Philippines hosts a luxurious event for their VIP customers. VIPs can avail of free services, makeovers, and get first dibs on Shiseido's newest products. Last year, it was called the Shiseido Beauty Penthouse. This year, it's been dubbed as the Shiseido Beauty Suite.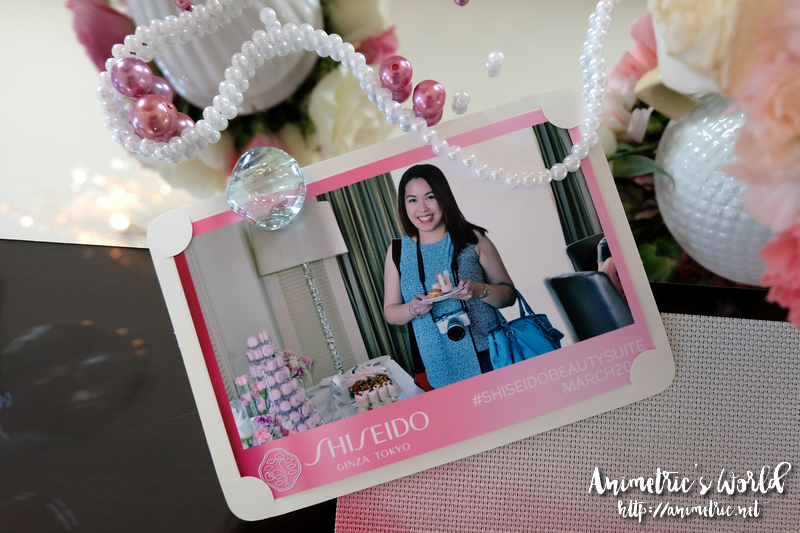 Shiseido is my favorite Japanese brand when it comes to skincare and makeup. I'm always stoked when I'm invited to this luxe event! I'm so addicted to the Shiseido Maquillage Snow Beauty Powder I haven't used any other powder since I bought it.
A dainty buffet of predominantly pink treats greeted me! I love how the Shiseido Beauty Suite is so beautifully put together every year.
The most memorable treat for me was the Shiseido sakura macarons. Crisp outside and creamy inside, the filling tastes like milk. They're sooo good I had to really stop myself from having more than one piece.
After my light but luxe snack (with matching Shiseido collagen drink no less!), I was ushered into one of the rooms. I was going to experience Shiseido's revolutionary facial treatment — the Shiseido V-Lift Cryo Facial.
Let me tell you, I normally don't like having my face touched. I tend to shy away from facials. But at my age (I'm fortysomething), I've accepted that I need all the help I can get when it comes to looking younger than my age. Anyway, the Shiseido V-Lift Cryo Facial combines the latest incarnation of the Shiseido White Lucent line and this marvelous machine to give your face an instant lift. See that thing the lady is pressing onto my cheek (and eventually all over my face)? It's freezing cold! It feels like someone's rubbing  your face with icy cold steel (well someone IS actually rubbing your face with icy cold steel hahaha). It feels wonderful. You know how you can't really hold ice for a long time because it becomes painful? This one doesn't become painful it's just refreshingly cold all throughout.
They used the new Shiseido White Lucent products on me too.
The new products in the Shiseido White Lucent line are:
Shiseido White Lucent Luminizing Infuser (Softener) – Softener or Lotion is the equivalent of toner in the Shiseido universe. This is an alcohol-free (yay!) essence-rich brightening softener. Using this also helps skin become more receptive to additional brightening treatments.
Shiseido White Lucent Luminizing Surge (Emulsion) – Emulsion is the moisturizer. It delivers a surge of ingredients to diminish signs of dark spots and prevent their recurrence. It also creates an invisible veil to protect your skin.
Shiseido White Lucent MicroTargeting Spot Corrector (Serum) – This intensive anti-spot serum helps diminish the appearance of dark spots and hyperpigmentation. It thoroughly targets various types of spots — from those that are particularly dark and defined to the scattered, smaller spots on the face.
Shiseido White Lucent MultiBright Night Cream – This intensive multi-functional brightening night cream helps reduce the appearance of dark spots and acne scars. Skin is renewed, perfectly radiant, and hydrated the next morning.
All the above products feature Shiseido's SAKURAResist Technology with Sakura from Japanese cherry blossoms to help skin become resistant to dark spot appearance. Hence the pink packaging.
After the treatment I was treated to a makeover using the new Shiseido Synchro Skin Lasting Liquid Foundation. It's an oil-free foundation that enhances your complexion. The result is so natural you look like you're not wearing makeup. It's formulated with Advanced Sensing Technology so it adjusts to your skin. There were 4 shades at the Shiseido Beauty Suite but there's a total of 11 shades available.

After the makeover, we had a "You Vs. The Mirror"-themed pictorial to showcase our glowing skin.
Thank you so much Shiseido Philippines for inviting me to experience the Shiseido Beauty Suite! If you'd like to experience the Shiseido V-Lift Cryo Facial, you can call any Shiseido store to ask which ones have the machine. You can see the full list of stores at the Shiseido Philippines Facebook Page.
Like this post? Subscribe to this blog by clicking HERE.
Let's stay connected: