I'm all for buying everything I can online because I dread going out and venturing into the crazy December traffic. That said, I'm very excited about the next big thing in online shopping  — the 12.12 sale! Almost every online store I know is promising big discounts and freebies. I didn't really shop much during 11.11 but 12.12 is shaping up to be the grandest sale yet.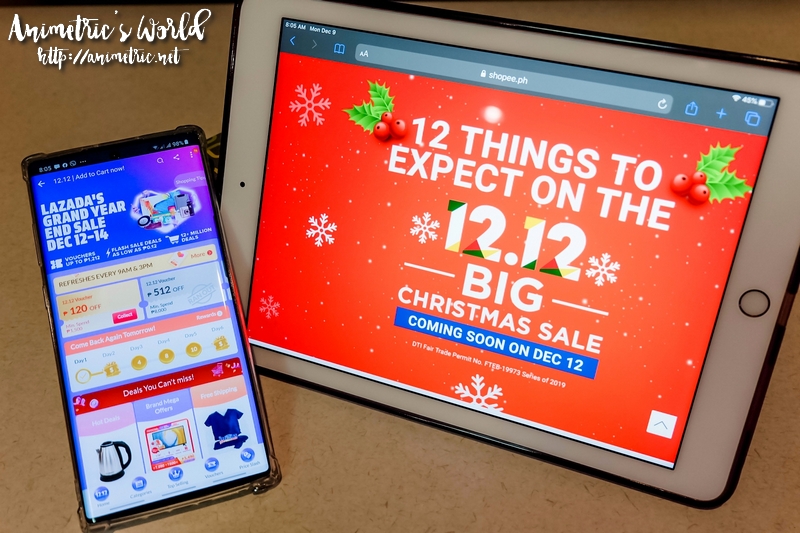 I know that a lot of shoppers are going to be poised and ready as soon as the clock strikes 12 so expect popular items to sell out fast. Then there are budget issues. Much as we'd like to cart everything we like, our shopping money is not unlimited. So how do we make the most of the big 12.12 sale online?
Make a list of online stores you'd like to purchase from. If they have app counterparts, make sure you download them before 12.12. Based on experience, online stores give additional perks when you use their apps to shop.
Go through your preferred online stores and cart the items you want. Most discounts will only start appearing on 12.12 so you won't know how much markdowns you'll get until then. Some brands already have 12.12 teasers by now though so they're also worth checking out.
Prioritize by classifying the items in your cart as needs and wants. For example, I know I want the Shiseido Beauty Essentials Mystery Box on Lazada which will be selling for P1,212. But we actually need personal care items like toothpaste, bath soap, laundry detergent, etc. We also need to buy gifts for people in our gift list.
Compile all your purchases. Most stores have free shipping offers you can avail of for a minimum spend. There's a bigger chance of reaching that threshold if you check out everything you shopped for at the same time.
Pay using the payment method which will give you the most perks. In my case, that's PayMaya. Aside from the convenience of paying with a couple of clicks on my PayMaya app, I can get get 1%, 10%, or 100% cashback when I purchase at least P500 worth of stuff online. Some stores like Lazada also have redeemable PayMaya vouchers that give you additional discounts.
Are you the type who prefers physical shopping vs. online shopping? No problem. PayMaya cashbacks are also available when you scan-to-pay using PayMaya QR:
Get 1%, 10%, or 100% cashback when you #ScanToPay via PayMaya QR with a min of P100 for your in-store purchases. Maximum amount for cashback per user is P500.
Get a fixed, one-time cashback of P150 when you accumulate P5,000 worth of transactions with your PayMaya QR.
Get two chances of enjoying up to 100% cashback when you #ScanToPay via PayMaya QR this weekend (Dec. 14-15). This is for a minimum purchase of P100. Maximum cashback per user is P500.
Get a chance to win one of the 11 iPhone 11 units being given away at Robinsons Department store. All you have to do is #ScanToPay via PayMaya QR, and spend a min of P100 for one raffle entry.
So when it comes to 12.12 sales, don't pay cash. PayMaya! 😀
Get all these awesome perks by signing up for PayMaya. Don't forget to use my code
ROWENAPAYMAYA to instantly get an extra P50 for your shopping funds! You can also visit https://www.paymaya.com/deals for more of their promos!
Like this post? Subscribe to this blog by clicking HERE.
Let's stay connected: