I'm not exaggerating when I say I have not attended a single Christmas party this December. The traffic situation is just too horrible. Every day and night I see countless Facebook statuses and rants about how many hours it takes to get to one point to another. I think the worst I've read was 1.5 hrs from Ortigas to Ortigas. That said, I'm doing my shopping either at Robinsons Magnolia (which is walking distance) or online. Well, online shopping got even more convenient because now you can just Pay with PayMaya.
Pay with PayMaya? Now how does that go? Simple. Buy stuff from the internet and then just enter your mobile number to pay immediately. I'll show you how it's done step by step by using my HairMnl purchase as an example.
There's currently a TIGI sale at HairMnl and I found something I want — Bed Head On the Rebound Curl Recall Cream. From P1,500 it's been marked down to P600. I've given up rebonding so these days I'm all about wavy hair. Anyhow, put the item(s) you want in your cart.
When you're done shopping, checkout your purchases. You'll be presented with the shipping and payment options. For HairMnl, I chose the option that doesn't require pickup and COD. I don't want to go out of the house and I don't have the exact amount in my wallet.
After ticking the option for other forms of payment aside from COD, I am presented with even more choices. I pick the one with PayMaya Wallet.
After selecting PayMaya Wallet, I scroll down and click the Complete Order button.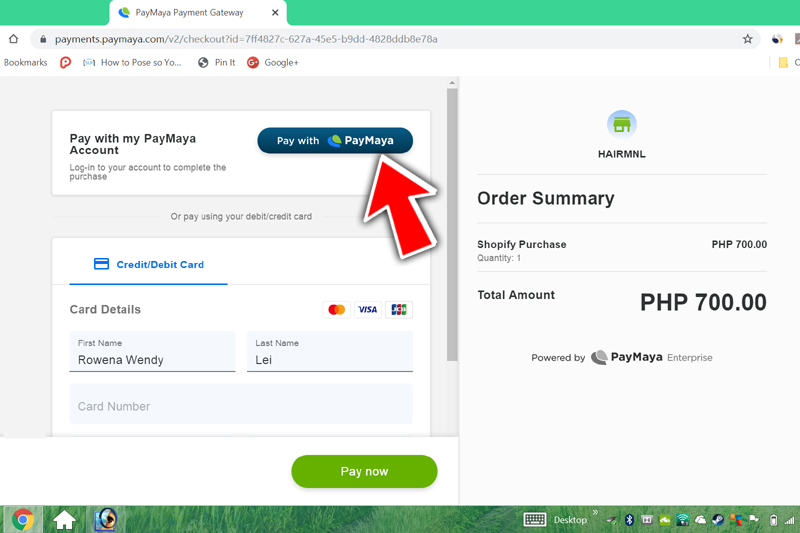 Clicking Complete Order takes you to another page where you can choose to pay either via PayMaya or your credit/debit card. Choose Pay with PayMaya.
You are then taken to the PayMaya page where you can just enter your mobile number (or e-mail address) + password in order to login your PayMaya account and pay. You will receive a One-Time PIN (OTP) on your mobile number which you'll key in the webpage to verify your transaction. That's it! No need to leave the house or fumble for the exact amount. Just Pay with PayMaya and then wait for your item to reach your doorstep.
So why should you Pay with PayMaya?
Cashbacks, of course! You get cashbacks almost every time you pay with PayMaya! All PWP transactions from Dec. 11 , 2019 to Jan. 15, 2020 will receive 1%, 10%, or 100% cashback… capped at P500 per transaction.
No need to punch in long series of numbers which you probably haven't memorized. All you need to remember is your own mobile number!
It's fast, convenient, and secure.
HairMnl isn't the only merchant with the PWP option. There's also Landers, Pet Warehouse, Carousell, Rustans Department Store, etc.
So when it comes to online shopping, don't pay cash. PayMaya! 😀
Get all these awesome perks by signing up for PayMaya. Don't forget to use my code
ROWENAPAYMAYA to instantly get an extra P50 for your shopping funds! You can also visit https://www.paymaya.com/deals for more of their promos!
Like this post? Subscribe to this blog by clicking HERE.
Let's stay connected: