Christmas is coming! Serenitea has a chocolatey treat for us this holiday season in the form of two (2) seasonal drinks — Merry Triple Chocolate and Red Velvet Santa Mocha! Of course, since the new year is also on the horizon, there's the Serenitea 2020 Diary too! These are now available at ALL Serenitea stores nationwide.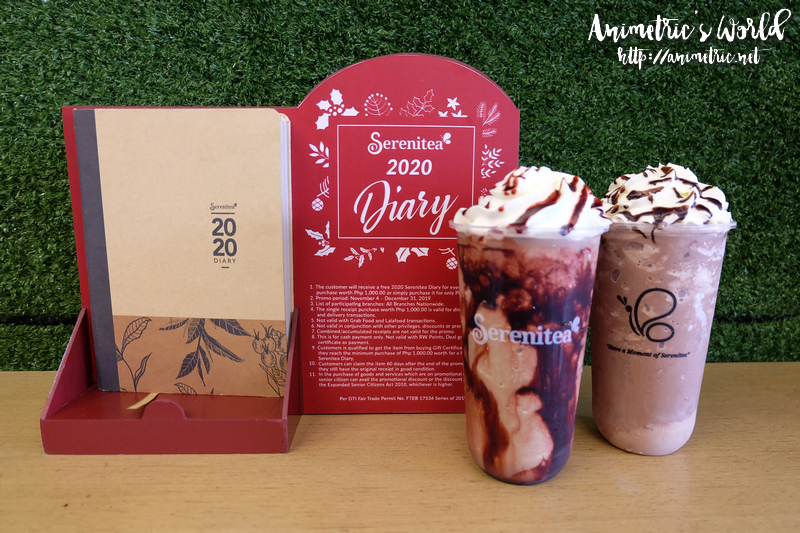 First, let's check out the drinks.
Red Velvet Santa Mocha is a coffee-based drink with a generous serving of red velvet chocolate syrup and choco cookie bits. It's then topped with a dollop of whipped cream. Merry Triple Chocolate is an ice-blended drink comprised of cocoa, chocolate ice cream, and choco cookie bits. It's topped with whipped cream too.
Both drinks are only available in Large size and cost P170 each. Personally I prefer the Merry Triple Chocolate. It has a deep, rich chocolate flavor. The staff told me it's dark chocolate based so it's not overly sweet.
The Serenitea 2020 Diary is already out! There are 2 designs to choose from.
This is what they look like from the back.
There are a lot of interesting things in the Serenitea 2020 Diary, like inspirational stories.
A total of nine (9) coupons that can be used all year round in 2020 are included — 5% discount on snacks and drinks, free sinkers, and 10% discount on merchandise.
Monthly dividers have uniquely designed splash pages.
There are columned and boxed planner-type pages as well as grid-type pages like these.
You can get the Serenitea 2020 Diary for FREE with any P1,00o single-receipt purchase. Quickest way would be to buy Serenitea GCs that never expire so you're not pressured to buy so much food and drink in one go. Or you could purchase one outright for P499. I'd go with the GCs though lol. This is valid for cash transactions only, not valid with RW points, Deal Grocer, or GCs as payment.
Like this post? Subscribe to this blog by clicking HERE.
Let's stay connected: