You could say I'm a sandwich person. I don't mind having sandwiches for breakfast, lunch, or dinner. As long as it's delicious and filling, game on. I'm not the type who can't live without rice. Anyhow, having recently been addicted to K-Dramas, I'm just fascinated with all things Korean. In fact I now have a K-Pop Spotify playlist. So… when I heard that SBS Inkigayo Sandwich is coming to the Philippines, I knew I just had to be there!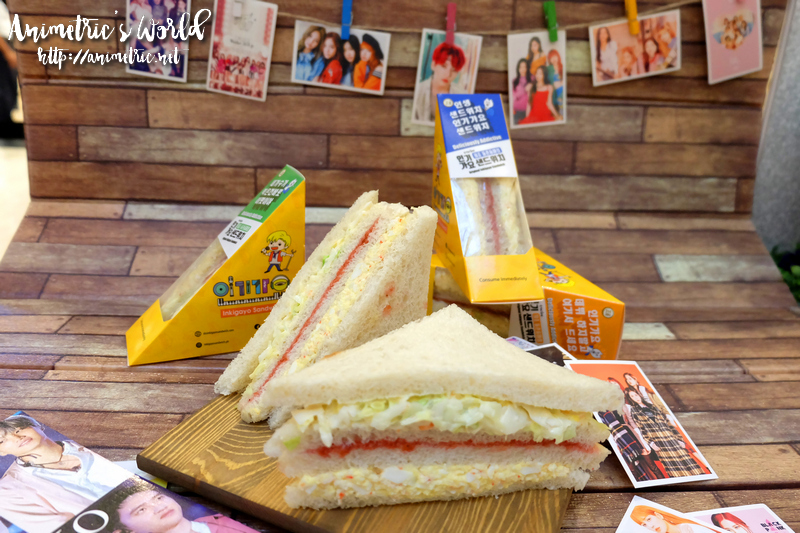 What is the SBS Inkigayo Sandwich? SBS (Seoul Broadcasting System) has a music program called Inkigayo. The show features weekly live performances some of the latest and most popular K-Pop artists. The sandwich was first made by the owner of SBS' cafeteria, the only place where singers and staff can eat in the building. So who have eaten and raved about these sandwiches? Just members of K-Pop groups like BTS, Twice, Seventeen, Shinee, and Blackpink.
The sandwich is made of made with layers of crustless bread, coleslaw, strawberry jam, and egg crabstick salad. What's more, it's best eaten cold. Sounds weird right? But you know what, the combination actually works. Make sure you get every layer when you take a bite. The strawberry jam provides a nice sweet-tart flavor that contrasts with the mayo-based layers.
The sandwiches come in cute brightly colored triangular boxes. There is only one type of sandwich… they just come in boxes with 3 different colors.
You can get an authentic SBS Inkigayo Sandwich from food trucks which will be dispatched throughout the metro.
Sandwiches will be sold at P129 each.
There will be an Inkigayo Sandwich Pop Up Store at Robinsons Place Manila from June 24 to July 7, 2019 in case you want to grab that sandwich your K-Pop idols love. Follow @sbsinkigayosandwichph on Facebook and/or @inkigayosandwich.ph on Instagram to keep tabs on where they're going to pop up next.
Like this post? Subscribe to this blog by clicking HERE.
Let's stay connected: