Finally! I've been wanting to try Romantic Baboy for a while now. Unfortunately, there is no convenient branch. Then they opened at Robinsons Magnolia… aside from being much closer to me, parking isn't a problem! So we had lunch at Romantic Baboy Robinsons Magnolia one weekday. It's located on the second floor, where Uncle Cheffy used to be.
The place is well-lighted during lunch time because of all the big glass windows. It's cool and comfortable with sufficient air-conditioning. Uncle Cheffy before was kind of hot and stuffy… they even had electric fans all over the place.
You'll be asked to wait a bit while they set up your table. By the time it's ready, banchan, sauces, and lettuce would have been laid out. Fresh charcoal is also placed under the grill.
We had several kinds of banchan — kimchi, glazed sweet potato pieces, meatballs, coleslaw, green onions, fish cakes, etc. The charcoal grill also has compartments on the sides where they put eggs and cheese. We opted for the P499 Unlimited Pork + Beef.
There are 8 kinds of meat you can order. This is the Herb Samgyupsal, or herb-flavored pork belly.
Our favorite is always Woo Samgyup which are thin slices of beef brisket.
This one is quite good — Curry Beef. Beef slices are marinated in curry sauce. Other types of meat are Moksal (seasoned pork neck), Daepae Samgyupsal (thin slices of pork belly), Yangyum Galbi (marinated pork ribs), Romantic Bulgogi (sweet marinated Korean style beef), and Spicy Beef (thin sliced beef in spicy sauce).
Grilling is pretty hassle-free. The exhaust is pretty efficient so it never got too smoky. They also change the charcoal when they're spent. We did not reek of barbecue after our session.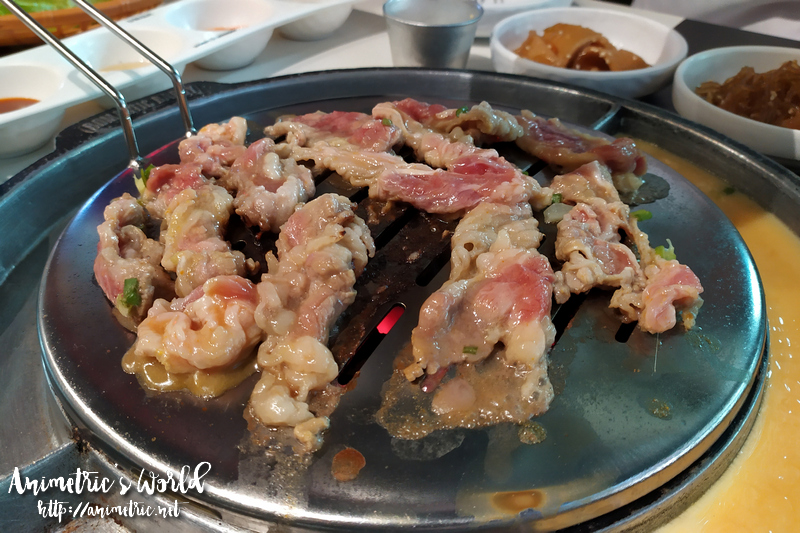 The quality of the meat is so-so. Honestly, I'd rather go to Sibyullee because weekday lunch is also P499 there and the meat is much higher in quality. There are also a lot more dishes included like Gimbap, Korean Fried Chicken, Pajeon, etc.
Everything is unlimited at Romantic Baboy — meat, rice, soup, sauces, banchan, cheese, egg… all you have to do is ask for them. Of course, there is a no leftover policy so make sure to order only what you can consume.
While I'm happy to get this out of my system, I don't think I will be back. I felt super umay after our lunch. Plus like I said earlier, at P499 for the unlimited BBQ, I would rather go to Sibyullee… or Jin Joo Korean Grill.
Be it as it may, the lines still get very long during dinner time and weekends at Romantic Baboy Robinsons Magnolia. If you don't want to line up, go during weekday lunch. There was no line when we went and we got a table immediately.
Romantic Baboy
2nd Level Robinsons Magnolia
Aurora Blvd., New Manila, Quezon City
+639177955886
Like this post? Subscribe to this blog by clicking HERE.
Let's stay connected: