There's a new unlimited BBQ place in Quezon City… and it's raising the bar for these kinds of places. Let's welcome Meatsumo at Panay Ave. I got a preview of what's to come when we had dinner there last night during their dry run. Well, today is the official soft opening day and to celebrate, they're offering a 4+1 deal with FREE soju for all diners! That's P2,400 for 5 people, which comes out to P480 per head. Is it worth it? You bet!
Meatsumo at Panay Ave. has a festive vibe going. The interiors are bright and happy. You'll never miss it because it's a head-turner from the outside with all the red Japanese-style paper lanterns.
Meatsumo offers 11 types of meat and 20 side dishes to go with them. On this photo I have Pickled Radish, Kimchi, Onion with Sweet Soy, Cheese, Pamuchim, Spicy Dilis, and their special Korean-style sauce.
They also have Kimbap (shown above), California Maki, and Beef Yakiniku Maki.
There's California Temaki too!
Of course, you get unlimited lettuce to wrap your meats with. They also leave a container of red iced tea and iced water on every table.
Steamed Egg is also one of the 20 side dishes.
My son and I loved the super crispy Sweet Potato Chips glazed with brown sugar syrup.
So let's get to the meats, shall we? This is the Pork Gochujang. It's pork belly (samgyeupsal) marinated in Korean chili paste.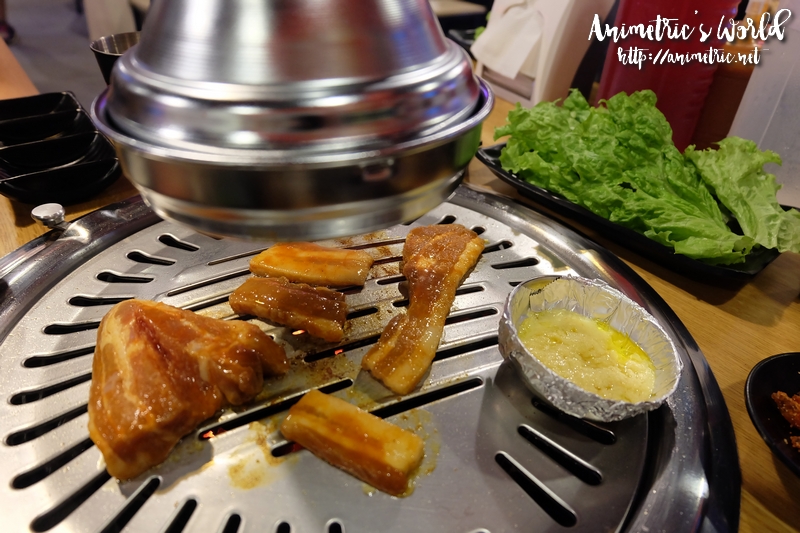 I usually grill pork belly first and then use the pair of kitchen shears provided to cut them into smaller pieces. They also have Plain Pork, Pork Galbi, Pork Yakiniku, and Spicy Pork Yakiniku. We enjoyed this one a lot. It's best grilled to a bacon-like level of crispy.
This is the Peppered Beef.
Peppered Beef goes really well with the melted cheese. I like how efficient their BBQ exhaust is. If you grill your meat right under it, it sucks up all the smoke right away.
This is our favorite — Beef Yakiniku. I think we had 6 plates of this.
Meatsumo has good quality meats. Much better than Romantic Baboy, actually. I hope they can maintain this all throughout. Aside from the types of beef shown here they also have Beef Bulgogi, Beef Gochujang, Plain Beef, and Spicy Beef Yakiniku. I had plain rice to go with all my meats and I must say I like how fluffy and chewy their rice is… like dinorado.
They also have Tempura (shown above), Kakiage, Chicken Karaage, Calamari, Yakisoba, Kimchi Rice, Plain Rice, Kani Salad, and Miso Soup.
For dessert, Meatsumo has soft-serve ice cream with at least 2 different flavors to choose from. Last night it was vanilla and cheese.
All in all, we had a very satisfying dinner at Meatsumo. The meats are of good quality and there's a wide variety of side dishes to keep dinner interesting and delicious.
At the moment, Meatsumo in Panay Ave. is only open from 5pm to 12mn. Do try to avail of the soft opening 4+1 deal with free soju for P2,400! It's super worth it. They'll also be selling vouchers (no expiry!) for this during the soft opening period so you can avail of the discounted rate anytime afterwards.
Meatsumo
23 Panay Ave., (beside Mandarin Sky)
Bgy. Paligsahan, Quezon City
0922-818-6434
Like this post? Subscribe to this blog by clicking HERE.
Let's stay connected: