Truth be told I never thought I, or my kids, would ever see the day when we'd all be confined to our house due to a pandemic. But here we are. Going out to get supplies has become a tedious and high-risk task. All supermarkets have lines that could have you waiting from anywhere from 15 mins to 2 or more hours just to get in. Stocks are incomplete. Paying for your purchases entails another line. Let's not even talk about all the disinfection you'll be doing when you get home. Most of us have no active income to boot since everything is on hold.
Suddenly I have several neighborhood Viber groups. We share information, news, and updates about COVID19 in our area. We have Pasabuys wherein we order items in bulk so the supplier can drop it off one address that's within the barangay. That way, we all share delivery costs or reach the amount needed for free delivery.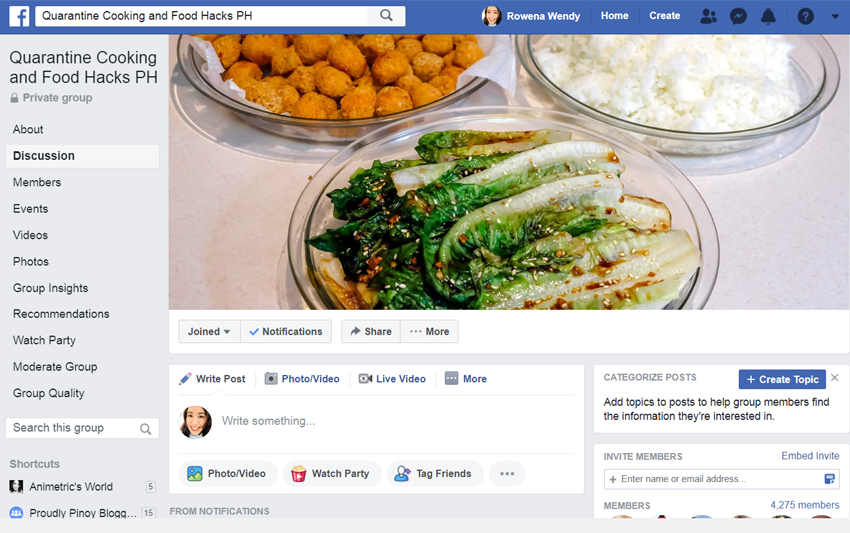 Anyhow before the lockdown, or ECQ (Enhanced Community Quarantine), our helper of over a decade left for good. Hubby, the kids, and I agreed that we would not replace her anymore and just divide the chores amongst ourselves. We had been preparing for this, slowly automating whatever we can at home. So now I'm cooking lunch and dinner every single day lol.
Last April 4, I started a Facebook group named Quarantine Cooking and Food Hacks PH. I'm seeing a lot of people making their own food on social media since supplies are hard to come by. Since we're all practicing social distancing, it's really the best time to build an online community. I just wanted a group where people can help each other (food-wise) during these challenging times. We share easy recipes, where you can find ingredients, what to do with what's at home, which suppliers deliver (cooked food, produce, frozen items, etc.), and so forth. It's been a little less than 3 weeks and we've grown to over 4,000 members. Please do join if this is something that interests you. 🙂
Honestly, I don't see us going back to our normal way of life anytime soon. More and more people are getting infected and people I know have actually died from COVID19. Everything is going to change… maybe even for good since there is no medication or vaccine anywhere in sight.
I'm sorry I haven't been blogging everyday as I used to. For the first couple of weeks, I had no desire to. Plus I don't see the sense of putting on makeup or getting dressed to the nines when I go for supply runs. I'm always wearing glasses and a face mask so… hello. Then I need to disinfect like crazy so I'm usually just in a T-shirt and comfy non-denim pants.
Hope to see you on FB at Quarantine Cooking and Food Hacks PH.
Like this post? Subscribe to this blog by clicking HERE.
Let's stay connected: