So far one of the best things we've ordered for delivery during ECQ is a set of 20 beef shawarmas from Khaleb Shawarma Kebab Pitazza for only P600. Someone posted about it at Quarantine Cooking and Food Hacks PH. I immediately checked out Khaleb on FB and placed an order. It seems Khaleb is a shawarma chain with branches everywhere in the metro! So how come I've never seen it around lol.
Anyhow I placed my order via FB messenger. They will give you a link to their order form which you must fill out. I placed my order around 3:30pm and it was delivered 11am the next day so we had Beef Shawarma for lunch. Package includes 1kg beef shawarma, 20 pcs pita bread, 2o pcs paper wrapper, 600g cucumber, 400g tomato, 100g white onion, 500g sauce (I opted for garlic sauce). They provide step-by-step instructions so you can't go wrong.
This is what's inside the plastic bag.
Here's everything the package includes.
The beef shawarma is frozen so you will need to thaw it before you can cook it.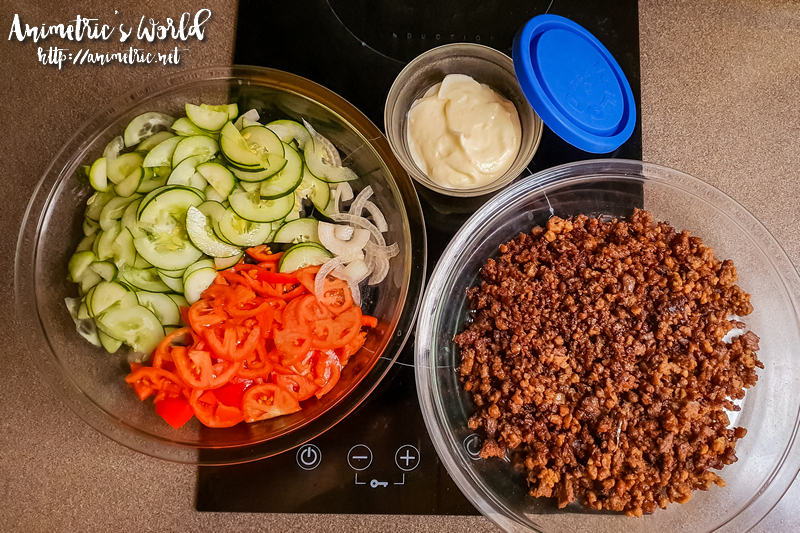 So I sliced the veggies and cooked the meat. This is just half of what I got in the package.
Then I warmed the pita bread in the oven.
Sorry I don't really know how to assemble a shawarma so I ate it like a taco lol.
Wow, this order was soooo worth it. We had Beef Shawarma for lunch and dinner lol. The veggies were nice and fresh. The meat was seasoned just right. We also really liked the creamy garlic sauce. Imagine the four of us had lunch and dinner for just P600! I did pay P94 for GRAB delivery but it's still great value for money.
You can avail of this deal by ordering from Khaleb via FB Messenger. Delivery fee will depend on your location. I'm based in QC and I was charged P94.
Like this post? Subscribe to this blog by clicking HERE.
Let's stay connected: