When my kids started going to school, they would catch colds more often. They study in schools with air-conditioned classrooms and so it's rather unavoidable. If one kid comes in with colds or cough, the virus would most likely spread in the enclosed space. Our pediatrician recommended that I give them Vitamin C supplements daily to strengthen their immune system. One time my daughter came down with a cold, she prescribed Vitamin C with zinc.
Why zinc? According to the Mayo Clinic, research on oral zinc has shown that it can help shorten the length of colds and hasten wound healing. Zinc also helps support the immune system, so combined with Vitamin C, it's a good way to boost immunity. We're in the middle of a global pandemic so keeping up one's defenses against infections and diseases is a must.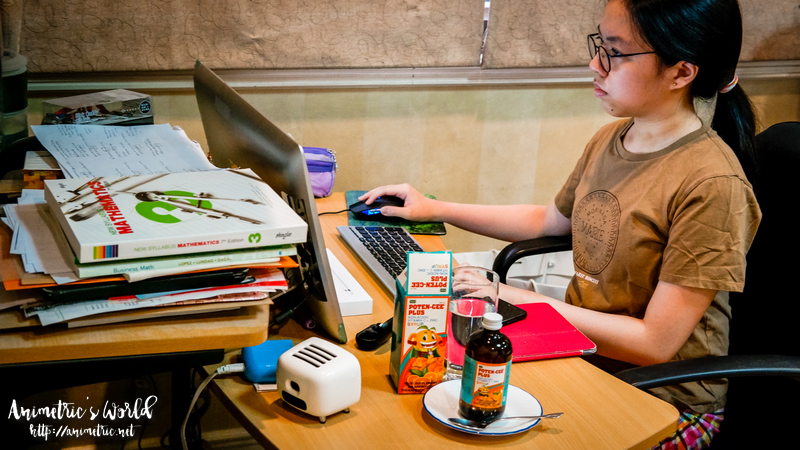 Although our daughter does not go out, my hubby and I do. We go to work and run errands like getting groceries and going to the bank. Who knows what we can bring home via our clothes, skin, or whatever… right? Online distance learning takes a toll on her too. We can't really be sure these days so it's best for everyone to do whatever it takes to keep our immune system at its optimal state. We try to do this by making sure we eat right, get enough sleep, and take supplements such as Vitamin C and zinc.
A good option for Vitamin C with zinc for kids (and teens) is Poten-Cee Plus. It's non-acidic, which is better for the digestive system as it's less likely to irritate the stomach. Poten-Cee Plus is recommended for children 4 and up, and as per our pediatrician that's technically until 18. My daughter is 15, so the correct dosage for her is 5ml once a day. It comes in a sweet citrus flavor so giving it to younger kids won't be a problem. Prices are at P83.75 for a 60ml bottle, P148 for a 120ml bottle, and P264 for a 250ml bottle. If we get the 250ml bottle it comes out to a little over P5 a day per dose for my daughter. Poten-Cee Plus is available at all leading drugstores. There are also online delivery options from Watsons and Southstar Drug. For more information, check out the Poten-Cee for Kids Facebook Page.
Ever since quarantine started, life has been so much simpler. It's not a good time to get sick so we prioritize our health. Just the thought of going to a hospital to get checked is enough to induce stress and panic. That said, we have to do our best to protect ourselves and maintain our health.
Like this post? Subscribe to this blog by clicking HERE.
Let's stay connected: