After coming across accounts of people getting infected receiving deliveries or catching COVID19 at work, we've added another device to our growing anti-COVID19 arsenal — the Plabio Plasma Air Sterilizer. Hubby and I have been reading up a lot about this disease. I did the same for Plabio PlaMedi Air Mini, a compact cold plasma generator from Korea. It can sterilize the air and the items around you, creating a personal, sanitized bubble. I go to work 3x a week and I share the office with 2 other staff members so nothing to lose by having this with me on my desk, right?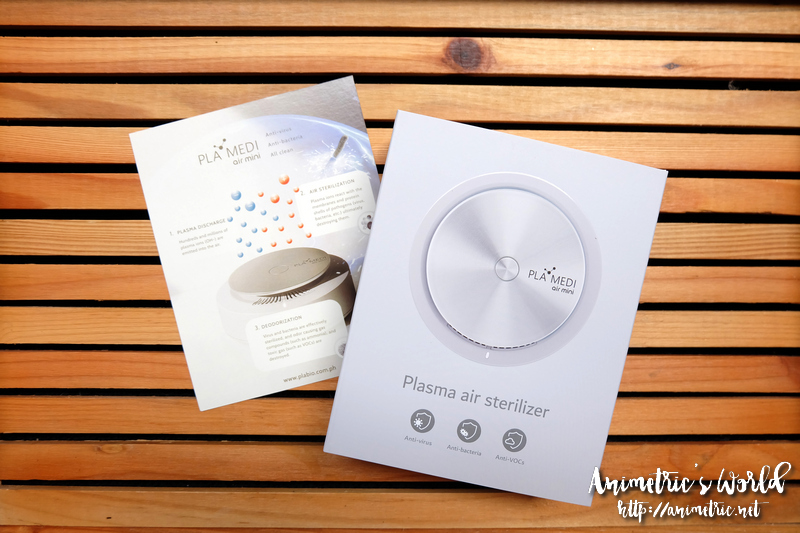 The Plabio PlaMedi Air Mini is about the size of a hand-sized cookie so it's easy to bring around.
It's a pretty straightforward device. It comes with an instruction manual, USB-C cable, and an adhesive strip in case you want to place it somewhere permanently.
Don't place it somewhere hot like places under direct sunlight… such as on the dashboard of your car under the windshield.
Here's everything outside the box.
Like I said, the Plabio PlaMedi Air Mini is the size of a hand-sized cookie.
You can plug it into a powerbank using the USB-C cable that come with the unit. If you have an outlet with a USB adapter, that works too.
Anyone can operate the unit because there's only one button to press. Press the button to turn it on, press it again to switch to intensive sterilization mode, then press and hold to turn the unit off.
You know it's on when the LED indicator lights up. Upon switching the unit on, you'll hear a fan-like sound. You'll also smell a somewhat metallic odor coming from the unit. This is normal for devices that generate plasma ions. I use an ionic hair dryer and it has the same scent.
So how does the Plabio PlaMedi Air Mini work?
It discharges hundreds of millions of plasma ions into the air.
The hydroxide generated by plasma reacts with membranes and protein shells of viruses and bacteria, breaking them down. (Wow, it's kind of like how handwashing works!)
Ions turn into water, destroying the pathogens.
Plabio PlaMedi Air Mini has been proven effective against Influenza H1N1, E. Coli, Staphylococcus Aureus, among many other viruses and bacterias. There are test results and documents to prove these claims. Not convinced? Google "covid19 cold plasma" for more information.
I power my Plabio PlaMedi Air Mini using a 10000mAh powerbank.
The device can sterilize an area of 8 cubic meters, so I placed it in the middle of the packages I received some days ago. It starts sterilizing in 5 minutes, but based on the documentation of their Influenza H1N1 test, it took about an hour for 99.99% of the viruses to be removed. So best leave it on stuff you want to disinfect for at least an hour. Two hours if you want to be sure since they documented that it takes 120 minutes for the unit to remove bacteria.
Inside one of the packages was the slippers I ordered online. Since I will be wearing these at home, I disinfected them too. Better safe than sorry, lol.
Okay so I guess by now you're asking, why not use a UV device instead? Believe me, I tried that too. I borrowed my cousin's humongous UV unit, the type you wheel in a room and leave inside while everyone goes off somewhere far to get away from the dangerous rays. But then I read that there are 3 types of UV — UVA, UVB, and UVC. Guess what, only UVC can kill coronavirus… and it's dangerous to people! You can actually get burnt from UVC in seconds. That's how hands-off it is. UVA and UVB don't even affect SARS, what more COVID-19? What's more, constant exposure to UV increases your skin cancer risk.
Anyhow, we're officially adding the Plabio PlaMedi Air Mini to our new normal essentials, along with face masks, face shields, and that pulse oximeter we bought. Too many people I know have been infected… the latest being my aunt (dad's sister), uncle, and childhood friend. I have some friends who've even lost their parents to COVID-19.
The Plabio PlaMedi Air Mini retails for P5,600. It can be ordered at https://plabio.com.ph/ or their official Shopee store.
Like this post? Subscribe to this blog by clicking HERE.
Let's stay connected: