Plabio PlaBeau G4+ is my most expensive beauty gadget to date (well, not counting my Dyson Air Wrap which is for my hair). I've bought small skin gadgets in the past, from battery-operated cleansing brushes to skin wands that emit… um… something? So anyway, the Plabio PlaBeau G4+ is a plasma-based wand you run across your face as part of your skincare routine. This is my second gadget from Plabio, the first one is the Plabio PlaMedi.
It's a whopping P17,920 and boy doesn't it look like it? I got it in Gold but it also comes in Black and Rose Gold.
The Plabio PlaBeau G4+ comes with an adapter and cable as well as a black pouch you can store it in.
When it's on, there are blue lights that turn on in front.
The device is very simple to operate. There's a power switch with 2 intensity levels, 1 and 2. When you're starting out, it's suggested that you use level 1 until your skin gets used to it.
This white strip here is what you'll run across your skin. You'll actually see a bluish light when you touch it. I see and hear sparks when it passes over my face. There's a prickly tingly sensation but that's normal.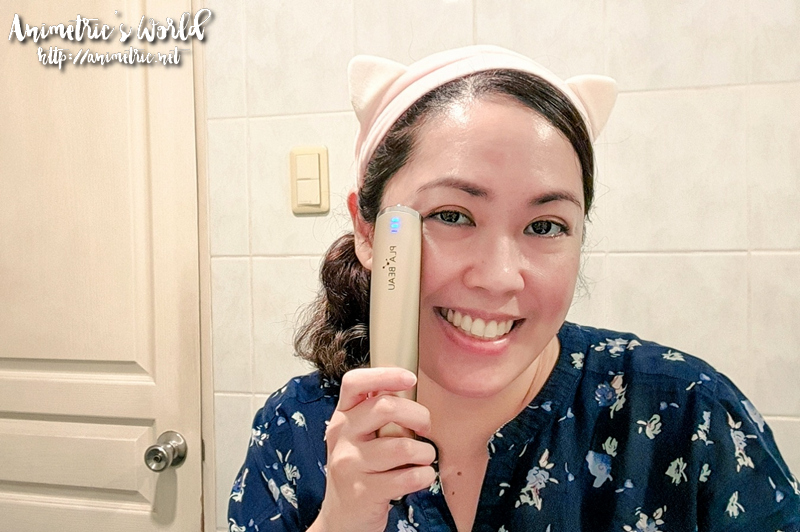 So what does this product actually do? It actually promises 3 things:
Skin Purification – It removes sebum and debris from the face, purifying it from bacteria, fungus, and viruses. I can attest to this because my combination skin feels dry and thirsty after using the Plabeau. There was a time I had a pimple that had not yet erupted, I used Plabeau on it and it disappeared without causing a breakout.So yes, if you have oily skin, this will definitely help control the oil. If you're acne-prone, this can effectively prevent and treat breakouts as well.
Enhanced Skin Absorption – Plasma temporarily changes the lipid structure of the skin, creating temporal pores which allow for a more efficient delivery of large, rich substances. These substances include vitamins, hyaluronic acid, and peptides — common ingredients anti-aging skincare products.This is true. I mentioned that my skin feels dry and thirsty when I use Plabeau, right? Well, I do my skincare routine right after and everything is absorbed SO QUICKLY. It's like my skin is chugging down all the products. I end up using a bit more since they're absorbed so fast.
Anti-Aging – Plasma accelerates the skin regeneration process through promoting blood circulation, vascularization, and activating fibroblasts to boost collagen production. This I can't say for certain yet because I feel I'd have to be using this for months to be able to tell if it's keeping me from looking older lol.
So how do you use this? You run it over your face for a total of 10 minutes. I do it by sections — cheeks, forehead, chin, nose, under the eyes, neck… I've been doing it nightly before doing my nighttime skincare routine.
Is it worth P17k? Well, if you're the type who spends on expensive dermatological treatments then yes. We're in the middle of a pandemic and it's really a big risk to be visiting places like clinics, spas, etc. If you can do at least some of it by yourself at home then you'd be saving money and your health in the long run. I mean, I'm someone who's willing to pay over P20k for a hair styling tool so… lol.
Anyway, you can purchase the PlaBeau from https://plabio.com.ph/. They also have a Lazada store if you want to use vouchers and get cheaper or free shipping.
Like this post? Subscribe to this blog by clicking HERE.
Let's stay connected: