Here in the Philippines, we're pretty much on our own where dealing with COVID19 is concerned. The level of quarantine we're subjected to doesn't matter anymore. Nobody is happy with anything. The government is relaxing the quarantine levels for the sake of the economy… but at what cost? Cases are rising daily at a frightening rate. Hospitals are overwhelmed and health workers are getting sick. It's really up to us to take care of ourselves.
After much research, hubby decided to order a pulse oximeter from Shopee. A pulse oximeter is a device which measures how much oxygen is being transported through a person's bloodstream. Based on what we've come across, COVID19 positive people typically do not have normal oxygen levels… they are lower. Even if they're asymptomatic, they still won't have normal oxygen levels. According to the Mayo Clinic, a normal pulse oximeter reading ranges from 95% to 100%. Think of this as an early warning device. You don't feel it yet but if your oxygen levels are below the normal range, you may be on the early stages of something. It may be COVID19, it may be COPD or something else… only a test can tell you. Bottomline is, if your pulse oximeter yields a low oxygen reading, you may need to get tested.
Using a pulse oximeter is simple. It's just like a clothespin.
Put your finger in the middle and let it do a reading.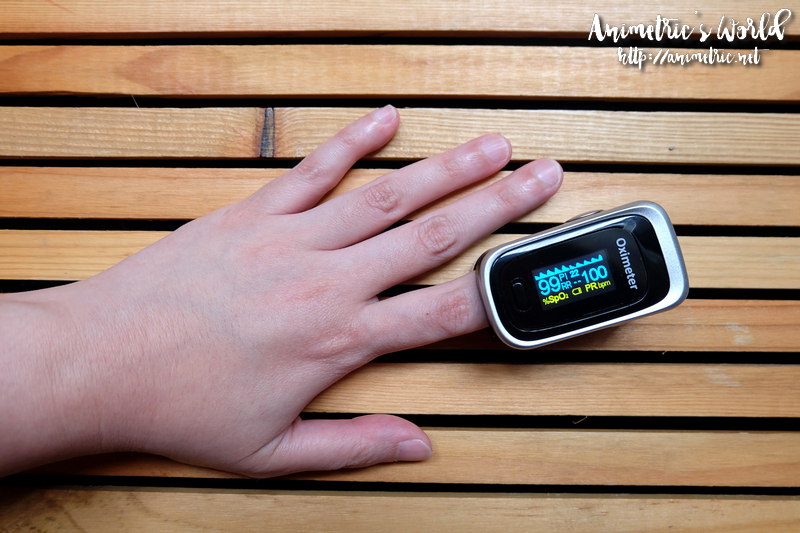 So it should look something like this.
The Pulse Oximeter we got measures your oxygen level, it's the value with %SpO2. Mine's at 99%. This particular model also measures your Perfusion Index, Respiratory Rate, and Beats Per Minute (heart). Of course, you shouldn't rely on this alone. Even if your oxygen level is normal, you have to get tested if you have other symptoms like shortness of breath, fever, cough, loss of your ability to smell, etc.
This is where we got our Pulse Oximeter from. It was originally over P1k but the price has gone down to P980. It's quite expensive because there are models being sold for less than P500, but hubby said he based his choice on the all the values this one can measure. It comes with an instruction manual and lanyard. We got one for the house and another one for the office. We use these to monitor ourselves and our staff. UPDATE: As of July 2021 we have been using this for a year and it has been very reliable, we haven't had any COVID outbreaks so it's safe to say the results are accurate.
UPDATE as of June 2021 – Price has gone down to P980. We are still using the same oximeter.
You can also read this piece on the New York Times written by Dr. Richard Levitan, an emergency doctor, to help you decide if a Pulse Oximeter is for you.
Like this post? Subscribe to this blog by clicking HERE.
Let's stay connected: