Every time we go to Los Angeles, we try to do things we haven't done before. Back in 2013, hubby and I went on the Warner Bros VIP Studio Tour. Our kids were something like 7 and 11 years old back then. Studio tours (with the exception of the one in Universal Studios) do not accommodate kids below 12 years old. Anyhow, our kids are both teenagers now so I booked a 9:45am slot for the Paramount Pictures Studio Tour.
Paramount Pictures Studio Tour is mapped out in Waze and Google Maps so we just followed directions. The parking lot is across the street and parking costs a whopping US$18 (around P1,000).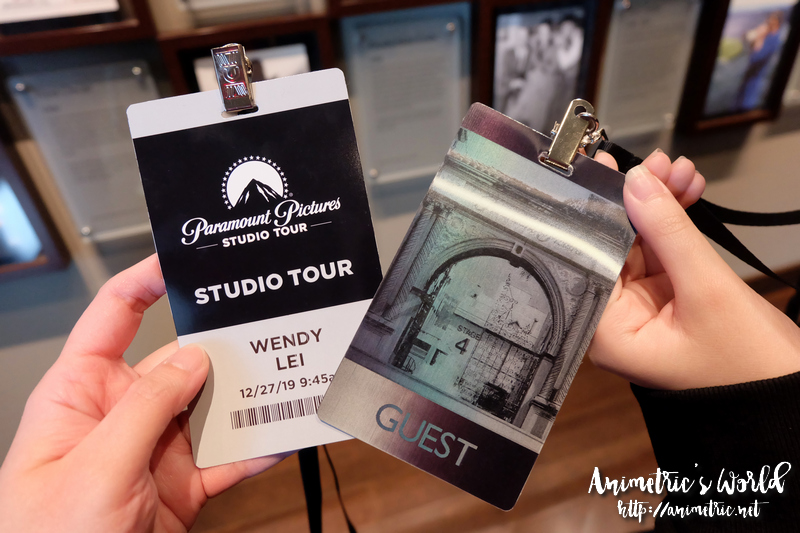 I paid for our tickets online at http://www.paramountstudiotour.com/. They're US$55 a piece, but I found a coupon code for US$5 off so they cost US$50 each. We paid P11,500 for 4 slots. It's important to book online because tour slots run out fast. Walk-ins aren't guaranteed tour slots. Anyhow, they issue cool holographic guest IDs upon entry which you can keep as a souvenir afterwards.
You're required to be at the venue 30 minutes before your timeslot. They have a really nice waiting area which is like a mini-museum. You can read about Paramount Pictures' history and check out some movie memorabilia while you're at it.
These are costumes from Star Trek, Addams Family, etc.
This is the prosthetic head Brad Pitt used in The Curious Case of Benjamin Button.
This is the Egyptian headdress Anne Baxter wore in The Ten Commandments.
A tour guide was assigned to us and we boarded a cart for 8 people. There were only 6 of us in the party though, our guide was the 7th person. We started at the Paramount Theater. This theater is actually used for red carpet movie premieres.
We went inside the theater. Our guide explained that the space can easily be transformed into anything from a hotel lobby to an office… whatever's needed for the scene. This is aside from serving as an actual theater where you hold movie premieres.
This is the iconic bench in the movie Forrest Gump. The sign in the middle says "I'm Forrest, Forrest Gump. People call me Forrest Gump.".
We drove through huge soundstages. The Star Waggons you see are used by actors and actresses when they're shooting.
This isn't an ordinary parking lot. It doubles as kind of a tank which they can fill up with water to shoot ocean scenes etc. They can project whatever background they need on the white wall.
The Paramount Pictures lot has a cityscape which can be transformed into virtually any city in the world. When we visited, it was decked out as New York City for the TV series Brooklyn Nine Nine.
They even have a subway entrance.
We visited the soundstages used by Dr. Phil and the Netflix series Grace and Frankie. We couldn't take photos though as both shows are still ongoing. Our tour guide Emily was really really good. We learned a lot about movie-making magic and film history.
Before our 2-hour tour concluded, we got to visit their prop warehouse. Bumblebee from Transformers was there.
Optimus Prime too!
These are from different movies.
This is the USS Enterprise Turbolift from Star Trek.
This is the dead body that was used in the comedy movie Jackass Presents: Bad Grandpa.
The prop warehouse was our last stop. We were ushered to the Paramount Pictures Studio Store afterwards.
Hubby, the kids, and I enjoyed the Paramount Pictures Studio Tour. Was it worth P11,500 for 4 of us? Well, it was a uniquely educational and interactive experience which you don't really do repeatedly so I'd say yes. As far as I know there are 4 studio tours you can do in Hollywood: Warner Bros, Sony, Paramount, and Universal. So far I've done 3 of 4, so maybe next time we'll try to book Sony.
Paramount Pictures Studio Tour
5515 Melrose Ave., Hollywood, CA 90038
http://www.paramountstudiotour.com/
Like this post? Subscribe to this blog by clicking HERE.
Let's stay connected: