Last May 17, hubby and I decided to go on the Warner Bros VIP Studio Tour. We had the entire day free since the AI finals were only up to the 16th. Prior to leaving the hotel, we reserved slots for the 11:15am tour online. Tickets cost around US$50+ per person in 2013, it's US$60+ circa 2017.
When we got there however, we were told there were slots for 11am and we had the option to go earlier. So we went on the 11am tour. We were ushered inside a mini theater for a brief orientation and video screening. Then we went outside and boarded a motorized cart.
The cart looks like that one above. Our tour guide took us through what they refer to as the jungle. Paths go round and round, twisting and turning so that it creates the illusion of a vast endless forest.
This area is like a pit that they can fill with water to make it look like a lagoon and even the sea. They actually shot Free Willy here, filling it up with water then putting in the mechanical whale.
These houses are actually offices but they use it to shoot neighborhood scenes and stuff like that.
We went to the sound stage areas. A red light outside the sound stage means that there's shooting going on.
We took a peek at the Staff Shop where various props are made. There's a section for wood props, metal props, and all other kinds of props.
Then we went to an area filled with cars from past movies. This one is from Arthur starring Russell Brand.
This is the Batmobile… rather, one of many Batmobiles. The last Batman movie I really watched was the one with Christian Bale and Katie Holmes… I don't remember where this one appeared.
Here's another Batmobile. There are like 3 more… including Michael Keaton's.
This is the motorcycle from The Matrix.
Yup, the car from Harry Potter and The Sorcerer's Stone.
Scooby Doo's Mystery Machine was there too!
There's Austin Powers' ride. There were actually more cars like Clint Eastwood's Gran Torino but I can't fill up this post with all cars, lol.
We visited even more prop and furniture areas.
These types of flexible pans are what they use to hit each other in movies.
Flexible rubberized weapons too.
We also saw the Casablanca piano.
I'm sure a lot of you will recognize this set. It's retired and preserved for all to see.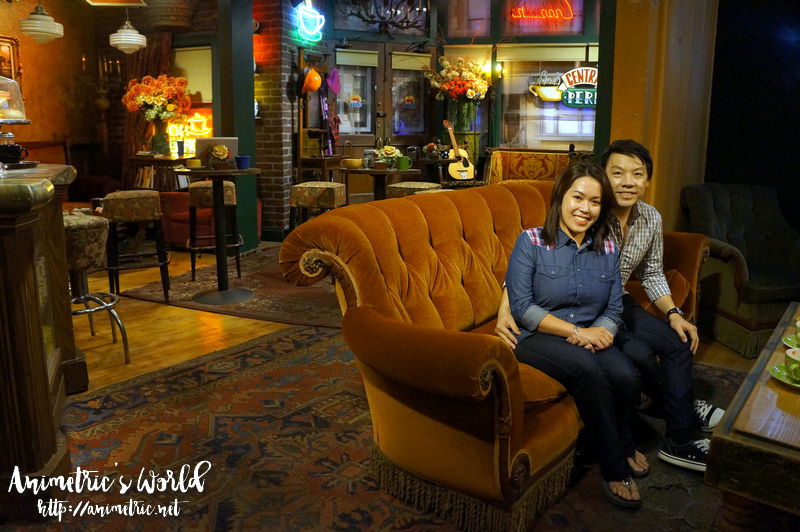 Yup, it's Central Perk from Friends! We were allowed to sit on the couch for photos. Would you believe I've never watched Friends? Lol. Not much of a TV person, but with the advent of downloads I am now familiar with a number of American TV series.
This is the menu from the last episode of Friends. They sprayed it with a protective top coat so it stays that way forever.
We actually went inside the sound stages which contain the sets for The Mentalist and 2 Broke Girls (both of which I watch). Unfortunately, we were not allowed to take photos. Did you know that when you see dirty stuff on TV or movies (rusty chains, dirty boxes, etc.), they are all actually clean? They use what is called clean dirt. The rust is just spray paint and they have techniques for making stuff look old, worn, and dirty that don't require any real dirt and grime.
We visited the Warner Bros Museum (again, we were not allowed to take photos) and it had all sorts of props and costumes from famous movies like Harry Potter (in fact the entire second floor is dedicated to Harry Potter), Inception, The Hangover, Batman, Selena… and a whole bunch of other films.
The Warner Bros VIP Studio Tour was very in-depth and informative. It lasted a little over 2 hours. You will enjoy it more if you've actually watched the movies and TV series that are being talked about… I was lucky we got The Mentalist and 2 Broke Girls. If it were something I didn't know like Gilmore Girls (the show one of our tour mates really wanted) I would've been bored. It's purely behind-the-scenes though and you can't approach any of the areas where taping is going on so realistically speaking it's highly unlikely that you will see any movie stars. I definitely do not recommend this tour for kids. They will get bored as its mostly show and tell on the tour guide's side.
Tickets cost about US$55 each. We reserved and paid for it online and we were able to get a coupon code for US$5 off per ticket so we just paid US$50 per person. There's a parking lot across the entrance and you can park for several dollars (flat rate).
For more information about the Warner Bros VIP Studio Tour and online bookings, check out http://vipstudiotour.warnerbros.com/.
Like this post? Subscribe to this blog by clicking HERE.
Let's stay connected: