We finished the Paramount Pictures Studio Tour around noon so we decided to have lunch in the area. I consulted Google Maps and looked for restaurants. Shakeys Pizza Parlor popped up. We decided to give it a go.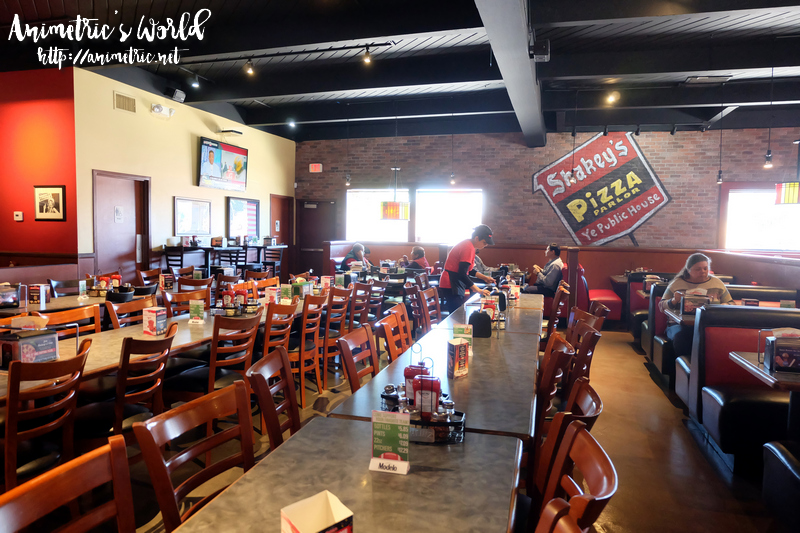 Wow, we had the place mostly to ourselves!
At Shakeys Pizza Parlor in the US, you place your order at the cashier and pay first before you're seated. What do you know, All You Can Eat Bunch of Lunch for US$9.99 (P500+ per head) is actually a regular thing over there. We had to try it!
So… All You Can Eat Bunch of Lunch includes unlimited access to their sprawling Salad Bar. With 9 different dressings and everything from veggies to croutons, it was an impressive spread. I quite liked their ready-made Potato Salad too.
There were also 5-6 different kinds of pizza too. I remember eating Texas BBQ Chicken and Shakeys Special.
Unlimited Chicken and Mojos!
Wow, you can opt to have your chicken roasted instead of fried. What was even more surprising was they had rice in the buffet.
You can have Mashed Potatoes, Spaghetti, Sweet Corn, and Steamed Vegetables too.
For dessert, there's the Shakeys Oreo Pizza.
Wow, just wow. Here in the Philippines, one grossly undersized Party size pizza sets you back well over P500. In the US, it's all you can eat for P500+ per person. We were very happy with the selection — it's a great way to sample a lot of Shakeys' offerings without ordering too much. Food was good. Everything was piping hot and fresh. Drinks aren't included in the All You Can Eat Bunch of Lunch. You'll have to pay separately for drinks if you want any. You can avail of this lunch buffet daily from 11am to 2pm.
I sure hope we can also have All You Can Eat Bunch of Lunch at Shakeys Philippines. Or at least pizzas that actually match the box sizes. My pizza has always been only 2/3 of the size of the box since 2019. I've been ordering Shakeys pizzas for over 2 decades now and believe me, the pizzas are getting smaller and smaller.
Shakeys Pizza Parlor
7001 Santa Monica Blvd.,
Los Angeles, CA USA
Like this post? Subscribe to this blog by clicking HERE.
Let's stay connected: