Last Tuesday I attended a super fun event courtesy of Lock and Lock EasyMatch and Mothers Who Brunch.  Events these days are pretty straightforward — you go, eat, watch/listen, and leave. Oh but not this one. Since it's Mothers Who Brunch, I knew we were in for so much more than the usual.
The event's theme was Pantry Play. Tips and pointers were shared on how to make our pantry more organized, efficient, and fun.
Of course it's a lot more convenient with Lock and Lock EasyMatch, the newest addition to the Lock and Lock family of products. I'm very familiar with Lock and Lock because we have several containers at home. I keep all our containers in a cabinet and the lids are usually not attached. It's not easy sorting through them when there are like more than a dozen. That's where Lock and Lock EasyMatch comes in. The lids are color-coded and the containers have a matching dot on them so they are easy to match. The containers are nestable too, so you save space.
Lock and Lock EasyMatch containers come in different shapes, sizes, and colors. Prices start at P199.75 for a round 100ml container. A square food bowl container that can hold 550ml costs P319.75.
We were treated to a sumptuous yet healthy lunch before the main event. Food is always delicious and healthy in Mothers Who Brunch events. I get so excited to eat because I know everything is yummy and good for me. The Chicken Wonton Taquitos with Apple Cilantro Salsa and Watermelon Salad were to die for! 😀
There were even Dark Chocolate Gluten Free Brownies for dessert. I could eat all day!
After lunch we were divided into groups. Each group had to cook and plate a dish for a cooking contest and an Instagram contest. We had limited time so I volunteered to whip up a dish I was very very familiar with — Tuna Pesto Pasta. My groupmates helped me by chopping up ingredients and boiling the pasta.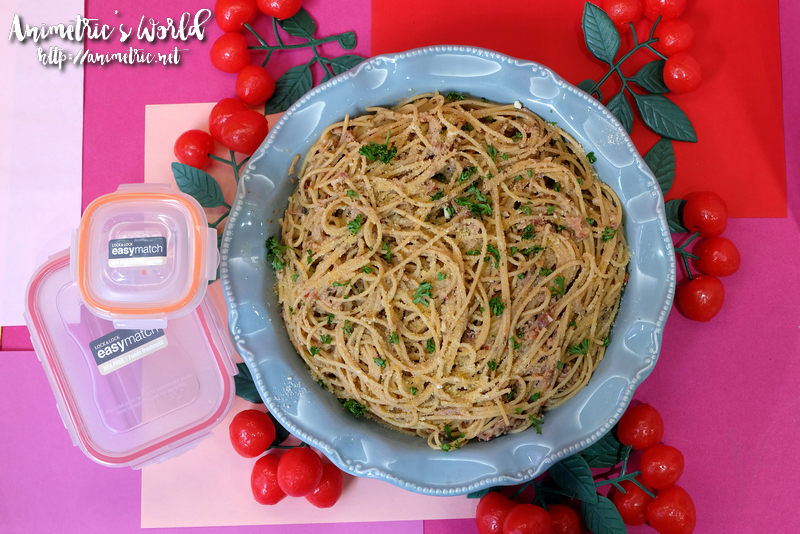 Presenting our entry — Tuna Red Pesto Pasta. We all had a turn styling and photographing the dish for the IG contest. This photo was my entry. This is a very simple dish. I had to work with what was available in the event pantry. I'm sharing ingredients I actually used during the event.
Tuna Red Pesto Pasta
Ingredients:
500g Spaghetti Noodles
2 packs Clara Ole Red Pesto
1 whole garlic, minced
2 cans Century Tuna (I prefer 1 can Gold Seas Tuna in Olive Oil)
3 tbsps brown sugar
ground black pepper
fresh parsley, chopped
olive oil
Procedure:
Cook spaghetti according to package directions.
Saute minced garlic in a bit of olive oil (around 2 tbsps).
Add drained canned tuna and saute some more.
Add pesto — if you are using Clara Ole Red Pesto drain it a bit first (leave some oil) because it's SUPER OILY.
Stir in brown sugar. Sprinkle with black pepper to taste.
Top with chopped fresh parsley and serve.
So anyway, I won in the Instagram contest! I took home a Lock and Lock Spice Dispenser Set for my efforts yay! We didn't win the cooking contest because there were groups with multiple dishes — as in appetizer, main course, and dessert lol.
Thank you Mothers Who Brunch x Lock and Lock for having me! I had such a great time. Will show you what I do with my Lock and Lock EasyMatch containers in a future post. 😀
Like this post? Subscribe to this blog by clicking HERE.
Let's stay connected: