Hi everyone! How are your holidays going? I've been home for most part. It's my chance to sleep after all. I remember how as a child, I hated taking naps. But now that I have very little opportunity to do so, I savor every moment I have to sleep. Anyhow enough of me sleeping, haha! I got this surprising news the other night. Seems I am an official nominee under the Food category of the Nuffie Awards 2018. I say surprising because in all my years of blogging, I've never really seen myself as a food blogger. Maybe that has changed since I started cooking back in 2016 — Animetric cooks!
This is it! I'd like to thank everyone who nominated me. I must be doing something right because it's the first time I'm nominated for the Nuffie Awards 2018, and for food too lol! I've been doing restaurant reviews for fun ever since I started blogging in 2009, but I guess my humble attempts at cooking are more relatable?? I don't claim to be an authority because I don't have any formal training. All that I do, I learned by Googling and doing. Our cook left in 2016 and we had nothing to eat except for food deliveries which eventually started to make us sick. The first dish I ever tried to make was Roasted Vegetables and no matter how easy everyone said it was, I was afraid of how it would turn out.
After getting nominated, the next step is to actually win this thing! To vote, go to https://www.instagram.com/p/BhMF_aaBOBQ/ and post #NNFearlessFoodieAnimetric #Blogopolis2018 on the comments section and we're good to go! You can also tweet these hashtags and post on FB. Voting can be done once a day until April 8, 2018. 😀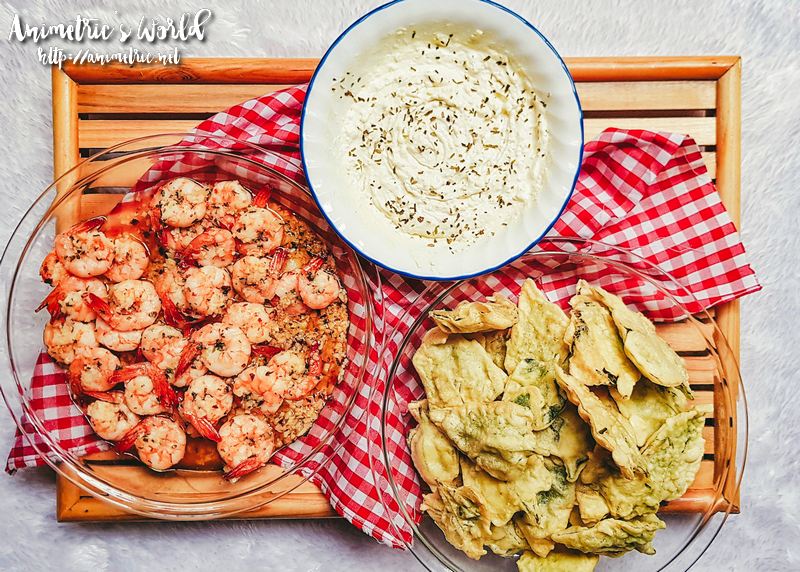 These days (2 years have passed after all), I can whip up an entire meal quite easily (in the photo are Gambas, Crispy Fried Spinach, and Creamy Garlic Cheese Dip all cooked by me). I've been cooking almost everyday since I started in 2016. Even when our cook decided to come back several months after she left, it's still Animetric cooks! I've graduated to coming up with my own simple recipes for pasta, snacks, side dishes, and lots more.
One thing I learned through my 2-year cooking journey is you can do ANYTHING if you put your mind to it. Cliched, right? But that's coming from someone who could not cook to save her life for 40 years.
Thank you everyone for the continued support! I'm looking forward to hosting another reader meetup soon as I had a lot of fun with the first one. 😀
#NNFearlessFoodieAnimetric #Blogopolis2018
Like this post? Subscribe to this blog by clicking HERE.
Let's stay connected: