Last Thursday hubby and I had lunch at Farmer's Table Tagaytay. It's located within the Nurture Wellness Spa Village and the spa is actually right beside it. It's been several years since I last visited this place and Farmer's Table Tagaytay wasn't a thing back then. It pretty much replaced the spa's dining area.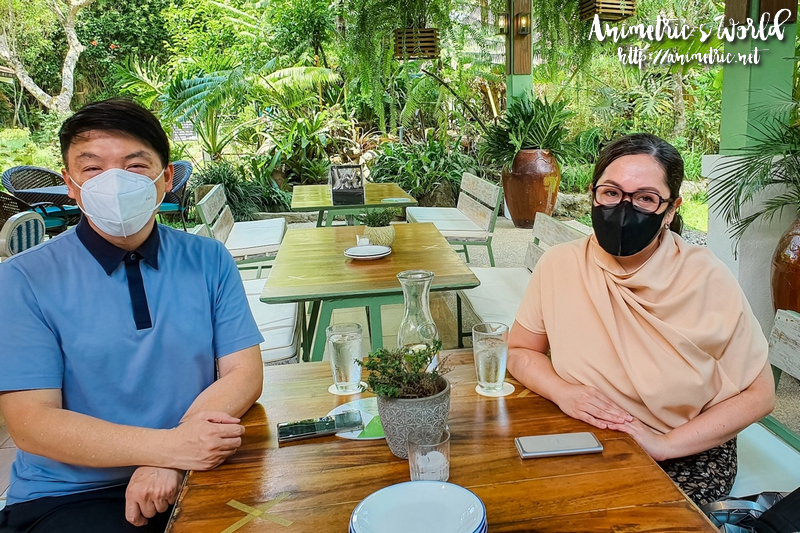 I liked that it was very spacious and surrounded by a lot of greenery. We've been cooped up for over a year now and this is just my 3rd time to dine out since the ECQ last March 2020. We don't even think of attempting a Tagaytay trip on weekends and holidays since traffic gets really bad. Thus the middle of the week it is.
We appreciated the high ceilings and the ample space between tables. Tagaytay LGU is strict and so people below 18 are still not allowed to dine in. Since it was a weekday, there weren't too many people in the restaurant which is a plus for us.
Farmer's Table Tagaytay serves food that is made from wholesome, fresh, and healthy ingredients. They even have a Chef's Garden where Chef Kalel Chan would personally pick organic herbs for his creations.
We love the quaint and cozy country vibe. Since it's still summer, it's not as cool as you'd expect Tagaytay to be. It's definitely cooler compared to Manila though.
For starters we had House-made Labuch & Fresh Tomato "Caprese" (P395). I'd describe it as fresh cherry tomatoes, basil, pesto, and creamy yogurt dip. I loved how naturally sweet the tomatoes were!
Then we had Kale Chips & Dip (P250) which were incredibly crunchy and served with Malunggay-Basil Pesto Mayonnaise. This is a sure hit with kids.
One of the most "wow" things we ate was this Hothouse Crispy Cauliflower and Broccoli (P275). My gosh, they taste just like buffalo wings and even come with a bleu cheese dip! Very crunchy and flavorful and a lot easier to eat than chicken wings. Hubby and I super loved this dish.
We also had Smoked Tinapa Cream Croquetas (P325 for 6 pcs). Crisp outside and creamy inside, the croquettes are topped with tobiko, tartar sauce, and fresh dill. These are very tasty  — make sure to squeeze the lemon wedge on top.
I also tried their Signature Pineapple Kale Smoothie (P195) which I always see in vlogs. It's really delicious and refreshing! I can't believe Kale can taste so fruity lol.
Another dish we loved was the Grilled Chimichurri and Sambal Bangus (P720). The bangus is really big and meaty and the sauces are wow. I especially enjoyed the chimichurri, I wouldn't mind having the entire fish covered with it.
We each had a bowl of Turmeric "Ying Yang" Rice with Peas (P195) to go with our viands. It's a lot different from the way I prepare Turmeric Rice. It's very good though.
Bone Marrow Bulalo (P995) was a really hearty soup full of tender beef and fresh naturally sweet veggies. This is really good on a cold day and one order can serve up to 4 people.
Bistro Steak Frites (P995) has really yummy House Fries that's reminiscent of McDo's Twister Fries in terms of flavor and crunch. Perfectly cooked US Beef is topped with an herbed creamy butter garlic sauce.
Bistro Steak and Frites is served with a Side Salad.
For dessert, we had Dark Chocolate & Rosemary Cookie Dough Skillet (P350). What makes it different from the usual is its topped with crushed walnuts and Mantecado ice cream then drizzled with rosemary-infused olive oil. The cookie is very chewy which is exactly how I like it. This would go very well with coffee or tea, or maybe a glass of ice cold milk.
Farmer's Table Tagaytay is great for daytrips. You can enjoy the fresh air and lush foliage over a hearty meal. I love that there's so much space so social distancing is not a problem. I recommend going on a weekday so you'll have the place mostly to yourselves as Tagaytay gets quite crowded on weekends. It's best to make a reservation before going, just contact 09053877993. Also, check with Tagaytay LGU what ages are allowed to dine in before making plans. When we went there last week they still would not allow those below 18 so we had to leave the kids behind.
You can find Farmer's Table Tagaytay by keying in Nurture Wellness Village on Waze.
Like this post? Subscribe to this blog by clicking HERE.
Let's stay connected: