During ECQ, I had an obsession with Khaleb Shawarma. I was so happy with our order I decided to turn all our remaining ground beef to DIY shawarma. I would serve it with sliced cucumbers and tomatoes drizzled with olive oil and seasoned with salt. Then I figured it would go well with Turmeric Rice, although I had never made nor eaten Turmeric Rice before. I googled for recipes and found that I lacked ingredients for most of them. So I just decided to come up with my own with whatever I had on hand.
And so I'd like to share what I came up with…
Quick and Easy Turmeric Rice
Ingredients:
300g uncooked rice, preferably Dinorado or Jasmine
1 can chicken broth (I used Swanson, you can replace with a bouillion cube/powder + water)
1 tbsp salted butter or margarine
2 pcs bay leaf
1 tbsp minced garlic
1 tbsp minced onions
1 tsp turmeric
salt and pepper to taste
Step 1: Rinse rice until water runs clear. Drain water and put rice in rice cooker pot. Pour chicken broth on the uncooked rice.
Step 2: Add butter/margarine, minced garlic, minced onions, turmeric, a pinch of salt, and a dash of pepper. Mix with a wooden spoon.
Step 3: Close rice cooker lid, press cook, and wait until rice is done. After the timer stops, pop the lid open and voila, you have Turmeric Rice! Scoop out and serve while hot.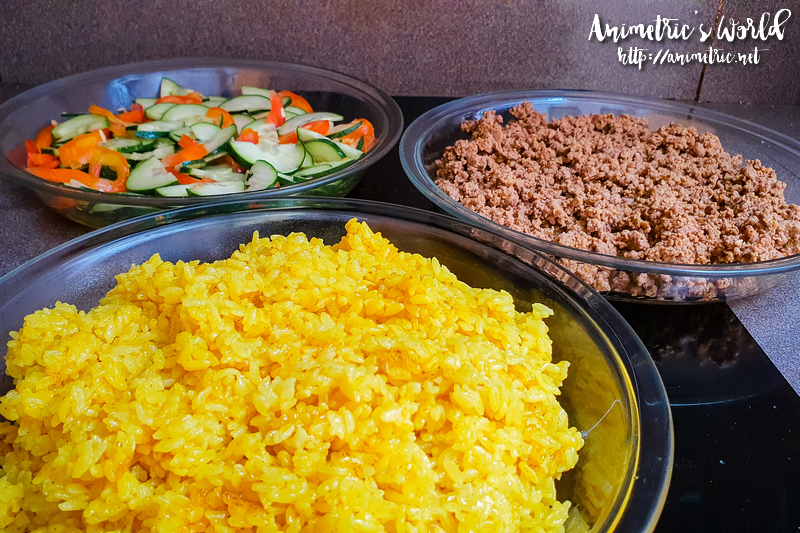 Turmeric Rice is flavorful and aromatic. It paired well with my DIY beef shawarma and cucumbers + tomatoes. Every time I serve this, there's no leftover rice! Hubby and the kids like it a lot. The best part is, all you need to do is put all the ingredients in the rice cooker and it's done in 30 minutes!
Like this post? Subscribe to this blog by clicking HERE.
Let's stay connected: