I love bacon. I don't have it all that often, but when I do, it's usually used as part of a dish's ingredients. We almost never have it on its own. That is until I discovered Niman Ranch Bacon. Niman Ranch Bacon is from the US. It's humanely raised bacon — meaning the animals are always well-fed (no antiobiotics or growth promoters) and raised outdoors without cages or crates. I always see this in the frozen section of S&R Membership Shopping.
If I remember correctly, a 12 oz. pack of Niman Ranch Double Smoked Uncured Bacon like this one sells for around P384 at S&R. Sorry it's been a few weeks but I'll check the price when I go to S&R again and update this.
Okay so that we could really enjoy Niman Ranch Bacon, I decided to just cook it and serve it alongside a simple pasta dish. I lay some slices on a frying pan and started frying. No additional oils needed.
I let the bacon cook in its own oil. I could tell by looking these are a lot better than the usual bacon I buy.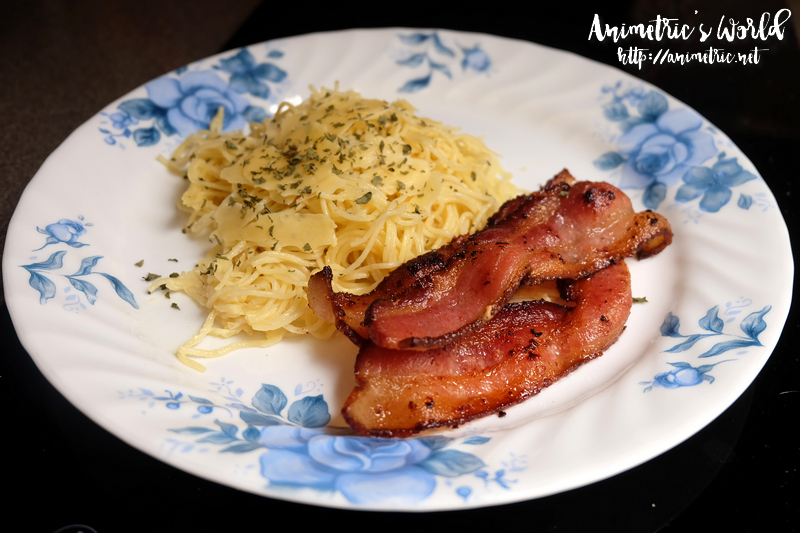 So I served the beautiful bacon alongside some truffle and parmesan angel hair pasta. Lol my pasta turned out a bit bland so it actually went perfectly to the very tasty bacon. My goodness, even when I fried it crispy, the bacon still had that tender meaty feel when you bite into it. This is probably the best supermarket bacon I've tried. I will most definitely purchase again!
Niman Ranch Bacon is available at S&R Membership Shopping. If you need to buy in bulk, you can try to contact the distributor https://www.alternatives.ph/.
Like this post? Subscribe to this blog by clicking HERE.
Let's stay connected: