I discovered Sasa HK's online store last February, when I was looking to replenish my Sulwhasoo stash. Then I found out Sasa has a Shopee store. While the Sasa website has more products in terms of inventory, their Shopee store's shipping fee is a lot lower — only P40 compared to US$15 on the website. Of course, Shopee also has loads of free shipping vouchers and coins you can use for your purchases. I love it! I really miss Hong Kong and Sasa is one of my usual haunts.
But then I heard about NANA Mall on Shopee from mymomfriday. Like Sasa, NANA is a Hong Kong-based beauty retailer. They have a website too but it doesn't ship to the Philippines. Fortunately, their Shopee store does. I ordered Dior Addict Lip Glow and Sulwhasoo Essential Rejuvenating Eye Cream from NANA. Dior Addict Lip Glow retails for P2,100 here in the Philippines and it's P1,600+ at Sasa. NANA had the best price at P1,480 so I bought from them. The Sulwhasoo Eye Cream isn't available at Sasa so there's only NANA. NANA is also on Lazada.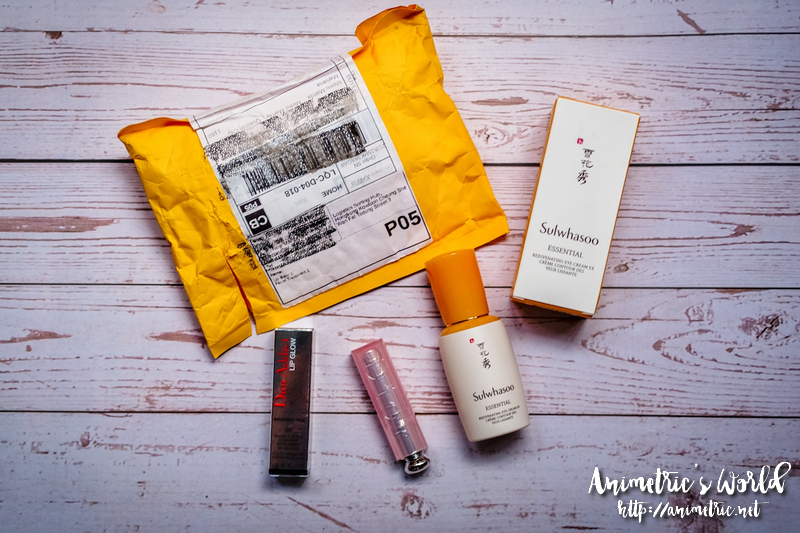 After about 8 days, my NANA order arrived. Unlike Sasa which always ships out orders in boxes (even if it's just a single item), my order came in a bubble envelope which had gotten damp because of the rain. The products were securely wrapped in more bubble wrap though, so they were still in pristine condition. Since it's Shopee, I was able to use a free shipping voucher, a shop discount voucher, and a coin cashback voucher.
Okay so which is better, Sasa or NANA? For me both are great, so price and stocks are the determining factors when it comes to deciding where to buy. Both carry Sulwhasoo but the product selection varies.
This is what's currently on NANA. Most are individual products. It's only here that I've encountered Sulwhasoo eye cream.
This is what's on Sasa. I noticed that Sasa has more boxed sets. I ordered the Sulwhasoo Concentrated Ginseng Set last Sunday. Yes I'm really addicted to Sulwhasoo, it's my go-to skincare brand.
Both stores carry a wide range of beauty products. They also have western brands like Estee Lauder, Kiehl's, The Ordinary, La Mer, etc. Since both are on Shopee, it's easy to compare prices and stocks. I've purchased from both and I can vouch for the authenticity of the products. Word of warning — it's too easy to get addicted. I've bought around P10k worth of beauty products this month because of these two lol.
Like this post? Subscribe to this blog by clicking HERE.
Let's stay connected: