Last November 11, 2010 I found myself on the first flight out to Hong Kong with hubby. I was one of four bloggers from the Philippines who was invited to visit the Hong Kong Disneyland Resort. 😀

Disneyland's Inspiration Lake and welcome arch were familiar sights that greeted me as we walked to the park. This was after all my third time in Hong Kong Disneyland, my last trip prior was back in December 2009.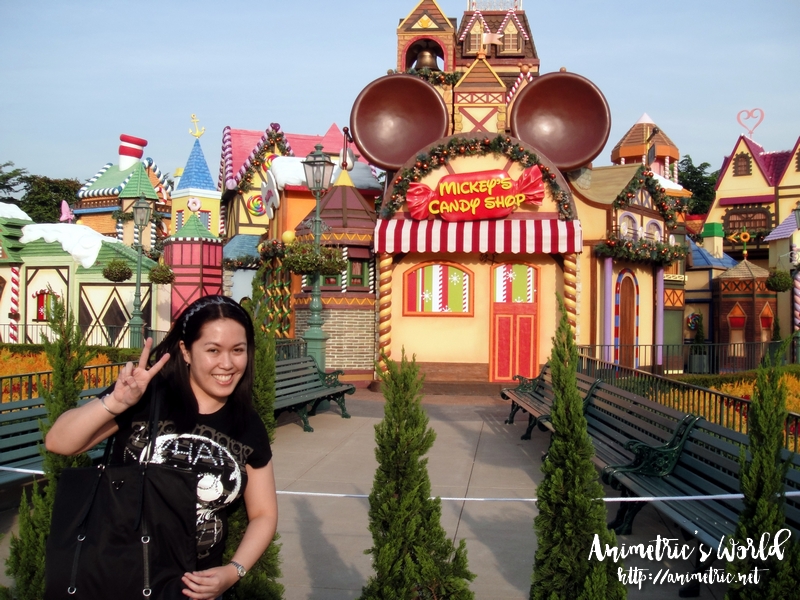 Come December new characters from Japan will be coming over to commemorate the official opening of the Gingerbread Village and to celebrate all the Christmas events. The attraction will be viewable the whole holiday season. It's something new to look forward to if you've been to HK Disneyland before. 🙂
Our next stop was Tomorrowland. That's the Orbitron up there. Although I've seen it several times in the past it still never fails to amaze me. You do more than just ride the flying saucers, you can actually control when it goes up and comes down. There are sound effects too. 🙂
We went straight to Buzz Lightyear Astro Blasters. Buzz himself orients you on what to do. Basically you get on a car with your partner, pick up the laser gun from its holster and start shooting targets! It's lots of fun! Your score gets recorded too so you can gauge what level you are after the ride. In fact this is my son's favorite HK Disney attraction. We went to ride Space Mountain next but I couldn't get a decent photo since it was dark inside and I was too preoccupied with securing my belongings to even attempt photography while riding the high speed coaster.
We then went straight into Adventureland where we met Timone from Disney's The Lion King. He was a very friendly chap, but then everyone is very warm, friendly, and welcoming at Disneyland.
Then we were off on the Jungle River Cruise. It's a boat ride through the wilds. You'll see lots of moving animals (animatronic, of course), greenery, and even erupting… geysers? At least that was what it looked like. Each boat comes with a guide who steers it, and the guide can either be Cantonese-speaking or English-speaking. Just specify which one you prefer. 🙂
Fantasyland was next. Of course I just had to have my photo taken with Sleeping Beauty's Castle. When I was a little girl, the only Disney princesses were Snow White, Cinderella, and Sleeping Beauty. Sleeping Beauty has always been my favorite one. 🙂
Next up was The Many Adventures of Winnie the Pooh. It's more of a children's ride but I still like it a lot. It follows Pooh's adventures through windy, rainy, and sunny weather.
It was kind of hard to take photos since the car was in constant motion. I love the Blustery Day parts best because the wind is very cool, so perfect if it's hot outside. 😀

Our last stop was The Golden Mickeys. We made sure we got good center seats so we could fully appreciate the show. The Golden Mickeys is a live-action musical show that simulates an awards night kind of like The Golden Globes. Mickey, Donald, Tarzan, Ariel, and a slew of other characters all sing and dance to the songs that made them famous! After The Golden Mickeys we went to see the 3D animated movie Philharmagic and then had a little snack as we waited for the finale — the grand fireworks display!
Capping off our magical day at Hong Kong Disneyland was the spectacular fireworks display aptly entitled "Disney in the Stars". Everyone was awestruck as a barrage of colorful fireworks lit up the night sky. It was even synchronized with some of Disney's most popular scores. The best place to view it would be the area in front of Sleeping Beauty's Castle. Had my kids been on vacation, I would've toted them along as Disneyland anywhere in the world is really all about family and having a wholesome good time. It's really the place where dreams come true — no wonder people keep coming back! 🙂
One-Day Ticket Prices:
Adult – HK$ 639 (about P4,200)
Children (3-11 yrs old) – HK$ 475 (about P3,100)
Senior (65 yrs +) – HK$ 100 (about P653)
Hong Kong Disneyland
Lantau Island, Hong Kong
https://www.hongkongdisneyland.com/
Like this post? Subscribe to this blog by clicking HERE.
Let's stay connected: