One of the things included in our Hong Kong Disneyland itinerary was lunch at Crystal Lotus in Hong Kong Disneyland Hotel. Crystal Lotus is a Chinese fine dining restaurant which specializes in meticulously hand-crafted Disney dim sum. There was already a pre-ordered set lunch prepared for us. The menu for the day was already on the table when we sat down.
Our first course was Roasted Suckling Pig with Cucumber and Sweetened Paste in Steamed Piggy Mask Buns. If you're familiar with Chinese cuisine, this is kind of similar to the roast peking duck dish wherein you wrap slices of tender duck with crispy skin and some celery sticks with something similar to a flour tortilla. Apparently, each slice of pork is to be partnered with a flat bun. Hubby and I each got our own set. 🙂
Check out how perfect each slice of roast suckling pig is — crispy skin, a layer of tasty fat, and then some lean meat. Yum!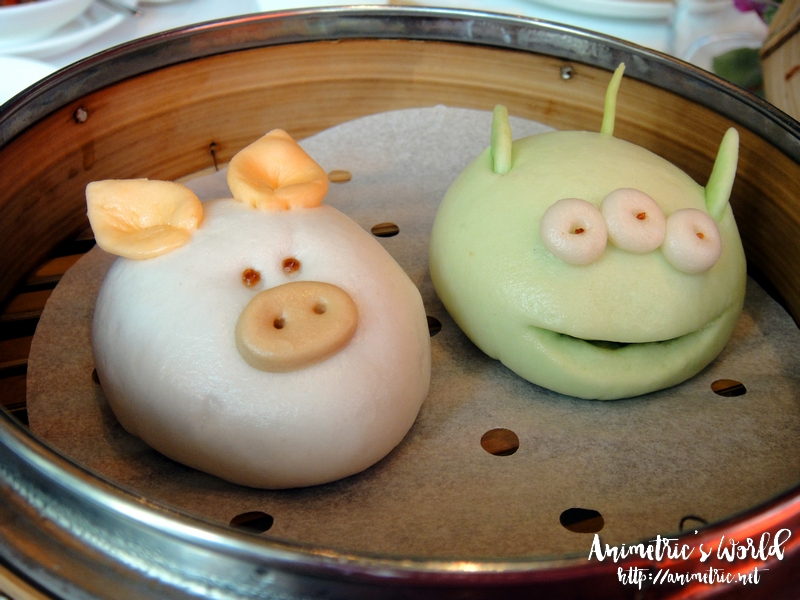 Next up were Little Pig Barbecue Pork Bun and Little Green Men Pork and Vegetable Bun. As the name suggests, Little Pig was filled with pork asado (sweet barbecued pork) while the Little Green Man from Toy Story contained a mix of veggies and ground pork.
You can see a bit of the filling through the Little Green Man's mouth. The buns really were almost too cute to eat. 😀
Mickey's Seafood Glutinous Pancakes were served right after the buns. They're very chewy and delicious.
Hubby and I agreed that the best dish in the set was the Double-Boiled Chicken and Conpoy Soup in Petite Coconut. I don't exaggerate when I say that this is simply the best soup I've ever had the pleasure of drinking in my life at this point. The chicken broth has a very clean, natural, yet deep flavor. The coconut added a bit of sweetness too. We were actually scraping the tender coconut meat off the shell when we finished the soup.
Inside the soup was this Mickey-shaped juicy radish with a plump scallop in the middle. It was sooo good. There were also some strips of chicken meat in the soup. 🙂
Wok-Fried Shrimps and Disney Root Vegetables were brought out next. I'm allergic to shrimp but I had one because I wanted to taste first-hand how Crystal Lotus would do shrimps. As expected, they were perfect — juicy, tasty, and firm. I also enjoyed the mushrooms and vegetables that came with it. The bowl that the shrimp and veggies are encased in is edible, kind of like a gigantic fried crunchy wonton wrapper.
…and the food kept coming! Fried Rice with Tasmanian Crabmeat stuffed in Whole Crab Shell was the next gastronomic treat. It was baked with a bit of melted cheese on top. 😀
This has got to be the most unique fried rice I've ever had. It's cooked with egg and crabmeat.
Of course, no meal is complete without desserts. Chilled Mickey's Green Tea Jelly and Chilled Mickey's Red Bean Jelly with Osmanthus Honey were up next. I liked the green tea jelly better because it was less sweet.
Then came the last course of our incredible lunch. Double-Boiled Whole Chinese Pear topped with Aged Mandarin Peel. It's served warm with a small bowl of honey on the side in case you want it sweeter. The aged Mandarin peel is actually what's more commonly known here in the Philippines as kiamuy, those dried strips of fruit with a strong aroma and an indescribable sweet-sour taste. I couldn't finish it! I was stuffed.
We had a porcelain kettle full of piping hot Jasmine tea on our table. It's really the perfect beverage to complement dim sum and fried fare as it sort of washes away the oil and cleanses the palate.
If you ever find yourself in Hong Kong Disneyland, I highly recommend having a meal at Crystal Lotus. Granted, the food costs more compared to the average Chinese restaurant but it's a truly unique dining experience worth trying at least once.
Like this post? Subscribe to this blog by clicking HERE.
Let's stay connected: