During our magical Hong Kong Disneyland adventure, we were checked in Disney's Hollywood Hotel. It was our first time to stay in a Disney hotel. We usually just stay somewhere on Hong Kong island and make a day trip to Disneyland.
I really had no idea what was in store for me.
We checked in by 12:15pm but we couldn't use our room yet since rooms become available 3pm onwards. It was evening already by the time we actually got our keys since we had our tour of Hong Kong Disneyland in the afternoon. The card keys are very cute!
There's a sofa with a TV that plays Disney cartoons 24/7 on the way to the guestroom elevators. Perfect for keeping your kids occupied in case you're waiting for something. 🙂
The guest elevators are very snazzy and shiny. The doors are etched with a similar pattern to the carpets and wallpapers. Up and down buttons are placed in the middle of a Mickey Mouse head.
This is the hallway leading to the guest rooms. 🙂
We got a Garden View Room. We didn't get to see the um… "default" setting, meaning complete with the bedcovers and all since we got back way past 7pm already. The beds were already turned by that time. The twin double beds are ideal for a family of four (2 adults, 2 kids).
Gotta love that classic Mickey and Minnie centerpiece!
Our room was equipped with a flat screen TV. There was a corner lounge area with a complimentary bottle of water too. I brought my netbook along but there was no free internet access, you'll have to pay for high speed internet access.
There's complimentary coffee and tea too, plus an electric kettle in case you want to heat or boil some water.
The bathroom is normal-sized for Hong Kong standards, which is on the small side. I actually didn't have enough space to photograph the cute shower curtain as I'm already standing at the door when I took this photo.

The bathroom had three of these Mickey paper cups piled on top of each other. If you remove the Mickey plastic cap you'll find toothbrushes with matching toothpaste tubes inside.
Even the toiletries have Mickey caps. We asked for some lotion and a shaving kit from housekeeping and they gladly obliged. There a small circular bar of soap for washing hands too.
We headed over to Chef Mickey's on the ground floor for a buffet dinner. Mickey heads adorned the dishes. It was very amusing to see how they would incorporate Mickey shapes into just about everything. A variety of cuisines (Chinese, Japanese, Indian, Italian, American, etc.) are available.
We took a walk at the outdoor area around our hotel after dinner. There's actually a replica of Mulholland Drive there complete with cars and traffic lights. 🙂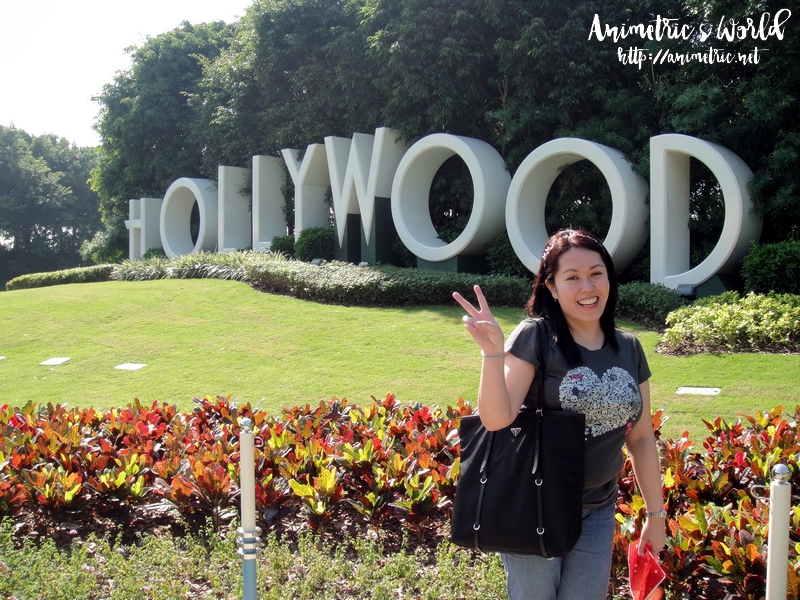 The next morning, we took a walk outdoors again. I had a photo taken in front of the Hollywood sign of Disney's Hollywood Hotel. 🙂
We visited the poolside too. Notice the piano keys at the bottom of the swimming pool. 🙂
A night at Disney's Hollywood Hotel costs HK$1500 for the regular rate, which is about P8,500. There's a 10% service charge too, so that comes out to more than P9,000 per night. Rooms can accommodate a family of four comfortably though, and staying at the hotel is an experience in itself. There's a free Disney shuttle bus that takes you from here to either Disneyland Hotel or the park and back every 10-15 minutes.
Kids and kids at heart will surely be very happy staying at Disney's Hollywood Hotel. 😀
Disneys Hollywood Hotel
Hong Kong Disneyland Resort, Lantau Island, Hong Kong
https://www.hongkongdisneyland.com/hotels/disneys-hollywood-hotel/
Like this post? Subscribe to this blog by clicking HERE.
Let's stay connected: