I drive all the time. I've been driving for over 20 years. We don't have a driver because both hubby and I drive. But there are those rare times though when we need the services of a driver. That's where UBER comes in.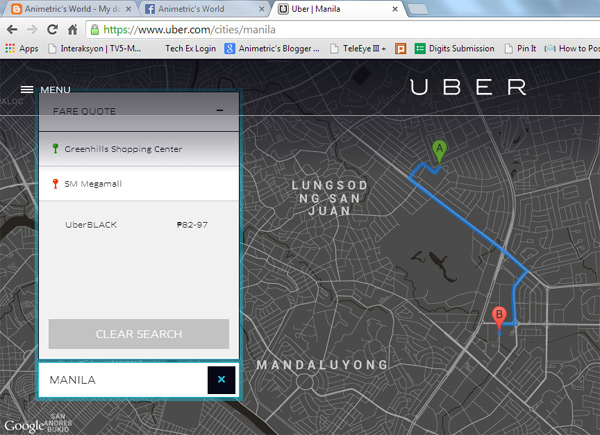 UBER is an app you download on Android or iOS which lets you summon a car and driver whenever you need one. If you want an estimate of how much you'll spend, go to http://www.uber.com/cities/manila and get an estimate. I tried finding out how much it would cost to go from Greenhills Shopping Center to SM Megamall, and it said P82-97. By the way, you need a credit card to register.
Anyway, today was one of those days when we needed a driver. We left one of our cars for maintenance work at the dealership and it was time to go pick it up. It wasn't practical for us to drive there and go home using two cars, so we thought we'd try UBER. The first thing to do after you download the app is register for an account, then you're good to go. You call up a map of Metro Manila and set your pickup location by dropping a virtual pin. According to the app, an UBER is 14 mins away from the pickup location. Click on the right arrow icon to confirm.
Anyhow, it took me over a dozen tries to finally get an UBER to pick us up from a street in San Juan. The app showed me the driver's name, photo, and the kind of car which he was driving. It was a black Toyota Vios. You can track your Black Car's location as it makes its way to you via the app.
So hubby and I hopped in the black Toyota Vios driven by Jay-Ar, it was spic and span. The aircon was cold too. The last time we had a situation like this, we hailed a cab which had next to zero air-conditioning and a dead fish stench because of some inconsiderate passengers. So gross. It wasn't cheap too, it cost more or less the same amount we were charged by UBER.
The driver has his own tablet with a GPS, a map, and the driver side version of the UBER app.
So anyway, this was how our trip went. We thought it was pretty fair! It was a comfy 30-minute ride and it cost only P134, roughly the same amount the stinky taxi charged us.
After we got off, I was asked to rate our UBER ride. I gave it 5 stars because it was really a pleasant experience. The car was immaculately clean, the driver was courteous, and the aircon was freezing cold. Yes, we would gladly ride with UBER again. This ride was free because I registered using a friend's code and I was given P300 credits immediately! Even if you don't have credits, you don't need to fork over cash when you ride because everything is charged to the credit card you used to register your UBER account.
Anyhow, you too can get P300 credit by using my code yetbk when you register for an UBER account after downloading the app. It's a really awesome way to get to try the service for free! The only negative part of our experience was the fact that it took me a dozen tries to get a Black Car. Other than that, it was perfect! I heard you can get a Black Car from the Makati area really fast. 😀
Have you tried UBER? How do you like it?
FYI, this post is not sponsored by UBER in anyway… although we did use the free credits we got via the registration code to pay for the ride.
UPDATE as of Dec. 5, 2014 – Free credits and referral credits have been reduced to P200 per sign-up by UBER.
Like this post? Subscribe to this blog by clicking HERE.
Let's stay connected: