I ran out of Sulwhasoo Concentrated Ginseng Serum during the start of ECQ. I couldn't find an online seller that carries it and so I went serum-less for a couple of weeks. Then I got a set of serums from Modest, a Hong Kong-based skincare brand. The simple packaging reminded me of the controversial skincare brand The Ordinary. Anyhow, the products are formulated in Europe and Japan, utilizing high quality active ingredients. There are also no harmful ingredients like parabens, mineral oils, heavy metals, etc. They also don't do animal testing.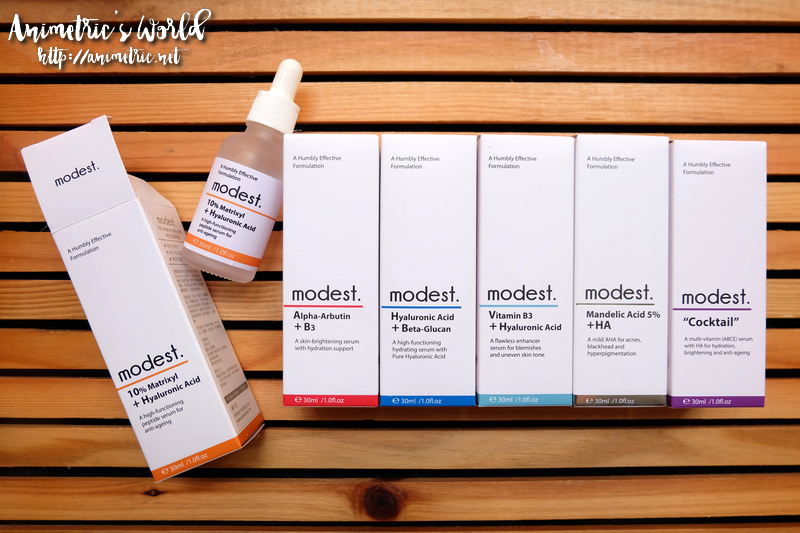 Modest advocates "mix and match" skincare. Their serum boxes have the active ingredients printed on them plus a brief description of what they do. It's up to you to decide which ones you need.
Okay so since I'm in my 40s, I obviously need the anti-aging variant and that's their 10% Matrixyl + Hyaluronic Acid serum. I also added the Alpha-Arbutin + B3 skin brightening and hydrating serum and the "Cocktail", their all-around mixer. Cocktail is a multi-vitamin (ABCE) serum that moisturizes, reduces fine lines, and brightens.
All of them pretty much look like this. You use a dropper to dispense the product.
The serums are all clear and lightweight.
They're absorbed by the skin very quickly. Just massage lightly and its gone! You let the first serum dry first before applying the second one and so forth.
Been using these 3 bottles since ECQ and so far so good. I do however, find that they are too light for night use so they're part of my daytime regimen. I prefer something more intense at night since I will be sleeping in an air-conditioned room. That's really the perfect time to pile on the heavier stuff.
What I like about the Modest serums:
They're lightweight and absorbed by the skin quickly.
There's no strong fragrance.
You can customize your skincare regimen based on what you need.
They're affordable at P600+ to P900 per bottle.
Downside? I find them too light for night time use so I only use them during the day. I am in my 40s though so these could be enough if you're in your 20s and 30s.
Modest skincare products are available at BeautyMnl.
Like this post? Subscribe to this blog by clicking HERE.
Let's stay connected: